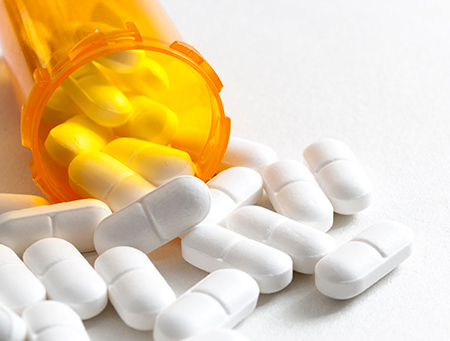 Following a two-year investigation during which time multiple Indiana cities and counties and at least 27 states filed lawsuits, Indiana Attorney General Curtis Hill announced Nov. 14 his office is leading the state of Indiana into a legal battle over prescription opioids.
Hill said his office was filing a complaint in Marion County Court against a single pharmaceutical company, Purdue Pharma, which is already facing hundreds of complaints and has sought financial restructuring advice.
"I think the timing is wise," the attorney general said, explaining why Indiana is choosing to file now. There has been an "exhaustive investigation" for the past two years that included taking depositions from former Purdue Pharma employees, interviewing medical professionals, reviewing records and ascertaining the impact on Indiana.
"It's important to recognize this lawsuit is based on the damages that we have incurred and that we can document," Hill said. "And that's taken a great deal of time and effort to be able to come to this particular point."
Indiana alleges the drugmaker violated Indiana's Deceptive Consumer Sales Act; the Prescription Drug Discount Benefit Cards Statute; the False Claims Act, and; the Medicaid False Claims Act. The state is seeking the maximum penalties, treble damages, costs and an order directing Purdue Pharma to "stop its unlawful conduct."
However, Indiana is filing after the thousands of lawsuits brought by local municipalities across the country have been consolidated into a multidistrict litigation in the U.S. District Court for the Northern District of Ohio.
In addition, the Hoosier state has named Purdue Pharma as the sole defendant. Some other states, such as Florida, Tennessee and Texas, have also limited their lawsuits to Purdue, but other complaints name as defendants other pharmaceutical companies, distributors and retail pharmacies such as Walgreens.
Purdue Pharma, maker of OxyContin, and its owner, the Sackler family, have been the subject of numerous articles and profiles, some unflattering, detailing how the company pushed opioid medications onto the market. In October, Suffolk County in New York sued several Sackler family members personally because of the addiction and deaths in its communities, according to The Guardian. An attorney representing the county called the Sacklers "a crime family."
Over the summer, the pharmaceutical giant reportedly hired Davis Polk & Wardwell LLP for financial restructuring advice. As Reuters reported in August, Purdue has tapped the law firm as "its potential liabilities swell with a wave of lawsuits" connected to the nationwide opioid epidemic.
Hill said Indiana is suing Purdue because of the "significant responsibility" the company has for the opioid epidemic in the Hoosier state.
According to the attorney general, state-funded health programs have spent more than $200 million on opioid prescriptions and related treatment, many of which were not medically necessary and would not have been written but for the efforts of Purdue Pharma. Moreover, Purdue's highest achieving sales representative nationwide worked in Indiana.
"Purdue Pharma bears significant responsibility for the opioid crisis here in Indiana because it promoted widespread over prescribing through a deceptive and misleading marketing campaign," Hill said.
Cities, towns and counties
Meanwhile, Judge Dan Aaron Polster in the Northern District of Ohio is continuing to move the MDL along at a quick pace. The litigation is progressing on two tracks — the parties are in settlement talks while, at the same time, they are preparing for three bellwether trials scheduled for September 2019.
Toops
"This is bigger than anything we've seen before and it keeps getting bigger," said Lynn Toops, class action attorney at Cohen & Malad LLP. The Indianapolis law firm has filed lawsuits for 14 communities and 17 counties in Indiana and is assisting lead plaintiff counsel in the MDL with the discovery process.
The plaintiffs cleared a hurdle in October when they survived a motion to dismiss. In a 100-plus page order, the special master addressed some of the "tough and novel legal issues being explored in the case," Toops said.
In particular, the defendants argued they had approval from the Food and Drug Administration. However, the special master was not convinced, saying the issue was not about FDA labeling but rather about the marketing campaign employed to get physicians to prescribe opioids.
Also, within that past week, the plaintiffs had received data from the Drug Enforcement Administration's Automation of Reports and Consolidated Order System (ARCOS). This information identifies the specific distributors and manufacturers that sent the opioid pills to each of the communities.
Toops acknowledged there are some concerns about the financial viability of some of the defendant companies, but she noted that cities, counties and states are struggling with this unprecedented epidemic, so telling them not to file a lawsuit is not an option.
As for Indiana becoming a new plaintiff, Toops does not expect that to have an adverse impact on the other Indiana lawsuits already filed. She described the state lawsuit, which was filed in state court, and the municipality lawsuits, which were filed in federal court, as being complementary and drawing from different pools of damages.
"I think it has a positive impact in the sense it puts more pressure on the defendants," Toops said.
'Regularly and repeatedly'
Indiana Attorney General Hill said the process is continuing. His office is still examining the opioid crisis to determine if anyone else is accountable in the chain from manufacturing to consumption. Consequently, legal action could be taken against other pharmaceutical companies or other entities.
However, Hill said Purdue's conduct in overstating the benefits and understating the risks of its opioid pills played a key role in Indiana's opioid crisis. The lawsuit does provide a picture of what the state maintains were Purdue's actions despite having sections redacted.
According to the complaint, Purdue sales representatives visited Indiana prescribers "regularly and repeatedly" and "regularly omitted from their sales conversations any discussion of the risk of addiction from long-term use of opioids."
Although its labeling for OxyContin specified 12-hour dosing, the lawsuit alleges, Purdue knew the medication did not provide 12 hours of relief. When Indiana doctors complained about their patients being in pain, some sales representatives were instructed to encourage the physicians to increase the dose, while others told prescribers outright that giving the medication three times daily was an option.
Overall, the flood of opioids into Indiana caused great devastation. Indiana's complaint asserts that more than 3,000 Indiana residents died of opioid overdoses between 2010 and 2016, and as many as 89,000 are currently battling opioid addiction. Also, between 2013 and 2017, the number of Indiana children removed from their homes because their parents used drugs ballooned more than 250 percent to 8,118 youngsters last year.
"Victims of Purdue Pharma's conduct include Hoosiers who have become addicted to opioid products after getting legitimate prescriptions to treat real ailments, as well as their families and friends who have watched them suffer," Hill said. "We filed this lawsuit with these individuals especially in our heart and minds."
Indiana is being aided in this lawsuit by Cohen Milstein Sellers & Toll PLLC and Zimmerman Reed LLP. Hill said the outside law firms are working on a contingency basis.•
Please enable JavaScript to view this content.