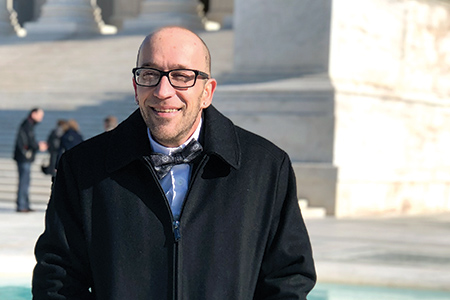 Marion resident Tyson Timbs never expected to be the face of civil forfeiture reform at the United States Supreme Court.
In fact, several times during his five-year legal battle, Timbs wanted to throw in the towel. Litigation, especially the kind that advances to the highest court in the land, can be taxing, and sometimes, all Timbs wanted was to put his past trouble with the law behind him.
But after his $42,000 Land Rover was seized in what Timbs describes as an excessive forfeiture, he said he wanted to fight against what he views as widespread unjust civil forfeiture practices. That decision put the Hoosier state on a national stage when the high court heard Timbs' case, Timbs v. Indiana, 17-1091, on Nov. 28.
The Timbs case centers around one question: has the Eighth Amendment's Excessive Fines Clause been incorporated to the states via the 14th Amendment? Timbs, represented by the Virginia-based Institute for Justice, says yes, but the state of Indiana says in the context of civil in rem forfeitures, the answer is no.
Those differing arguments trace back to 2012, when Timbs used money from his father's life insurance policy to purchase the $42,000 vehicle. One year later, after developing a heroin after an opioid prescription, Timbs was arrested on drug and theft charges as part of a series of controlled buys.
The Rover was seized during the arrest, but the trial court declined to allow the forfeiture, finding it would be "grossly disproportionate" to Timbs' crime. A divided panel of the Indiana Court of Appeals agreed, noting that statutorily, Timbs could only be required to pay $10,000 in fines.
The case then proceeded to the Indiana Supreme Court, which reversed course and allowed the forfeiture. The justices' unanimous decision was premised on their finding that SCOTUS had not yet explicitly incorporated the Excessive Fines Clause to the states.
The central question
The Institute for Justice took on Timbs' case after the Indiana Supreme Court ruling and began briefing its position that the clause had, in fact, been incorporated. Seattle-based IJ attorney Wesley Hottot told the federal justices last month that existing precedent and legal history support Timbs' position.
Relying on Austin v. United States, 509 U.S. 602 (1993), Hottot said forfeitures are considered "fines" as the clause understands the term. He rejected the state's argument – which he called a "labelling game" – that civil forfeitures are not fines because they are in rem — against property — rather than in personam, proceedings.
But that difference between proceedings was the crux of Indiana's argument, as presented by Solicitor General Thomas M. Fisher. Because in rem proceedings are against an object, that object cannot claim an Eighth Amendment right. Fisher said legal history dating back for centuries has recognized this distinction.
Justices, however, seemed to struggle with Fisher's argument. Both justices Neil Gorsuch and Brett Kavanaugh challenged the notion that any provision of the Bill of Rights would not be incorporated via the 14th Amendment, especially in 2018 when courts have explicitly found incorporation for several such provisions. Further, Justice Ruth Bader Ginsburg noted that while things may not have rights, "people … have rights or obligations with respect to things."
The other question
Civil forfeiture practitioners and experts unanimously take the justices' comments during last month's argument to mean that, at minimum, the court will rule in favor of incorporation of the Excessive Fines Clause. But the justices also grappled with the derivative argument of the proportionality of forfeitures, which gets to the heart of the Eighth Amendment protection.
Emphasizing that determining whether a fine is excessive is a fact-sensitive inquiry, Hottot stressed several times throughout the argument that trial courts are in the best position to determine whether a forfeiture is appropriate in light of the crime. He made specific reference to Grant Superior Judge Jeffrey D. Todd, who initially determined that forfeiture of the Land Rover was grossly disproportionate to Timbs' crimes.
But Fisher and Indiana Attorney General Curtis Hill, who attended the argument, said the standard should be whether the object in question — here, the Land Rover — was an instrumentality of the underlying crime. If so, the state argued forfeiture would be appropriate regardless of proportionality.
Justice Stephen Breyer pushed Fisher on that argument, asking whether it would be appropriate to seize either a Bugatti or a jalopy if the driver was going 5 mph over the speed limit. Fisher said the type of car would not matter — all that would be relevant is the fact that the car was being used to commit a crime.
Widespread reform
While Timbs addresses the narrow issue of incorporation of the Excessive Fines Clause, the Grant County case is not being litigated in a vacuum. Civil forfeiture reform was a prominent topic during the 2018 session of the Indiana General Assembly, while another case challenging Indiana civil forfeiture practices under the state constitution is currently under review by the Indiana Supreme Court.
That case, Jeana M. Horner, et al. v. Terry R. Curry, et al., 18S-PL-00333, addresses the issue of whether all forfeiture proceeds must be deposited into the Common School Fund pursuant to Article 8, Section 2 of the Indiana Constitution. That provision holds that "all forfeitures which may accrue" must be placed in the fund, but longstanding practice has allowed Indiana law enforcement to keep all or a portion of forfeiture proceeds.
That practice was codified in Senate Enrolled Act 99, which took effect July 1, while both cases were proceeding. The law creates a percentage-based formula that requires civil forfeiture proceeds to be disbursed first to attorneys, then flow through law enforcement before remaining funds are placed in the Common School Fund.
The attorneys' fees considered in the formula include disbursements to private attorneys who are hired by prosecutors to handle forfeiture proceedings. The Institute for Justice, which is also representing the plaintiffs in Horner, pointed to that practice as a reason why it believes Indiana's forfeiture practices are among the worst in the nation.
Sandick
Specifically, Hottot told reporters after last month's argument that private attorneys who are paid to handle forfeiture cases have a financial incentive to ensure the proceedings end in favor of the law enforcement agencies that hired them. Harry Sandick, a New York attorney with extensive experience in asset forfeitures, said he does not think it is common nationwide for prosecutors to hire outside counsel to handle forfeitures, and said he can understand how that practice could intensify attorneys' conflict of interest.
In general, IJ has argued in both state and federal courts that Indiana's forfeitures practices create a policing-for-profit scheme wherein law enforcement agencies look to forfeitures as a means of raising revenue. But speaking after the argument, Fisher rejected the notion that civil forfeiture in Indiana differs significantly in practice or motivation from elsewhere in the country.
Indiana Senate President Pro Tempore Rod Bray, a Martinsville Republican who shepherded SEA 99 through the Legislature last year, did not return calls seeking comment on whether civil forfeiture would be revisited during the 2019 legislative session.
Local and national impact
Though Indianapolis civil forfeiture attorney Todd Ess describes Indiana as the "legal proving ground" for forfeiture reform, he and other forfeiture experts say the ruling in Timbs will have implications beyond the Hoosier state. That's because, according to Hottot, the case is about more than Timbs' truck — it's about ensuring Americans can take advantage of constitutional protections in the Bill of Rights.
Aside from Indiana, Hottot said courts in states such as Montana, Mississippi and Michigan have held that the Excessive Fines Clause doesn't apply, but a ruling from SCOTUS would secure Eighth Amendment protections for people in those, and all, states. Sandick and Ess both expect the justices to rule in favor of incorporation of the clause, though they think the court may leave questions about other issues, such as proportionality, for another day.
While acknowledging that citizens will always have an interest in protecting their property from inappropriate seizures, Hill, speaking to reporters in D.C., said law enforcement will always have an interest in seizing property that is used in a crime, even if the court rules for incorporation. Ess agreed that little should change for Indiana law enforcement if either the state or federal supreme courts rule against the state.
"It doesn't mean police still can't seize vehicles," Ess said. "It just imposes some due process requirements."•
Please enable JavaScript to view this content.