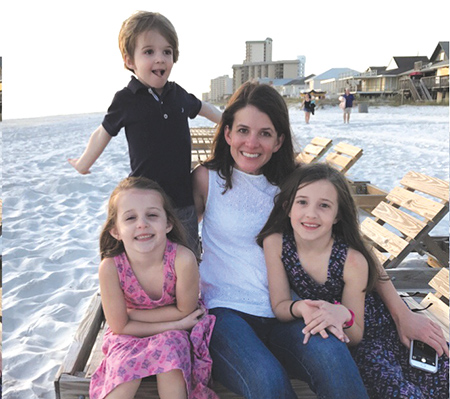 I have often heard it said that having children keeps you young, keeps you in touch with your own childhood and it helps keep your imagination alive.
Whoever said that has never met Charlie Bell.  
Charlie Bell is my 4-year old, and if feeling 136 years old is feeling young, then yes, he makes me feel very, very, young every single day.
Charlie was born in the dead of winter one month after I turned 40 years old. Because he is Charlie, his due date happened to coincide with Indianapolis' heaviest snowfall since the Blizzard of 1978. It was also the coldest day in Indiana since 1994 with the low temperature hitting -15 degrees.
I had always been told that the first child comes late, the second comes on time and the third comes early. Moira (my oldest) was born five days late, Emma (the middle) was born on her due date (because she is precise — just ask her), and with Charlie being the third, as the snow began to pile up around my home, I became convinced that he would greet us at any moment. So, I spent the day shoveling the driveway, watching YouTube videos on how to deliver a baby in an emergency and then shoveling the driveway again.
I then found a labor and delivery nurse in the neighborhood (just in case), shoveled the driveway for a third time and made a reservation at a hotel across the street from IU North Hospital. (I mean, why not flip out?) I then shoveled the driveway one more time.
On the fifth time I shoveled the driveway, I put my back out. I could not reach my knees and it hurt to look down. I could not lift anything, much less a newborn. I was useless, so I simply laid on the floor and stared at the ceiling and waited for Charlie to arrive.
Because he is Charlie, he took his own sweet time and was born 11 days after his due date. At that point, the roads, the driveway, my back and really everything was fine. Thankfully, all went well. It was the first joke Charlie played on me and it was a good one.
We have now spent approximately 1,775 days with Charlie and coincidentally, that matches the number of hairs on my head that have turned gray, given up and fallen off of my scalp since 2014. But for all the energy Charlie takes out of us, he gives it back to us by the entertaining manner in which he maneuvers through his world.
For example, when I try to tell him how lucky he is to be a healthy little boy, he tells me how he wishes he was a "wo-bot." When I tell him how lucky he is to live in a warm house with a roof over his head, he tells me bitterly that he would prefer to live in a "wocket-ship."
His relationship with the truth is shaky at best; he often bends the truth on mundane matters and, of course, we often buy it. When we find out that what he told us never happened, he simply slumps his shoulders, looks at us like we are idiots and tells us that he was "just kidding" and that we should've known what he was up to because he was using his "lying face."
While he may get away with lying, his sisters get revenge in vital battles over who gets to order first at the "west-au-want," who gets to choose the Netflix show and who gets to sit by Gramma. But it isn't that difficult for his sisters to win these battles when these disputes are settled with paper-rock-scissors and Charlie always (and I mean always) throws scissors.
Charlie has also developed an interesting language as well. Sometimes I have to refer to my "Charlie-to-English" dictionary just to keep up. Here is a sampling:
Hoss-bubble – noun. Building where sick people go.
Fecktist – noun. First meal of the day. Charlie usually has cereal and toast and he somehow takes 35 minutes to consume it.
Pack-pack – noun. A backpack. Charlie's pack-pack has a monkey on it and its zippers are bananas. Even though Charlie takes his pack-pack to pre-school, there's usually nothing in it. It just feels right for him to wear a pack-pack to school.
At one point, Charlie began starting his sentences with the word "also" even though there was no statement that came before it. He would often walk down the stairs and announce something like "Also, Mufasa is Simba's dad," and then walk off. It was as if he was having an in-depth, but silent, conversation with us and then decided to turn off the mute button for just one sentence.
Also, Charlie starts sentences out of nowhere with the word "porchunately." As in, "Porchunately, Clark Kent turned into Superman." Personally, I feel both porchunate and fortunate that Clark Kent has turned into Superman and saved the world as many times as he has. More and more, Charlie has been starting sentences with porchunately, so I have to assume he is feeling porchunate about life, and as 2018 comes to an end, so am I.
For one, I feel porchunate that after volunteering for this great association for years, I had the opportunity to serve as the IndyBar's 140th president. Being president always felt more like fun than work, but it did take up a lot of time. That said, it was worth it, and I feel very porchunate that Anne, Moira, Emma and even Charlie were supportive of my desire to be president. I am also porchunate that I work with Tony Paganelli and the great lawyers and staff at the Paganelli Law Group who were always willing to help me out when I needed it.
I feel porchunate that we have a board and a membership full of lawyers who value giving back to the community, promoting justice and enhancing the legal profession. We are porchunate that great leaders like Tom Barnard, Andy Campbell, Jimmie McMillian and others will continue to lead the association.
Also, I feel extremely porchunate that we have a staff whose work makes the association successful. This includes caring and friendly staff members (Claire) who greet members of the public when they are lost and in need of legal services; a creative, talented, and funny marketing department (Mary Kay and Kara); a smart and forward-thinking business office (Kari and Natalie); and dedicated event planners (Deneen and Lesley) who always make things run smoothly. Finally, we should all feel porchunate that we have an executive director in Julie Armstrong, who is truly one of the best in the business. During a time when there are fewer lawyers in this community, this group somehow managed to grow the membership, increase engagement, and increase revenue for the association.
As I conclude my final president's message, I want to acknowledge that I asked a lot of so many members this year. I asked them to volunteer, to help the IndyBar out, to help me out, to swear me in, to give a speech, to serve on a committee, to donate, to cut me some slack, to edit something, to look over something, to sponsor something, to organize something, to give me advice, to give me feedback, to simply show up, to get the word out, to explain to me what was on a spreadsheet…and almost every time I made a request, people said "yes."
If you were one of those people who said "yes," thank you. I am very grateful for you. People like you made this year fun.
Porchunately yours, James
Please enable JavaScript to view this content.