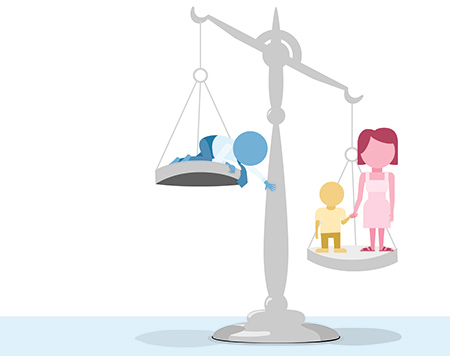 Attorney Scott Trout was not about to let the comment pass without a response.
As the executive/managing partner and chief executive officer of Cordell & Cordell, a law firm that is focused on representing men in divorce cases, Trout has encountered gender bias in the judicial system. Sometimes he has irritated the judge when he has called out stereotyping, and occasionally he has been kicked out of the courtroom.
In one instance, Trout, who is licensed in Missouri, Illinois and Georgia, recalled representing a dad who had been the primary caregiver of his children and was fighting for custody and child support. When the judge wondered aloud why the man did not get off the couch and get a job, Trout pointed out to the jurist that she would not have made that comment if his client were a woman.
 
Trout
The judge stared blankly for a few seconds then conceded the attorney was correct and she was wrong to have made that statement.
Stay-at-home dads may still be comparatively rare, but fathers pushing for more time with their children is a growing trend. A January 2018 report from the U.S Census Bureau found the proportion of men who are custodial parents has increased over the past 21 years. In 1995, one in every six custodial parents were fathers while by 2016, the proportion had nearly reached one in five.
Despite the growth, the percentage of custodial fathers is just 19.6 percent, well below a quarter of all custodial-parent families. So, perhaps not surprisingly, the prevailing perception remains that family courts are biased against men. Fathers' rights groups across the country do not have a laundry list of specific things they want, but they are advocating for the more general position of equal treatment in the family courts.
"At the end of the day, fathers just want to be treated fairly," Trout said.
'Mom state'
Nathan Hacker, attorney at Eskew Law in Indianapolis, believes the perceptions spurring the fathers' rights movement may be based more on personal history and family stories than reality. Male clients talk about what happened to their relatives, such as an uncle who was only granted every other weekend with his children, and convince themselves the courts will stick them with the same limited time.
 
Hacker
Indeed, he has found fathers and mothers share the belief that Indiana is a "mom state" that favors women in divorce and custody battles.
However, Hacker has not seen bias as he has practiced in courts around Indiana. In fact, over the past five years, he said, judges are balancing the factors of each case when making decisions rather than falling back on stereotypes like mothers being the more nurturing parent.
He even considers the state's statues to be "pretty gender-neutral." Indiana custody laws do not specifically mention men and women, and largely focus on the best interests of the children.
Even so, the men come to his office confident that they will "get hosed" in court, Hacker said. As a result, he spends much of his time managing expectations.
A male client may feel he is being treated unfairly because he is awarded less parenting time and has to pay more in child support, but Hacker explained that is largely a consequence of economics. Men are generally paid more than women and are often the family's primary breadwinner, so they tend to work full time while their wives may work part time or stay at home.
"What I would see generally is that the fathers felt like they were losing because they did not 'win' primary physical custody and they did not 'win' more than 50 percent of the marital estate," Hacker said, noting he regularly reminds his clients, "This is family law; nobody wins."
The Census Bureau report highlighted that even with full custody, men held jobs at a higher rate than women. Full-time, year-round employment rates for custodial fathers was statistically the same from 70.2 percent in 1993 to 68.2 percent in 2015. However, full-time, year-round employment rates for custodial mothers grew from 40.9 percent in 1993 to 50.0 percent in 2015.
Trout continues to encounter bias from some judges. He remembered one male client who had been assaulted by his wife and ended up in the hospital. When the judge asked the client why he did not defend himself, Trout replied that question would not be posed to a female victim of domestic violence.
Family Law
Click here
to read about a bill that would allow grand, great-grandparent visitation in certain cases
Still, in the last 25 years, Trout has seen the judicial system make "huge strides" in how it treats fathers. The judiciary is giving them more physical time with their children and equal decision-making authority.
Men asking for more parenting time is not new, although 25 years ago they probably did not deserve it, Trout explained. Then fathers tended to be less involved with their children. Now with dads taking larger caregiving roles, there is good reason for shared parenting.
Equal parenting can lower the acrimony in a divorce, Trout said. "No one wants to make the decisions by themselves or carry the burden by themselves. (Sharing parental duties) will be better in the long run."
Rebuttable presumption bill
Sen. Jon Ford, R-Terre Haute, has introduced a bill in the 2019 Indiana General Assembly that pushes the courts toward shared parenting. Senate Bill 87 would add a rebuttable presumption in child custody proceedings that joint physical custody and equal parenting time is in the best interests of the child.
The measure was assigned to the Senate Judiciary Committee, but as of Indiana Lawyer deadline, a hearing on the bill had not been scheduled.
Passage of Ford's legislation might improve Indiana's ranking with the National Parents Organization, a group that advocates for shared parenting time. A 2014 study by the Massachusetts-based nonprofit gave the Hoosier state a C- for its child custody statutes because, in part, Indiana had no statutory preference, or presumption, for shared parenting, and the statutes explicitly stated that joint legal custody does not require an equal division of physical custody of the child.
Ned Holstein, a physician who founded the National Parents Organization 22 years ago and continues to chair its board, emphasized shared parenting is neither a novel or untested concept. He cited studies demonstrating that children who grow up without one of their parents are likelier to bully their classmates, abuse drugs, commit a violent crime, go to prison and have children as a teenager.
Both Trout and Hacker called for courts to start at a 50-50 split when determining parenting time. They would like to see the judiciary begin at equal time for both parents then work backward rather than working up to an equal split.
Holstein noted the court of public opinion approves of both parents equaling caring for their offspring. A poll by the NPO found that 70 percent of the general public accepted shared parenting.
However, he said the judiciary and state legislatures have been slower to institute the concept. In 1979, no states had any laws promoting shared parenting, and today it is a bit of a hodgepodge. California was the first state to adopt a shared parenting law while New York still relies on caselaw. Kentucky passed a shared parenting law last year, but Massachusetts could not muster the votes to greenlight similar legislation.
The reasons for not adopting shared parenting range widely. Some arguments against hold that it would put the courts in a straitjacket by saddling them with a one-size-fits-all solution. Other views maintain it would turn children into "suitcase kids," having to constantly jostle between parents.
Another belief is that shared parenting could potentially tie women who are victims of domestic violence to their abusers. Holstein countered with studies showing the first instance of violence occurs right after couples are separated or divorced. Shared parenting, he said, will lower the level of anger because the noncustodial parent will not feel like the children are being taken away.
Holstein reiterated children do better when they have a relationship with both their parents, as does society. "We need to have (shared parenting)," he said, "because too many kids have holes in their hearts."•
Please enable JavaScript to view this content.