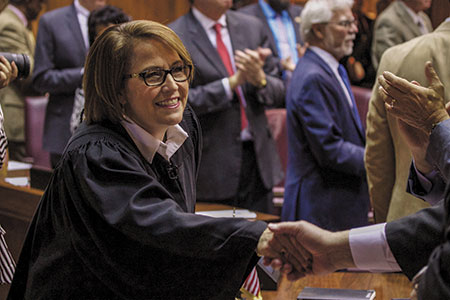 With applause amplified from all corners of the Indiana General Assembly's House Chamber, the leader of Indiana's judiciary declared the state's judiciary is "sound, steady and strong" in 2019.
Indiana Chief Justice Loretta Rush shared the highlights of the judiciary's work in 2018 while looking toward the year ahead during the 2019 State of the Judiciary address Jan. 16. The chief justice presented to a joint session of the Indiana General Assembly and more than 75 judges from across the state.
With a theme of "Addressing the Needs of our Customers," the judiciary plans to emphasize quality customer service to court users in 2019, she said.
"It's not common for us to call court users customers. Justice is not for sale, and we don't have a product that can be changed to satisfy the needs of every person," Rush told the crowd. "But what we do have is a constitutional charge to provide open, accessible and fair courts. That is achieved only when we place litigants, victims, witnesses, jurors — all court customers — at the center of every equation, just as our courthouses are at the center of every community."
Rush specifically thanked Indiana's trial court judges for being at the center of their local comunnities.
"Our judges care so deeply for the people they serve — those customers at the center of our judicial system," she said.
Judges gathered in the House chamber to hear Rush discuss the judiciary's accomplishments.
Court technology advancements
As the chief justice addressed the judiciary's highlights from the past year, she pointed to the state's improving court technologies. Rush began by referencing former Chief Justice Randall Shepard's initial pledge 25 years ago to make the judiciary "cheaper, faster, simpler" when announcing the court would, for the first time ever, accept paperwork via fax machine.
"That decision laid the foundation for today's electronic filing, which accepts a half-million electronic documents each month," Rush said. "… We've stuck with the cheaper-faster-simpler mantra because it allows us to concentrate on customer-focused service."
As of now, 80 percent of the state's new caseload is contained within one central case management system, accessible via mycase.in.gov, which Rush said was visited more than 20 million times by more than 6 million court users in 2018. Only seven counties have yet to adopt electronic filing, five of which are scheduled to make the switch this year while the other two await Odyssey deployment.
The chief justice added that the electronic filing of court documents has been a "game changer" for the judiciary.
"I appreciate and support the work of Chief Justice Rush to ensure Indiana's judicial branch continues to adapt to the changing needs of all those who interact with our court system," House Speaker Brian Bosma said in a statement after Rush's address. "Indiana has successfully expanded court technology, which is critical to streamlining services and identifying efficiencies."
Attacking opioids
The chief justice also took time to reflect on when nearly 1,000 Hoosiers from all 92 counties flocked to Indianapolis in an effort to collectively address the state's opioid epidemic. The Indiana Supreme Court hosted its first Statewide Opioid Summit in July to discuss how teams of judges, prosecutors, defense attorneys, law enforcement officers, community leaders and medical professionals can practically tackle the opioid crisis at home in their communities.
"The teams took home concrete tools on the science of addiction and which treatments work, models for family recovery courts, how to connect people to care, jail-based treatment programs, workforce development, program opportunities, and how to share data across systems," Rush said. She pledged the judiciary would sustain that momentum in 2019 with additional training and workshops throughout the state to continue to bring community-based solutions to the drug scourge.
Increased civil legal aid funding
Lastly, Rush focused her attention on the judiciary's goal to better serve court customers by providing increased access to justice through civil legal aid services.
At the end of 2018, the Indiana Supreme Court requested an additional $500,000 in both fiscal years 2020 and 2021 from the Indiana General Assembly to boost the annual appropriation of $1.5 million per year to civil legal aid services across the state. Rush reiterated that plea during her address, again asking for $2 million annually for civil legal aid.
"There is a remarkable return on your investment," the chief justice told lawmakers. "An Indiana Economic Impact Study showed that for every $1 invested in legal aid, nearly $7 goes back into the economy. Legal aid helps court customers be productive."
Indiana Bar Foundation executive director Charles Dunlap agreed, saying his organization strongly supports the judiciary's request for multiple reasons.
"The demand is so high," Dunlap explained. "Even with that level of funding, there are many people who are eligible to receive civil legal services because they're low income, but they just don't get it because there just aren't enough attorneys to do that work."
Dunlap said additional funding for basic legal aid services would be a good investment for the state. An additional $500,000 would certainly help attorneys aid more Hoosiers, he said, while bringing in a greater return than what was initially invested.
"From that standpoint, if you were to take the half-million and multiply that by $7, I think it's punching above its weight class for the effect it's going to be having," Dunlap said. "It's heartening to me that this court and the judiciary as a whole thinks that this is a priority and that it should translate through public policy into the budget."
Despite Dunlap's hopes that the additional $500,000 will be granted per Rush's request, Gov. Eric Holcomb's recommended budget for fiscal years 2020 and 2021 appropriates only the usual $1.5 million per year for civil legal aid.
"While no one is above the law, it is equally true that no one is beneath it," Rush said. "… Justice only for those customers who can afford it is not justice for all. In fact, it is not justice at all."•
Please enable JavaScript to view this content.