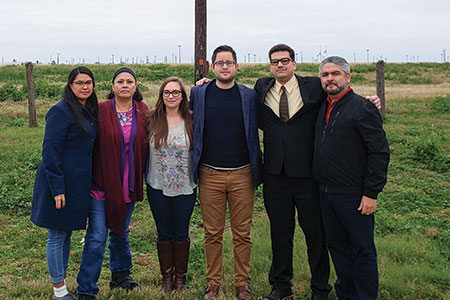 As the mother of an 8-month-old son, Lauren Andrini understood perfectly.
Andrini had volunteered to help women and their children begin taking their first steps toward making a new home in the United States. Even though she and the other mothers came from vastly different backgrounds and sometimes did not know enough of one another's languages to communicate, Andrini knew exactly why they were risking everything for their children.
"They were women I could learn so much from," Andrini said. "A lot of them couldn't read or write, but they were so bright and so resilient."
Andrini was among students and faculty from Notre Dame Law School who volunteered over the holidays with the Dilley Pro Bono Project, which helps women and their children seeking asylum in the United States. The team, which also included law students Gino Ibanez and Rolando Rengifo, along with local immigration advocate Jesusa Rivera, boarded planes Christmas Day and headed to Texas, where they stayed until New Year's Eve.
The team was led by immigration attorney and Notre Dame adjunct law professor Rudy Monterrosa and his wife, Cecilia, who is also an immigration lawyer in South Bend. This was the first time Monterrosa has volunteered for the Dilley project. With headlines and news stories about immigrants, family separations, detentions, deportations and migrant caravans, he saw the volunteer work as giving the students a chance to experience firsthand what is happening at the southern border.
The Dilley Pro Bono Project provided legal assistance to 13,000 families who were seeking asylum at the border in 2018. (Photo courtesy of Dilley Pro Bono)
Monterrosa routinely encourages all his students to give back, help others and, especially when they become lawyers, take pro bono cases. Going to Texas was an extension of that philosophy and a way, he believed, his students could see the reality of the situation.
The Notre Dame team worked with the Dilley project at the South Texas Family Residential Center in Dilley, Texas, less than 100 miles from the Mexico border. About 1,000 mothers and children are being detained in the facility, most fleeing from violence in Honduras, Guatemala and El Salvador.
Monterrosa noted the center calls itself a family residence but, from his perspective, it is more like a jail. The women and children are being detained, they all wear the same brightly-colored sweaters and all have plastic identification tags pinned to their clothes.
The most disheartening part to him was the little chairs set around a television. While the Dilley volunteers worked with the mothers, the children were shuffled over to the small seats. Rather than playing, coloring or running around, Monterrosa said, all the children could do was watch TV.
For the Dilley project, the Notre Dame crew primarily helped the women prepare for their credible fear interviews. This is the first step in the asylum process, where the applicants explain why they are afraid to return to their homelands.
Andrini said the interview can be very difficult for the women. The gang violence, domestic abuse and other horrors have become a normal way of life for many of them, so when they are face-to-face with the interviewer in what can be an adversarial setting, they can become so intimidated that they cannot tell their reasons for coming to America.
Even the preparation for the interview can be painful. Women told stories of being raped and then forced to marry the rapist, being beaten by their husbands, regularly seeing victims of murder outside their homes, and getting no protection from the police.
All the families seeking asylum have a story, said Katy Murdza, advocacy coordinator with the Dilley Pro Bono Project. However, because asylum law is not intuitive, the volunteers are needed to help the women provide the details and explain why they are fleeing.
The Dilley project was born from a grassroots effort to help families seeking asylum and to put an end to detention of asylum seekers. With just 11 employees, the project relies on volunteers and in 2018 was able to help 13,000 families.
"Everyone can help," said Murdza, herself a 2012 graduate of Notre Dame. She became inspired to serve immigrants when she was an undergraduate and became involved with Notre Dame's Center for Social Concerns.
Andrini, a third-year law student, cultivated her interest in immigration law when she worked in a law firm before enrolling at Notre Dame. Taking an immigration law class with Monterrosa convinced her to volunteer for the Dilley project.
"I decided to do it because I hope that if I was in a situation like those women were in, there would be somebody to help me," she said.
The Notre Dame team slept at the local Days Inn and spent much of their time working in a trailer with the women from 7:30 in the morning to 5 or later each evening.
Ibanez, a Colombian-American, left his family in Florida to volunteer for the Dilley project. A third-year law student, he is planning to practice in the area of tax law, but he also wants to devote some time to immigration issues.
While at the detention center, Ibanez was pulled into helping with a volunteer departure hearing. One of the women had decided to return to her country and was scheduled to appear before a judge. After Monterrosa tapped Ibanez to help, the student spent the night at the hotel researching and the next day successfully argued the case.
The work illustrated the reason why he gave up spending Christmas at home.
"I wanted to make a difference one day at a time, one person at a time," Ibanez said.•
Please enable JavaScript to view this content.