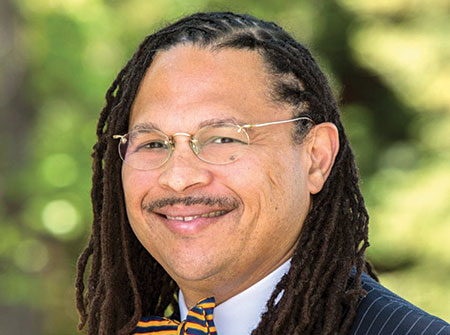 Any other law school probably would not have sparked G. Marcus Cole's interest.
The Stanford Law School professor loves being in the classroom, introducing very smart students to new ideas and concepts and helping them understand the subject matter. He was happy being where he was and doing what he was doing, but the available position was at Notre Dame Law School.
"I've always had a lifelong love for (the University of) Notre Dame and what it stands for," Cole, 57, said. "It was someplace I always wanted to be."
That sense of reverence now has Cole digging through his closet for winter clothes as he prepares to move from California to South Bend to become the 11th dean of Notre Dame Law School. He will succeed Nell Jessup Newton, who will step down as dean July 1 after 10 years leading the institution.
Cole, who will be the first African-American to serve as law dean at Notre Dame, grew up in the Terrace Village housing project in Pittsburgh with several siblings and parents who emphasized the importance of education. As a young boy, he and his older brother made a pact to both attend Notre Dame for their undergraduate studies. The oldest was accepted but Cole was turned down, so he headed to Cornell University, where he earned a bachelor's degree in applied economics.
Afterward, Cole followed his dream of becoming a lawyer to Northwestern University Pritzker School of Law in Chicago. Still, on game days, he drove to Notre Dame to cheer on the Fighting Irish.
Cole's career path included clerking for now-Senior Judge Morris Sheppard Arnold of the 8th Circuit Court of Appeals and working as an associate practicing complex commercial litigation at Mayer Brown & Platt from August 1994 to June 1997. Then, finally giving in to his former law professors' insistence that he had a special gift for teaching, Cole joined the faculty at Stanford.
The new dean will arrive at Notre Dame with extensive classroom experience, having taught courses in bankruptcy, banking regulation, contracts and venture capital. He also has experience in leadership, serving as associate dean for curriculum and academic affairs at Stanford from 2003 to 2008.
"Professor Cole is an extraordinary person, teacher, scholar and leader who brings to this role a deep commitment to our law school's mission, vision and values," said Notre Dame provost Thomas G. Burish. "Search committee members were uniformly impressed with his reputation for collegiality, as well as his global experience and involvement on issues ranging from social justice and equality to providing educational access for low-income children."
Cole serves on the editorial board of the Cato Supreme Court Review and is a member of the U.S. Court of Appeals for the 9th Circuit's Bankruptcy Judicial Advisory Committee. He is also on the advisory board of the Independent Institute's Center on Culture and Civil Society, and is the former board president of Rocketship Education, a national nonprofit charter school network.
"Professor Cole brings to Notre Dame scholarly accomplishment, experience in academic leadership, an impressive set of international appointments and a concern for social inequities and the human impact of law," said University of Notre Dame President Rev. John I. Jenkins, C.S.C. "We warmly welcome Professor Cole as the new dean of our Law School."
Cole decided to become a lawyer for the very practical reason of reducing travel time and improving convenience. To buy food for the family, his mother had to catch the bus to get to the grocery store because there were not any supermarkets near their home. He thought that as a business lawyer he could help entrepreneurs launch new small stores and services in low-income neighborhoods.
Although not helping small business owners, Cole is coming to Notre Dame with a belief that legal education has to prepare law students to adapt and adjust, just like any entrepreneur would have to do, to the ongoing disruptions in the marketplace. Law school cannot rely on last century's teaching methods to produce lawyers for the 21st century, he said.
Instead, law faculty must have a close relationship with the practicing bar so they can know firsthand the needs of clients and law firms.
Cole noted Notre Dame law professors are already out in the world, learning about how the legal profession is changing, and he credited Newton with nurturing externship programs that extend real-world learning to students.
Cole has started his transition into the dean's office with visits to the campus and meetings with students, faculty and staff. He wants to hear what the people in the law school have to say and what their ideas are for making the institution even better.
Yet even as the law school innovates and plans for the future, it continues to be guided by its mission of training ethical and moral lawyers who are trying to make the world a better place. That is what attracted Cole and convinced the professor to join Notre Dame.
"It was the right time and the right place, probably the only place," he said.•
Please enable JavaScript to view this content.