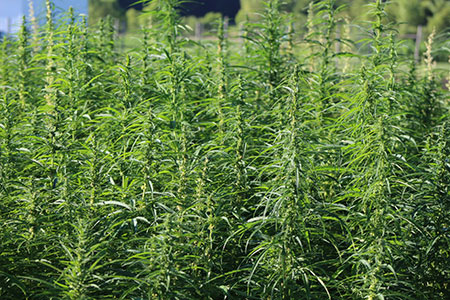 In 1943, an Indiana farmer grew hemp on Hoosier soil to produce manufactured fibers, contributing to the efforts of World War II. More than 70 years later, his son is now poised to grow that same hemp legally in the state for the first time since.
As a sixth-generation commodity crop farmer, Mark Boyer has grown corn, soybeans and wheat. He even added sunflowers and canola to diversify his rotation. But now his eyes are set on something he's dabbled with in recent years that just became legal in the United States — hemp.
With the signing of the 2018 Farm Bill came the removal of hemp as a Schedule 1 drug. That legislation now treats the cannabis species as an agricultural product that can be legally cultivated, whereas before it could only be grown at certain research institutions where state laws permitted.
Boyer's first experience with the plant began last year when he partnered with Purdue University to grow 12 acres of hemp for research purposes.
"The idea was to just see if it's feasible, if hemp can be grown using traditional row crop farming methods, and if can be planted and harvested using traditional farming equipment," Boyer said. "And through that research program we established, that yes, absolutely it can be done."
His hemp crop turned out so well that now he hopes to include it with his other rotations. His goal is to sell hemp seed oil products for culinary use.
Boyer said hemp seed oil differs from CBD oil. "It would be crushed, cold pressed from the seed of the hemp plant."
Boyer isn't alone in his interest. Since its legalization in December, some Hoosier lawmakers are also taking strides to make hemp a permanent addition to Indiana's agricultural identity and economy.
Although efforts to pass legislation that would have regulated hemp ultimately faltered in 2018, Rep. Jim Lucas, R- Seymour, said now that the federal government is on board, hemp may have a better chance in 2019.
The lawmaker is proposing House Bill 1385, which he says is a better version of last year's bill. It would incorporate language that mirrors federal changes made in the 2018 Farm Bill. 
Likewise, Senate Bill 516, authored by Sen. Randy Head, R-Logansport, and Sen. Blake Doriot, R-Syracuse, would realign Indiana's definition of hemp to comply with federal guidelines.
SB 516 also would establish the Indiana Hemp Advisory Committee to work in conjunction with the Indiana State Seed Commissioner and the Indiana Department of Agriculture.
Swanson
Justin Swanson, of counsel with the Governmental Services Group of Bose McKinney & Evans, said the passage of the 2018 Farm Bill treats hemp as an agricultural crop, allowing states to be primary regulators for any hemp production that occurs. If states don't set up their own programs, the USDA will do so for them.   
"Right now, the momentum is pointing towards setting up a state regulatory program," Swanson said of Indiana. "I think there's consensus among lawmakers that they want our farmers interacting with the state agency as opposed to a federal agency."
The prerogative for the General Assembly, he said, should be to modernize Indiana's existing hemp statutes to remain federally compliant, while encouraging future Hoosier hemp production.
Lucas said the legalization is bittersweet. He knew it would happen in the long run, but now he's worried that Indiana will have to play catch-up with its neighbors.
"I'm somewhat frustrated that we're a year behind where we could be," Lucas said. "There are so many other states that took advantage of what hemp has to offer, so all we can do is look forward."
Lucas said he thinks a Hoosier hemp industry could open new jobs for truckers and processors, while serving as an additional option for Indiana farmers looking to diversify their crops.
"Especially in my district where corn and soybeans do okay, but not great," Lucas said. "There is a lot of Hoosier farmland that does okay with others crops but might do fantastic with hemp."
Slow rollout
But Purdue University agronomy department head Ron Turco said those eager to get started with hemp need to pump the brakes.
"Just because the federal government has decided they want to legalize, doesn't mean that everything is available to everybody," Turco said. "You can't just go out and plant hemp right now. And that's never going to be the case."
Turco said that despite misconceptions about the plant, hemp is considered a regulated crop, which means farmers will have to abide by certain procedures in order to grow it legally. If they don't register as a hemp grower with the Indiana State Chemist and follow regulatory guidelines offered by the state, their crop could be considered an illegal plot of marijuana instead of hemp.
"You have to register your location, be certified by the state, have permits, and have a business plan," he said.
Indiana state chemist and seed commissioner Robert Waltz said the process of obtaining a commercial hemp-growing license should be straightforward in the future. Farmers would be required to have a background check, list the number of acres they wish to grow, the plot's specific location, and pay any required fees.
Neither Turco nor Waltz anticipate any traction for interested farmers until 2020. By then, legislation would be finalized and certified seed would be available. But for now, the lack of a hemp market and misinformation concerning the plant are challenges farmers need to start thinking about.
"People should be entering this with their eyes wide open and realize it is a business, and you really need to plan for it to be successful," Waltz said.
Hemp vs. marijuana
As discussions of regulated hemp take place in the statehouse, Purdue University extension plant pathologist Janna Beckerman said that is not to be mistaken for its relative, marijuana. Though nearly indistinguishable side by side, Beckerman said the two are actually quite different.
"I use the analogy of dogs. A husky has been bred to pull a sled, a chihuahua was bred to sit in your lap. They obviously serve different purposes," Beckerman said. "That's what happened with reginas cannabis; marijuana was bred for THC and hemp was bred for fiber, oil and the seed itself."
Beckerman helped grow a research plot of hemp for the Purdue Hemp Project, and she said there is still much to learn and research about the crop. She said she sees hemp as a viable crop that Hoosier farmers are uniquely positioned to take advantage of.
Boyer agrees, noting that the federal changes clear up any murkiness that remains about hemp. He's submitted an application to grow 100 acres of research hemp this year and hopes that in time Indiana will be able to build a commercial market.
"I believe it can be done, and I'm ready to roll the dice on it a little bit," Boyer said. "It's exciting and I'm looking forward to growing this crop and being able to help develop it."•
Please enable JavaScript to view this content.