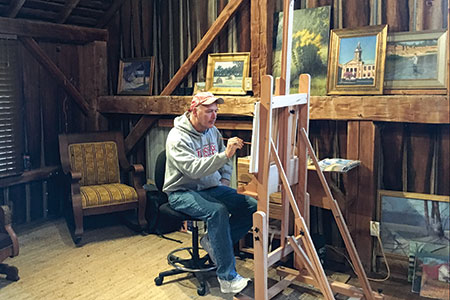 Rising up above the town of Brookville sits the historic Franklin County courthouse, nestled into a hollow encircled by rolling hills. On most days, Franklin Circuit Judge J. Steven Cox can be found sitting on the bench inside that courthouse. But he also may be found sitting behind an easel, painting it.
After receiving an unexpected letter from Indiana State Bar Association in November, Cox learned of its Courthouse Art Project, which seeks to display pieces of art highlighting Hoosier courthouses from all 92 counties.
"Usually I'm more up to date on what's going on in art in Indiana. I wasn't familiar with this project," Cox said. "So, I sat down and started to get a picture of our courthouse and paint it."
The judge got to work and spent eight hours painting the ISBA's 60th addition to its courthouse collection. Project chairman Douglas Church initiated the effort during his 2007-2008 ISBA presidency and said in the past 11 years, receptivity to the project has been astonishing.
The Franklin County courthouse in Brookville, painted by Franklin Circuit Judge J. Steven Cox.
(photo submitted)
"We've had some that were contributed by individuals that just wanted to do the artwork, like Judge Cox," Church said. "Not only is he a great judge, he is also an amazing artist. His painting of that courthouse is just perfect."
Cox, the longest sitting judge in Franklin County history, wasn't fully introduced to art until his undergraduate years at Indiana University. As a forensic sciences major, he took a required liberal arts course that would ultimately change his life.
"I took an art history class from 700 BC to then, 1983," he said. "It was for people who were not serious about making art their career."
But Cox took it seriously, performing well in the class. He was later asked by the professor to serve as an undergraduate assistant instructor to other students. Cox spent the remainder of his four years working alongside her, watching slide by slide of historic art filter through his mind on a near-daily basis.
Those years laid a foundation in Cox's life for what would eventually become a true passion, continual learning experience and source of community.
By the time he graduated from Valparaiso University School of Law and returned home to open his own practice, Cox knew he wanted to incorporate some sort of art into his new environment.
"I thought, 'Oh I'd like to have a painting to hang in my office,'" Cox said. But as he looked at various pieces, he realized he couldn't afford them.
"The more I looked them, the more I thought, 'Wow I'm not paying that. I can do that,'" he said. "I bought a book and started to paint on different canvases and throw them away or burn piles of them. And then I kept going until I got one that I could hang on the wall."
Now, Cox paints weekly in his refurbished barn-turned-art studio. He doesn't do it for the money or notoriety, though. He knows exactly why he's kept up with it all these years. It's the only thing that can still his mind.
"It's quieting," Cox said. "When you sit and listen to the kinds of things that judges hear all day long and the ugliest things that everybody is doing in your community that you live in, it's kind of a nice thing to focus your mind elsewhere for a while to get away from it."
Those who admire Cox's work say he generously shares his knowledge of art and resources with others. He's promoted the arts in his local community and statewide through various avenues, including previously serving nine years on the Richmond Art Museum board of directors, initiating and launching an annual Brookville paint-out event with the Indiana Plein Air Painters Association, and playing a key role in refurbishing the Franklin County Courthouse to its original glory.
Friend and fellow painter Mary Ann Davis said in the more than 20 years she's known him, Cox remains hospitable, humble and supportive of the Indiana art community.
"I even taught a workshop and he opened his barn for me to teach in Brookville," Davis said. "It's unusual to have someone giving with no holds barred. He doesn't want a painting from you in return. He's very giving."
As an artist, Davis said she appreciates Cox's knowledge of art history and his willingness to improve his craft while encouraging others to do the same.
"If you want to know where to paint, he will tell you," she said. "He knows all the best spots, the time of day, when the seasons change. He's also very willing to listen to anyone who has opinions on his artwork; He's like a sponge, always learning."
Once Cox finished the courthouse painting and handed it off to Church to make the trip to Indianapolis, the judge said he was appreciative that the art project is raising awareness about the beauty of historic buildings, and why they should be revitalized.
"I was thrilled that anyone would volunteer to take up their time in trying to not only showcase what had been done in years past, but what is possible going forward," Cox said
As someone who sees the artistic beauty in historic buildings, Cox was described by Church as an extraordinary individual in an extraordinary county. As the Franklin County Courthouse rises with the rolling hills, a piece of it is now tucked into the heart of the Hoosier state, ready to share its quietness with those who stop to see it.•
Please enable JavaScript to view this content.