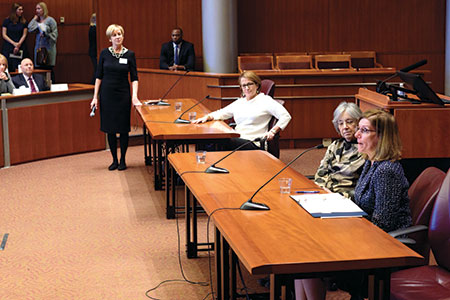 For the first time Indiana history, the chiefs of the Indiana Supreme Court, Indiana Court of Appeals, 7th Circuit Court of Appeals, Northern and Southern District courts and Southern District Bankruptcy Court are all women. And those women have a lot of stories to tell.
Some are stories of celebration — like the time cheers erupted after Loretta Rush was named Indiana's first female chief justice. Others are stories of revolution, such as when 7th Circuit Chief Judge Diane Wood convinced her then-supervisor at the University of Chicago Law School to allow her to take paid maternity leave.
But these stories of triumph in the chiefs' lives are matched by stories of struggle. Jane Magnus-Stinson, chief judge of the Indiana Southern District, remembers once doubting her "inner voice" and then suffering the consequences of going against her gut. And Rush can remember applying for jobs and being asked how many children she planned to have, a question meant to determine if she could balance her job with her family.
"I didn't have four kids just to spite them," Rush joked Jan. 25 during a continuing legal education event, "Women's Voices in the Courtroom." Held at Indiana University Robert H. McKinney School of Law, the discussion highlighted women judges and lawyers working in both state and federal law, giving them the opportunity to share their struggles and advice for young female barristers striving to advance in their legal careers.
Ellen Boshkoff, a Faegre Baker Daniels litigation partner and panelist, told the crowd that the
progress women have made in the legal field means now is a good time to be a woman litigator. Even so, the panelists said succeeding as a woman in the law means "leaving the ladder" down for upcoming female lawyers who want to climb through the glass ceiling.
"We have to band together to get this done," Rush said.
Investing in others
The chief judges and justice attributed their career success to a mixed bag of secrets: hard work, courage, resilience, grace and a healthy dose of serendipity. They also credit mentors who invested in their careers and saw in them what the jurists did not see in themselves.
Magnus-Stinson, for example, said her work in the Evan Bayh gubernatorial administration ultimately led to her appointment as a federal judge. When Bayh was elected to the U.S. Senate and moved to Washington, D.C., he brought Magnus-Stinson's name to then-President Barack Obama as a possible judicial candidate.
In the same way, Wood said she tries to remain cognizant of the fact that she's just one piece in the puzzle of advancing women in the law. The circuit chief said she makes an effort to hire talented female clerks she can invest in.
Likewise, Rush said she intentionally appoints women to commissions and boards to give them opportunities to vary their experience. The chief justice also makes it a point to regularly speak to women's groups, saying she believes it's important for young female lawyers to see women like themselves in leadership positions.
Indiana Court of Appeals Chief Judge Nancy Vaidik, who led the panel discussion among the judges, stressed the importance of women building each other up in their careers. Similarly, when a colleague experiences success, Magnus-Stinson said the best course of action is to celebrate her, not to become jealous.
"Girls compete," Vaidik added, "women empower."
Investing in yourself
Equally important to building up other women is building up yourself, another group of panelists said during the CLE. Led by Indiana Southern District Magistrate Judge Doris L. Pryor, a group consisting of Boshkoff, Bernice Corley of the Indiana Public Defender Council, Monica Foster of Indiana Federal Community Defenders, Inc. and Jessica Wegg of Saeed & Little, LLP, discussed their career experiences as female lawyers from different generations.
Though their career paths and ages varied, the panel of practitioners shared a common piece of advice: trust yourself and invest in your life outside of the office.
As an example, Corley told the story of once appearing before a judge who repeatedly tried to correct and change the positions she was advocating, an experience that caused her to question whether she was properly presenting her case. Though she lost before that judge, Corley later succeeded on interlocutory appeal, an outcome that taught her to trust her ability to be an effective lawyer.
For her part, Foster stressed the importance of ensuring that women lawyers create a life for themselves outside of the office. In her experience, Foster said separating a work life from a personal life is a matter of women knowing who they are outside of the office, then making a conscious effort to be that person.
Before becoming a full-time mom and a part-time lawyer, Wegg thought she knew who she was: a career-driven woman who never planned on staying home with her kids. But when life changed and Wegg had no other option, she said she found a joy in being with her children that made her career sacrifices worth it. Because of her experiences, Wegg encouraged the audience to be willing to follow the path their career takes them on, even if it's not what they had planned.
"You get out of law school, you go down a course and I didn't know where I wanted to go after law school," Wegg said. "So I just went with the river, and it took me here."
Client perspective
The program ended with a discussion from in-house attorneys at three major Indianapolis companies: Tavonna Harris Askew of Health & Hospital Corporation of Marion County, Michael Harrington of Eli Lilly and Co. and Shiv O'Neill of Cummins Inc. Those corporations have made diversity on their legal teams a corporate imperative, and they discussed the importance of law firms likewise investing in varied legal perspectives.
At Cummins, O'Neill said the company will stop working with a law firm if the firm does not demonstrate an effort toward diversifying attorneys who could represent the company, including women attorneys. And at Lilly, Harrington said the mantra is to find lawyers who can do hard work, regardless of how they look.
For Health & Hospital Corporation, Askew said diversifying the company's legal team became necessary as Indianapolis' population likewise grew in diversity. Creating a more diverse legal field, Askew said, can partially be accomplished by asking diverse lawyers — including women — where they want to take their careers, then investing in those lawyers to help them reach their goals.
In closing out the program, Magnus-Stinson reminded the crowd that there's still work to be done to help women achieve equal standing in the legal profession.
"You may have put the ladder down," Magnus-Stinson said, "but when you climb up, we may be asking you to bang on the ceiling a little bit more."•
Please enable JavaScript to view this content.