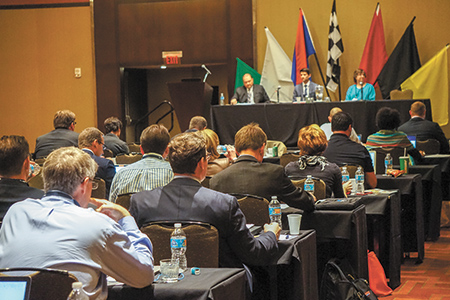 The Racing Attorney Conference (TRAC), an annual motorsports legal conference planned and presented by the Indianapolis Bar Association and the North Carolina Bar Association Sports and Entertainment Law Section, returns to Indianapolis on April 9 and 10, 2019.
Now in its 12th year, TRAC combines education (including CLE credits), development and networking with legal and business leaders in the motorsports industry, including NASCAR and Indycar.
This year's conference includes sessions on alternative autonomous vehicles in racing, advertising considerations, insurance underwriting, bankruptcy and more, all presented by leaders in the industry from throughout the country. The full agenda and speaker list can be viewed at racingattorneys.com.
In addition to the educational and interactive experiences, TRAC also presents a tremendous opportunity to network,socialize and meet face-to-face with industry leaders.
For the latest updates on TRAC 2019, please visit racingattorneys.com.
Registration Details
TRAC 2019 will be hosted at the Conrad Indianapolis and will feature two days of educational programming complemented with an optional dinner outing on Tuesday evening. Conference Only rates include all educational programming during TRAC 2019, plus breakfast, lunch and one cocktail reception at SILO Auto Club and Conservancy. An optional Tuesday evening dinner outing to St. Elmo Steak House is also available for an additional fee.•
Please enable JavaScript to view this content.