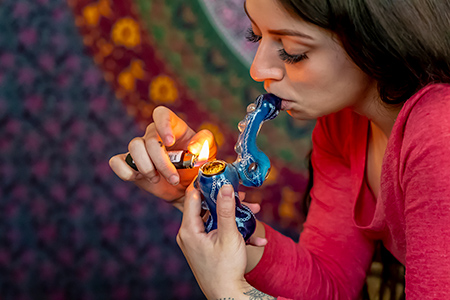 Editor's note: This story has been updated. 
For the small-business owners who arrived at the Indiana Statehouse March 6 to spend the day speaking with lawmakers, issues such as taxes, tariffs and finding qualified workers were more important than marijuana.
Many of those Hoosier employers seemed to see the issue as mostly settled – any worker who tested positive would likely be shown the door.
Adolay
However, some still had questions about marijuana and what they could do as employers to maintain a drug-free workplace. Even though the substance remains illegal in Indiana, other states are relaxing their prohibitions. And with companies often having multiple locations around the country and workers having the ability to spend their weekend in a state where marijuana is legal, Hoosier businesses cannot set a policy and forget it.
Amy Adolay and Lori Jean, partners at Krieg DeVault LLP in Indiana, have recently started hosting educational seminars to address the questions and concerns from client employers. The landscape is uneven, especially in Indiana's neighborhood, where Illinois and Ohio permit medical marijuana while Michigan in December legalized recreational marijuana. Ironically, a drug that many people use to relax is inducing a rising level of worry.
"It's a complicated time," Adolay said.
Jean
Marijuana's intersection with laws governing the workplace is bringing about a closer examination of company practices and a reminder to be consistent in the application of policy. In particular, attorneys say there is concern employers could run afoul of privacy safeguards when testing for drugs, and of protections against discrimination in the Americans with Disabilities Act.
Indiana employers still have the right to demand workers be drug-free while on the job. Indeed, if they are doing contract work for the federal government, they are required to have a workplace free of drugs because the federal government has not legalized marijuana in any form.
"Employers are not necessarily confused, but they are facing increased difficulty keeping up with the changes to various state laws and making sure they comply with those laws," Candace Walker, of counsel for Ogletree Deakins Nash Smoak & Stewart, P.C., in Indianapolis, wrote in an email.
'Under the influence'
Indiana has legalized cannabidiol, or CBD oil, a cousin of marijuana, but it likely will not trip any triggers in a drug screen because the level of tetrahydrocannabinol — better known as THC, the psychoactive ingredient in marijuana — is very low. Still, Walker noted, the CBD oil statute does not contain any protections for employment, so Indiana employers have broad discretion to ban its use.
Walker
Marijuana laws in other states do provide some protections for workers who use the drug for medicinal reasons. Even though businesses must comply with the laws in those states, they can still establish drug-free policies.
"Even in states where medical marijuana use is legal," Walker wrote, "employers should prohibit employees from using, possessing or being under the influence of marijuana during the working time or on company property."
A question now bubbling in the workplace and the courts, Adolay and Jean said, is what constitutes being "under the influence of marijuana."
Unlike alcohol – where an individual can fail a breathalyzer and be inebriated at that time – THC can linger in a person's system long after the drug's effect has worn off and cause a positive result for marijuana. Thus, if, after an accident, the worker is found to have THC in his or her system, that does not necessarily mean the employee was under the influence.
Further, there's no scientifically established blood test for THC that reliably determines impairment. The Kieg DeVault attorneys believe preventive testing is the answer. A combination of alertness testing and post-accident drug testing are the most reliable means to establish whether a worker was under the influence and impaired.
Hahn
Stephanie Jane Hahn, whose Indianapolis firm represents clients exclusively in employment law matters, agreed the meaning of being "under the influence" of marijuana is not clear. But Hahn also pointed out that privacy is another concern related to testing for the drug.
The current drug testing methods screen for a broad array of substances, so employees often have to tell their employer what prescriptions they are taking. Under the Health Insurance Portability and Accountability Act of 1996, such information is protected. But to prevent a problematic result, employees are having to disclose their medications.
Hahn said some employees are terrified to release this information to their bosses, while others endure discrimination and harassment if they are found to be taking medicines for such conditions as anxiety and depression.
"The Legislature in Indiana is not interested in protecting the rights of citizen workers," Hahn said. "What it does time and time again is allow businesses and employers to ride roughshod over the rights of employees."
ADA compliance
Mosby
Brian Mosby, shareholder at Littler Mendelson P.C. in Indianapolis, said employers with operations in states where marijuana is legal for medicinal uses also need to be wary of getting entangled in the Americans with Disabilities Act when dealing with an employee who is using medical marijuana. The risk, Mosby said, is that firing a worker for testing positive could bring a lawsuit for discrimination under the ADA.
Key to the dilemma is the underlying condition the employee is treating with the medical marijuana, Mosby said. Having a prescription for marijuana does not come with any protections under the ADA, but if the worker has a medical issue considered a disability under the federal act — such as diabetes, epilepsy, cerebral palsy or bipolar disorder — then firing them for a positive marijuana test could be illegal under federal law.
"This is different than anything I think that I've seen," Mosby said of the emerging situation of inconsistent marijuana laws at the state and federal level. "It's a complicated issue that doesn't appear to be going anywhere."
In Indiana, Jean said, businesses can test for illegal drugs. Even if a worker lives in an adjoining state, like Michigan, where they legally obtained a prescription for medical marijuana, Hoosier employers can still terminate that person for a positive test. But the twist, she said, is that employees fired for drug use can still file for and receive unemployment benefits in Michigan.
Employment law attorneys' advice to businesses that want to avoid trouble is to be consistent. Put the drug and testing policies in the employee handbook, they say, and then apply those policies in the same way for every worker.
Hahn was more direct.
"My advice for employees is, don't use marijuana if you work in Indiana," she said.•
Please enable JavaScript to view this content.