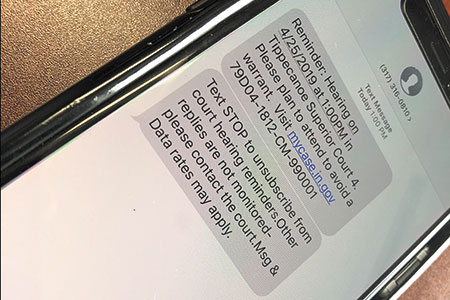 Indiana courts that have opted to text people reminding them to appear in court may be seeing the results they were hoping for.
In less than a year, the Odyssey Text Messaging Reminder System has sent more than 400,000 text messages to criminal defendants scheduled to appear before a judge. The system, which became available in May 2018 for any interested Indiana county, aims to lower the number of people who fail to appear in court by texting defendants the week leading up to a court date.
The system is free for counties that opt into the program, but they must have a court with the state Supreme Court-sponsored Odyssey case management system. Texts are automatically sent to a defendant's cellphone five days and one day before a hearing if their mobile number is electronically filed with the court.
Thus far, 45 Indiana counties and five city and town courts have opted to use the system, costing the Indiana Supreme Court spokeswoman Kathryn Dolan said.
Reducing failure to appear numbers could result in fewer warrants, arrests, and less time waiting around for cases to be closed. Several courts statewide are seeing those changes, and while data confirming the system's success is still scarce, some judges say they can't deny what they see day in and day out.
Fewer failed appearances 
Judge David Riggins, presiding over Shelby Superior Court 2, said failing to appear is costly for all parties involved. Defendants could miss work, lose their jobs, and be required to pay additional bail, while costs are accrued by the judicial system to arrest and transport them.
Any method of reminding a defendant to show up in court is welcome, Riggins said. That's why he's grateful the text reminders have started to make a positive impact in his court. Riggins has noticed the dropping number of FTAs based on anecdotal evidence.
"I've had people tell me, 'You know, I forgot, but I got this text message, so I came to court,'" he said. "When you take the online capability of MyCase and couple it with the text messages, I think that has helped."
The same is true for Clark Circuit 1 Judge Andrew Adams, who said he's seen a significant difference since implementing the texting system. Adams said he sees roughly half the number of FTAs as before, and he noted fewer warrants have been issued since the system was implemented.
Elkhart Superior 4 Judge Gretchen Lund said lately she's noticed fewer FTAs too, telling her staff it's no coincidence that the numbers have declined since the texts have gone out. She'll hear defendants say they received a reminder on their phones and showed up to court as a result.
"We just see what we observe in court every day," Lund said. "We can just certainly enjoy the fact that it appears to be working."
It's crucial that data is collected on those trends moving forward in order to improve the system, Adams noted. Otherwise, any progress the courts are seeing now could eventually stop in the future.
Various studies show the reminders can work. A study conducted by UrbanLabs in New York City revealed that in 2014, nearly 41 percent of 320,000 low-level offense cases in NYC had recipients who did not appear in court.
Text message reminders were deployed to defendants three times in the week before a hearing and one month after if they missed. The study concluded that the number of FTAs was reduced by 26 percent.
Improved efficiency
But the messages do more than remind people to show up to court, said Judge William Hughes of Hamilton Superior Court 3. They also foster efficiency within the courts.
Hughes
"It is less labor intensive on the court," Hughes said. "People can get more done because they have less time taking the steps necessary to send out paper notices. It's making the turnaround time substantially less."
Riggins and Adams concurred, adding that the system had aided the court's efficiency to quickly dispose of cases.
"Our case dockets are exploding in certain courts, and we're trying to get these matters resolved in a speedy nature for the defendants and the courts," Adams said.
Hughes added that the courts have also received "thank yous" from attorneys who are pleased with the system's ability to notify their clients as soon as a date or time is changed.
"The notice is actually being texted to the defendant before even the defense council knows about it," Hughes said.
Haynes
That alone saves Hamilton County public defender and private attorney Diedra Haynes a whole lot of headache.
"The court has called me an overbearing mother because I like to call my clients the day before their hearings to remind them," Haynes said. But since the text message reminders have been utilized, she said her load has been lightened in that regard.
"It's made my job easier so I'm not always tracking my clients down," she added. "I may not always be able to remind them or pick up the phone and call them to talk to them and remind them of their court date."
Those text reminders, Haynes noted, have also helped to hold her clients accountable for their responsibility to remember when to appear in court, in turn eliminating their FTAs.
Hughes noted those who do fail to appear aren't always doing so intentionally. Many of the defendants who must appear in the higher volume courts are not hardened criminals and don't routinely break the law.
"They have a tendency to forget, so a reminder notice is all that's necessary," he said.
Accessibility issues
Indianapolis criminal defense attorney Ranissa Dycus said while some counties may see progress with the system, most of her clients are unable to benefit from it.
Serving primarily indigent populations, Dycus said her clients have few resources and may not have cellphones. Some reside at shelters such as Wheeler Mission, which prohibits cellphone use by its residents. Others simply can't afford to keep their phones connected.
"It would work really well for some, but you would be missing the good population of those with criminal offenses," Dycus said. "Most criminal offenders are impoverished, so it's just one big cycle."
Haynes agreed, noting that although all her clients should be receiving text message reminders from the court, 30 percent of them don't due to strained finances. Or, she said, they don't have a phone at all.
"If they don't have a cell number, they can't call to let me to know they won't be in court so I can perhaps file a motion to continue," Haynes said. "Then the failure to appear comes."
But Adams said that even if the defendants he sees don't have cellphones, they are still provided with a paper reminder at the jail or when they leave court. The optional text messages are just an additional reminder.
"I don't think the people who don't have phones are provided less attention or are at a lesser advantage than those who do," Adams said.•
Please enable JavaScript to view this content.