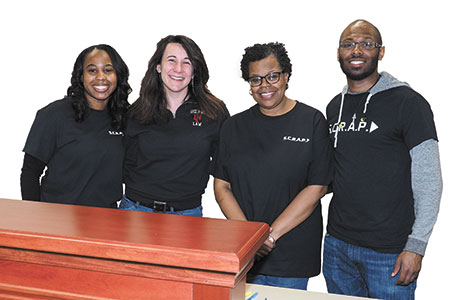 The people who arrive at Magistrate Judge Tim Baker's courtroom the first Thursday of every month are realizing that the path to redemption requires learning to trust, changing their mindset, sometimes turning away from family and friends, and securing the ordinary things of everyday life like clothes, food and toothpaste. These people are working to find their place and make a contribution to their communities after serving time in federal prison.
Re-entering society is not easy. People are often released with very little and have to rebuild their lives from practically nothing. Largely by themselves, they have to fill their big needs for shelter and employment, as well as their smaller needs for shampoo and deodorant. They even have needs they may not realize, like learning to use the internet.
Baker
The men and one woman who gathered in Baker's courtroom on a recent rainy Thursday afternoon were among those considered at a greater risk of stumbling and returning to incarceration. But seated behind them — figuratively having their backs — was a group of neatly dressed second-year students from Indiana University Robert H. McKinney School of Law. The students have been meeting monthly with the men and woman for much of the school year, mentoring them and helping them with whatever they need.
While the mentees face numerous obstacles because they carry a stigma rooted in their past incarceration, the students have been undeterred. They call the county clerk's office and untangle red tape, they visit traffic court, draft resumes, compile lists of job openings, assist in getting driving privileges reinstated, find places for rent, decipher medical insurance policies, get answers for child support problems, and help navigate the maze of enrolling in educational programs. Unconventional tasks like replacing a broken pair of glasses and preparing the articles of incorporation for a business have also been tackled by the team from IU McKinney.
"They are people who really care," Vernon York said of the law students. "They are all about helping. They do whatever to help you."
The students and the group in Baker's courtroom, which included York, are all part of the Re-Entry And Community Help (REACH) program. Implemented in the Southern Indiana District Court in 2007, the program offers support and assistance to individuals starting probation who have been identified as being at medium or high risk of recidivating.
Baker, senior U.S. probation officer Ryan Sharp and assistant U.S. attorney Nick Linder work closely with the REACH participants. They offer encouragement for every goal the participants achieve and demand accountability for the missteps the participants make. At the same time, the law students log many hours helping participants overcome wall after wall after wall they encounter.
"We are a very compassionate society, but I think our system is much more focused on punishment as opposed to rehabilitation," said IU McKinney student Aleksander Djuricic. "I think the REACH program, what it does is it shows that, through the work that we do, that rehabilitation should be the priority because these people that come out are willing to do the work and willing to put in the work. They just need the resources to be able to do so."
Silva
Unexpected ending, new beginning
Enlisting the energy and enthusiasm of law students was the idea of IU McKinney Professor Lahny Silva. When Silva was contacted by now-Magistrate Judge Doris Pryor and asked for ideas to shape the REACH program, the petite woman whose speech is sprinkled with a Boston accent immediately thought of her classes.
Silva's scholarship and research have focused on criminal justice and re-entry. Yet when Judge Larry McKinney, the individual who started REACH and provided the emotional fuel to keep it running, asked her why she wanted to be part of the program, she told him the truth.
"I come from a family of felons," she said to the judge, explaining she has relatives who have struggled with addiction and were involved in dealing. "I grew up in (Narcotics Anonymous). This is my demographic."
The REACH participants benefit because law students, Silva said, do not give up until they win, or until she tells them there is no more that can be done. In return, the law students not only get practical experience, but they also meet and hear the stories of individuals they might not otherwise encounter.
Without the program, Silva believes the students would "go on to be lawyers in the ivory tower, and they lose their grounding."
Two students started working with REACH in 2015, and soon, Silva said, things "were thumping," with the program expanding into Judge Tanya Walton Pratt's courtroom in February 2017. But in September 2017, heartbreak barged in when McKinney died unexpectedly.
Silva still cries when remembering her REACH colleague and friend. "He brought me in and allowed me to do something I didn't even realize I would be good at and that I loved," she said. Just as devastating, she was certain the program would end without McKinney.
But Baker, who began his career serving as a law clerk for Judge McKinney, believed the program was "too important not to be involved." So, he took over his mentor's duties and began shepherding the participants.
Baker's biggest success, to date, might be the little extra encouragement he gave to York.
At 21, York is the youngest person to ever participate in REACH, and initially he was resistant. The young man did not trust anyone, nor did he seem too interested in the benefits of the program. Also, he felt Baker was purposefully picking on him at the Thursday sessions.
Even so, the program was working for York. The IU McKinney students successfully got his traffic fines reduced so that he could get some limited driving privileges, then directed him to programs where he could study for a high school equivalency diploma. However, Baker made the biggest impression by visiting York at his worksite.
Seeing that the judge cared about him convinced York to change his attitude. "For me, I want to be different," York said. "I want to do better."
'The most meaningful thing'
Thomas Ridley, a graduate of REACH, continues to help individuals returning to society after incarceration. Ridley has started his own re-entry assistance program, Thomas Ridley's 1 Like Me. (IL photo/Eric Learned)
Help is available to the REACH participants but accepting it can be difficult. Thomas Ridley, who successfully graduated from the program and today works to help others re-entering, explained that people joining the program first have to learn to trust before they can take the assistance being offered.
Accepting the help, Ridley continued, is key. "I feel without this program, a lot of dudes would be in a lot of trouble."
In the courtroom, REACH functioned in a relaxed manner. Like McKinney, Baker called the participants one-by-one to approach the podium and tell him what they have been doing.
The banter between the judge and participant was easy this recent Thursday. They talked about jobs, families, concerns and joys. Baker asked questions, made notes and offered advice. Occasionally, he would call upon the law students to provide some additional details.
Cleveland Franklin talked about his frustration with his current job and his plans to return to his former employer. Baker complimented Franklin on not burning his bridges with his old boss so that he could easily get his former position back.
Franklin credited REACH with enabling him and the other participants to find their footing and stay out of prison.
Data pulled together by the Southern Indiana District Probation Department shows that when the IU McKinney students became involved, the REACH recidivism rates dropped 9 percentage points to 36 percent. Nationally, probation is revoked for 72 percent of high-risk offenders and 56 percent of moderate-risk offenders.
Douglas Johnson, who served 26 years, sees his life as transitioning into a different phase. Johnson said he is moving forward and concentrating on making positive changes, but those steps have forced him to disassociate with relatives and friends who might lead him back into trouble.
Losing longtime relationships, feeling guilty about being incarcerated, losing jobs and housing options because of criminal records, and struggling to get basic necessities are everyday obstacles.
For many, the hurdles prove to be too much. IU McKinney student Kelly McCarthy helped her mentee get his divorce finalized and get enrolled in a job training program. Still, his probation was revoked because he could not conquer his addiction.
McCarthy admitted she was shocked, angry and disappointed, but she turned her attention to the other participants waiting for her help.
"I definitely came to law school to make a difference, and I found that everything I was doing in class felt like the opposite of making a difference," she said. "This is the most meaningful thing I've done in my law school career, and what motivates you is you see the result of your work firsthand and people are really grateful for what you do."•
Please enable JavaScript to view this content.