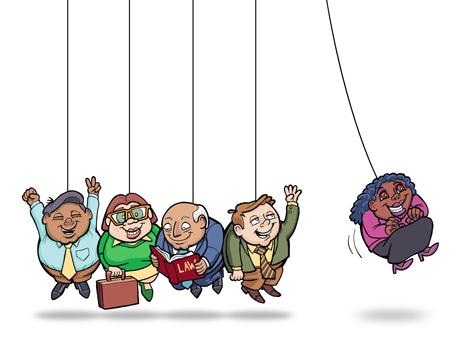 In years past, corporate counsel jobs were viewed as less — less challenging, less stressful and less robust than the work attorneys in law firms were doing.
Zurek
Tom Zurek, of counsel at Schiff Hardin LLP in Chicago, knows well that perception. Forty-five years as a lawyer, Zurek left private practice to serve as general counsel a couple of times, the longest tenure being his just-concluded 17 years at OneAmerica in Indianapolis.
In-house lawyers, just like those in private practice, have to handle a variety of matters and must maintain a rigor and discipline in honing their expertise. In addition, general counsel now need to understand their company from a business standpoint.
"It's not law or business," Zurek said. "It's become law and business."
Sachs
The days of a corporate counsel sitting in the legal department and waiting to solve the next legal problem that was presented to the office are over. Companies are more sophisticated. Supply chains stretch around the world, operations are expanding, markets are opening and technology is transforming just about everything. Plus, a seemingly steady stream of new laws and changing regulations touches on many aspects of doing business.
General counsel have to keep up, said Michael Sachs, partner at the Chicago office of Major Lindsey & Africa. They are expected to get out of their offices and collaborate with other parts of the company.
Indeed, for at least the 10 years, Sachs and his colleagues have heard executives place business acumen among the top attributes they want in general counsel. In-house attorneys must be good lawyers, but they also must have a sense of the business and be able to help the company achieve its strategic goals.
Zurek believes that corresponding to these changes in the corporate counsel role, the reputation and respect for in-house positions also have grown. He pointed to the applications that would quickly arrive from Indianapolis attorneys in private practice when OneAmerica "let it be known" there was an opening in the legal department.
The work, he said, is stimulating, offering the ability to explore all aspects of the law without having to build a book of business or worry about billable hours. Zurek wanted his legal team to develop a deep knowledge of the law so he "allowed people the luxury" of opening the books and taking the time to study the law.
"We had people inside (the company) become the experts," he said.
Responsibilities bring satisfaction
In 2018, the corporate law recruiting firm Evers Legal conducted a job satisfaction survey of in-house attorneys. The results showed 59 percent of corporate counsel found the intellectual stimulation to be among the most rewarding part of their jobs while 53 percent liked the responsibility. However, 67 percent said among the best rewards was working with a great team.
When asked what would make their jobs more satisfying, 48 percent said a promotion and 44 percent said expanded responsibilities.
The opportunity to change her duties lured Barbara McNutt from the public sector to a nonprofit. McNutt left her position as chief counsel of the Indiana Professional Licensing Agency in 2009 to join the Indiana Optometric Association.
Initially, McNutt served as interim executive director for 15 months while the organization's leader, Jim Zieba, served a tour in Afghanistan. When that term was over, she was asked to stay on and become the association's first general counsel.
The main difference between representing the association and representing the state is that McNutt is now advocating for optometrists rather than regulating health and non-health care professionals. But echoing Sachs, she said GCs cannot take a narrow view of their jobs.
"I think it's incumbent on you to know who your client is and understand what they are doing and what they are interested in doing in the future," she said. Then you need to know "how federal and state laws impact those goals."
Stephen Wilson, general counsel and compliance director for First Farmers Bank & Trust in Converse, saw his responsibilities shift as the country recovered from the Great Recession. The financial institution did not suffer great losses, Wilson said, because it did not dive into the mortgage market before the downturn.
Still, the economic upheaval brought new legislation and regulations that made compliance more demanding. Wilson grew his compliance department from one-and-a-half to five people and took on more managerial tasks.
In building the compliance office, Wilson looked for individuals who understood the banking process and could quickly grasp the material when reviewing documents. The goal was to assist the bank in doing what it wanted while ensuring it was in compliance.
"I'm still involved in the day-to-day activities in terms of law and compliance," Wilson said. "I have been fortunate to get … competent people who are motivated."
Trusted adviser
Once they go in-house, the attorneys' careers can take many different paths. Lawyers in law firms generally follow a straighter track from associate to partner then equity partner, but Sachs said corporate attorneys can progress up the ranks to become general counsel, switch to another company, step back into private practice or, as some have done, become CEO.
Alongside business acumen, Sachs said, corporate counsel are also expected to have excellent judgment, making smart decisions quickly, and possess a high emotional intelligence, being able to connect with people and read a room.
Marisol Sanchez, vice president of legal affairs and general counsel for the North American operations of Endress + Hauser, Inc., has often joked with her nonattorney colleagues in the company, "We'll make a lawyer out of you yet."
After 10 years at Bose McKinney & Evans, Sanchez moved in-house, wanting to have a larger and more proactive role as the company formulated its global strategy. She was the first in-house counsel for the North American division, but when the CEO asked her what the company could do to prevent her from being bombarded with legal questions when she arrived, she turned down the assistance.
Sanchez
"Bring it on," Sanchez told the CEO. "Let them come to me. That's the only way I can understand the business."
In the nearly eight years since, Sanchez has expanded the legal knowledge of her colleagues and built relationships across the company. She has made the effort to become a trusted adviser who provides solutions rather than being seen as someone who is a roadblock. At the same time, she has worked to educate personnel in other departments about legal matters.
The legal department, she explained, does not know what is happening everywhere in the company every day. So, the attorneys have equipped their nonlawyer co-workers to be able to think about things from a legal perspective and spot issues.
Her approach has created efficiencies as the business has grown more complex. Her role has expanded to include oversight of procurement, and quality and safety compliance.
"I want to be part of the company's overall business goals and strategies," she said, adding she wants to "be part of something bigger than just the legal side."•
Please enable JavaScript to view this content.