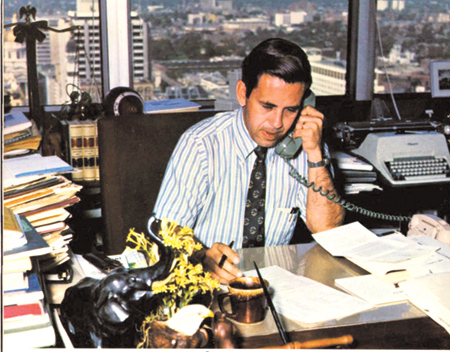 Richard Lugar, who rarely used the pronoun "I" and eschewed the traditional political glad-handing and back-slapping, nonetheless built an impressive life in public service that began with his election to the Indianapolis school board in the early 1960s and expanded into a 36-year career in the United States Senate, where he became a respected expert on foreign policy and national security matters.
Along the way, Lugar devoted time to encouraging and developing the next generation of leaders. Former Indiana Gov. and now-Purdue University President Mitch Daniels and Indiana Commissioner for Higher Education Teresa Lubbers are among his proteges. Also, he helped establish the Lugar Symposium for Tomorrow's Leaders at the University of Indianapolis.
Robert Grand, managing partner at Barnes & Thornburg LLP, remembers as an undergraduate taking part in the Saturday hourlong leadership talks Lugar held with members of the Beta Theta Pi fraternity. Grand went on to volunteer for Lugar's 1976 senatorial campaign, then served as campaign treasurer for many years, including during Lugar's 1996 presidential run.
"He was exactly what everybody observed," Grand said. "He had incredible integrity."
 
Richard Lugar joins in the fun during a visit to the Atterbury Job Corps Center while mayor of Indianapolis. Lugar began his public service as a member of the Indianapolis school board. (Photo courtesy University of Indianapolis)
Lugar died April 28 at a hospital in Virginia, where he was being treated for chronic inflammatory demyelinating polyneuropathy, a rare neurological disorder. He was 87.
The senator was scheduled to lie in state in the Indiana Statehouse Rotunda for 24 hours beginning at noon May 14. A funeral was to follow at 1 p.m. May 15 at St. Luke's United Methodist Church in Indianapolis.
Lugar caught the attention of many when he pulled off an upset win in the 1967 Republican primary for Indianapolis mayor. He was a new kind of Republican, backed by the Republican Action Committee that was championing ambitious, capable, younger individuals.
He went on to easily defeat the Democratic candidate and, upon arriving in the mayor's office, he led the effort to craft and pass what is now known as Unigov, the plan that combined the local government operations of the city of Indianapolis and Marion County.
It was controversial, said Edward Frantz, history professor at the University of Indianapolis. But in an instant, Indianapolis increased its population and geography and suddenly become the 11th largest city in the United States. And, it was the largest American city to be led by a Republican.
Lugar stood on Unigov to go against the status quo even further by accepting federal money and using it to help build Market Square Arena.
Frantz noted the remarkable foresight Lugar had with the project. When most Americans considered urban property to be less desirable and other cities were building sports facilities in the suburbs, the Indianapolis mayor plopped the new 18,000-seat venue into the downtown.
As a leader, Lugar was focused on the results, rather than on getting the credit, Frantz said. He believed the point of leadership was to listen and to collaborate. In the Senate, Lugar built coalitions with his colleagues and was very effective at crafting policy.
 
Richard Lugar greets voters at the Indiana State Fair during the 1976 senate campaign. He defeated incumbent Sen. Vance Hartke and went on to serve 36 years on Capitol Hill. (Photo courtesy University of Indianapolis)
Also, he did not allow ideology to get in the way. Working across the aisle, Lugar joined former Democratic Sen. Sam Nunn, then-chair of the Senate Armed Services Committee, to craft a nuclear disarmament program that led to roughly 7,600 Soviet nuclear warheads being deactivated and the destruction of more than 900 intercontinental ballistic missiles. The program is credited with removing all nuclear weapons from the former Soviet republics of Kazakhstan, Ukraine and Belarus.
"He built relationships with people across the world because they knew he was an honest broker," Grand said.
On the campaign trail, Lugar understood retail politics. People who met the Hoosier talked about the "Lugar gaze" — his focus would be on the person he was speaking with, and he would not let his eyes wander to see who else was in the room.
Former Indiana Congressman Luke Messer listened as a young boy to his grandmother's stories about Lugar. She was ward chairwoman for the Republican Party and Lugar would often visit, seeking support when he first entered public life.
Messer admired the senator, describing him as an "incredibly kind and gracious person," and was inspired by him to run for public office, as well.
A graduate of Shortridge High School in Indianapolis, Lugar was a Rhodes Scholar and served in the U.S. Navy. He was considered well-qualified for the presidency, but his campaign for the White House never gained traction after it was launched April 19, 1995, the same day as the Oklahoma City bombing.
J. Murray Clark, partner at Faegre Baker Daniels and former Indiana state senator, had a long relationship with Lugar and was at the Indianapolis City Market when the senator announced his candidacy for president. Murray described Lugar as being the extraordinary combination of all the qualities that people across the political spectrum want in a leader.
"Dick Lugars don't come around very often," Clark said. "He had an extraordinary intellect. He was thoughtful. He was very effective and just so impressive."•
— The Associated Press contributed to this report.
Please enable JavaScript to view this content.