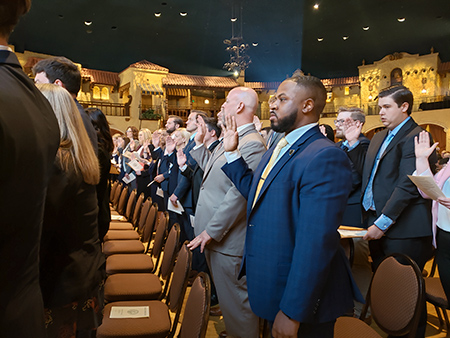 As the newest group of Indiana attorneys raised their right hands and took their admission oaths May 14, they were reminded that just as they needed to achieve this success, they will continue throughout their careers to need a little help from their friends.
The individuals who passed the February 2019 Indiana Bar Exam were admitted to the Indiana Supreme Court as well as the Northern and Southern Indiana District Courts at a morning ceremony held at the Indiana Roof Ballroom. Led by Indiana Chief Justice Loretta Rush, the justices of the Indiana Supreme Court, along with the judges from the Indiana Court of Appeals, Indiana Tax Court and the federal district courts, offered congratulations and advice to the newly minted lawyers.
Repeatedly, the incoming attorneys were told to find mentors to not only help them understand the practice of law, but also to model their behavior upon. The judiciary advised them to join the state and local bar associations, introduce themselves and ask for guidance whenever they needed it.
Justice Steven David underscored for the admittees the importance of their conduct as attorneys and the legacy they will build. He told them their obligation to preserve the rule of law and safeguard America's system of justice is monumental, but if they have a bad day or need some encouragement, he is willing to help. Then he read aloud his cellphone number.
"My suggestion to you is that you anchor your legacy upon the time-tested foundations of honesty, hard work, civility, professionalism, humility and relentless ethical behavior," David said. "If you do so, you'll be just fine, and the world will be a better place because of you."
Indiana Court of Appeals Chief Judge Nancy Vaidik also emphasized that the well-being of the country's justice system depends on lawyers being passionate about the work they do.
"It cannot be taken for granted that our system of justice will survive indefinitely without the attorneys that we hope you become," Vaidik said. "Each client you serve fairly, compassionately and diligently will be another block in our system of justice, ensuring its longevity despite today's challenges of discrimination, poverty and dysfunctional government, and tomorrow's challenges, no matter what they might be."
Judge James Sweeney of the U.S. District Court for the Southern District of Indiana pointed out the admission ceremony was taking place on a pivotal day in Indiana history — two months prior Sen. Birch Bayh, author of Title IX, died, and this day Sen. Richard Lugar, leader of efforts to dismantle nuclear weapons, was lying in state at the Indiana Statehouse after his death April 28.
Indiana's newest lawyers introduce themselves during the May 14 admission ceremony sponsored by the Indiana Supreme Court. A complete list of the admittees is on Page 18. (Photo courtesy of Indiana State Bar Association)
Sweeney described Bayh and Lugar as "doers, heralded Hoosiers, two superb statesmen, two civil and effective servant leaders." He then called upon the new attorneys to think about what their own contributions will be in the law and in their communities. And, echoing his judicial colleagues, Sweeney told the new lawyers they could not accomplish their future achievements alone.
"This admission is just the beginning for you," Sweeney said. "So, let me charge you with finding someone you admire … adopt their attributes until they become your own. Above all, be civil, be ethical, be courteous, be prepared, conduct yourself with integrity, protect your reputation, do not be afraid to fail, be problem solvers, be doers, be balanced."
Magistrate Judge John Martin of the U.S. District Court for the Northern District of Indiana spoke about his realization when he was appointed to the federal bench of how many people had been instrumental in his success. In fact, he said, he does not believe he would have enjoyed the success of joining the judiciary without a single one of those individuals.
"I would suggest at this time that you all, as you enjoy this success of becoming a lawyer, also look back and think about those important people and reach out to them," Martin advised the new attorneys. "It will humble you yet enrich you, and it will remind you of the importance of such people going forward in your career."
Rush showed her appreciation for the new admittees' support teams who were in the audience, watching their family member or friend clear the final hurdle to becoming a lawyer. The chief justice had the new attorneys stand and give their families and friends a round of applause for helping them get through law school and over the bar exam.
"I want to thank the family, the grandparents, the aunts, the uncles, the siblings, the spouses, moms and dads," Rush said. "All of your work to get your loved one to the finish line is not lost on us."•
Please enable JavaScript to view this content.