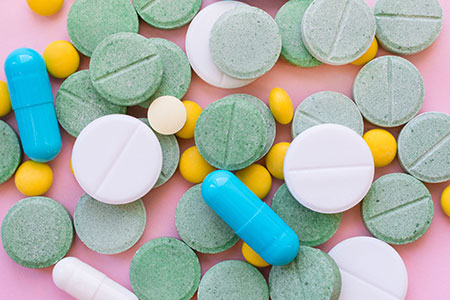 What's being called a historic trial is underway in Oklahoma — the first against a drugmaker accused of contributing to the opioid crisis.
The state trial court case, State of Oklahoma v. Purdue Pharma, et al., CJ-2017-816, is the first opioid litigation that has not ended in a complete settlement, though some defendants have settled. The result of the remaining case — proceeding against Johnson & Johnson, best known for their products such as baby soaps — could be a major indicator of how similar litigation in Indiana and nearly every other state will fare.
The goal in the Oklahoma litigation is the same as in the dozens of other cases pending in various state and federal courts: damages. Plaintiffs are seeking funds to tune of billions of dollars to help abate the opioid crisis.
Attorneys nationwide have said they are watching the Oklahoma case closely. The great interest in the case is that its outcome could help cities, towns and entire states begin to answer questions about how they might resolve the drug crisis in their communities.
The right defendant?
Two defendants in the Oklahoma case, Purdue Pharma and its subsidiaries and Teva Pharmaceuticals USA and its subsidiaries, settled before the start of the May 28 trial, leaving only one claim to proceed against one defendant: a public nuisance claim against Johnson & Johnson and its subsidiary, Janssen.
Honig
Oklahoma has accused J&J of instituting an aggressive marketing campaign of its opioid products — Duragesic, Nucynta and Nucynta ER — that overplayed their effectiveness and downplayed their addictive properties. The state is seeking funds necessary to abate the alleged nuisance, writing in its complaint that in 2016, Oklahoma ranked first in the nation in milligrams of opioids distributed per adult.
The same refrain is being sung in state and federal courts nationwide, but David Honig, an attorney with health law firm Hall Render, questions the validity of the claims against J&J. Honig said the cause of the opioid crisis is OxyContin, a product produced by Purdue Pharma.
To that end, Honig said there is an actual basis for the deceptive marketing claims against Purdue, But, he continued, the same basis may not exist for J&J and its products.
"Unless Oklahoma shows a bad act by J&J, rather than its participation in an industry with other bad actors, the case is incredibly thin," Honig said in an email to Indiana Lawyer. "It comes down to, 'People have died from opioids, J&J makes opioids, make J&J pay for the crisis.'"
Knoll
According to Jonathan Knoll, an attorney with Cohen & Malad who is working on the opioid multi-district litigation in Cleveland, Ohio, the strategy for choosing defendants in that case was to determine which drugmakers did the most business in each state. The defendants named by Indiana, including Purdue Pharma, are the ones who frequently manufactured and distributed their products in the Hoosier state, Knoll said.
The right claims?
Questions have also been raised about the strength of the public nuisance claim. Nicolas Terry, a health law professor at Indiana University Robert H. McKinney School of Law, said there are two legal issues that could potentially undercut that claim.
First is the definition of a "public nuisance." The question, Terry said, is whether a state, city or town can claim that because many residents suffered as a result of a product, the maker of that product should be held liable for creating a public nuisance. Put another way, "can the sale of goods, whatever the features, constitute a public nuisance?"
Terry
The second issue Terry pointed to is that of causation. Do the opioid plaintiffs have to tie their claims to a specific person, such as a doctor, who was influenced by drug makers to overprescribe opioids, thus contributing to the drug scourge? Or is statistical evidence enough?
But not everyone sees potential problems with the public nuisance claim. Knoll, for example, thinks the claim is strong.
As support, Knoll pointed to the appellate decisions in City of Gary v. Smith & Wesson Corp., et al., in which a public nuisance claim against gun dealers allegedly making illegal sales have been allowed to proceed. Terry likewise noted the recent Indiana Court of Appeals ruling in that case supports the public nuisance claim, but he also said other courts across the country have ruled the opposite way.
"And looking at the issue of public nuisance more generally," Knoll continued, "our position is that all Hoosiers have been harmed by the public nuisance created by drug companies resulting in harms to our communities — addictions, injuries and deaths."
Nationwide implications
The MDL Knoll is litigating has moved slowly through the federal court in Cleveland, but a bellweather trial is expected to begin in the fall. Knoll said resolution of the Oklahoma case could speed the progress of the MDL and will likely be a barometer of what comes out of Cleveland.
If the Oklahoma judge rules for the state, Knoll said that would "send a strong signal about these claims in terms of their validity" and would likely encourage more settlements. However, Honig predicts the case would settle for less than the verdict during the appellate process.
On the flip side, Terry said a ruling for Johnson & Johnson could cause other defendants to dig in their heels. Even so, Honig said claims against actual "bad actors who exacerbate the opioid crisis by encouraging over-prescribing will help abate the crisis of misuse … ."
Honig also raised concerns about a plaintiffs' verdict against "the industry as a whole," as he thinks is being done in Oklahoma. There is evidence that Purdue Pharma is an actual "bad actor," he said, but because the same evidence does not exist for Johnson & Johnson, a verdict against J&J and others like it could curb the supply of opioid prescriptions for those who actually need it.
"The more important question is whether all the action against opioid manufacturers, even those who haven't been shown to have committed specific bad acts, will chill opioid manufacturing to the point that it becomes impossible for people with chronic pain to get relief," Honig said.
'A sideshow'
Taylor
Another question lingering over the Oklahoma trial and other opioid-related litigation is, if damages are awarded, how should those damages be distributed? Marcia Lee Taylor, chief policy officer for the Partnership for Drug-Free Kids, which recently merged with the Center on Addiction, said there are lessons to be learned from the master tobacco settlement of the 1990s.
Much of that settlement did not go to curbing tobacco use, Taylor said, but instead was diverted to fund other needs. As a result, the Addictions Solutions Campaign, which includes Taylor's organizations, has issued a report recommending that any opioid settlement funds by specifically allocated to addiction-related education, evidence-based prevention and intervention, and evidence-based treatment initiatives.
Such initiatives should be the goal of the litigation, the attorneys say, with Terry opining that the lawsuits should take a back seat to the overarching issue of addiction treatment and recovery.
"The litigation should perhaps be viewed as a sideshow, when looking overall at what's important in this space," he said.•
Please enable JavaScript to view this content.