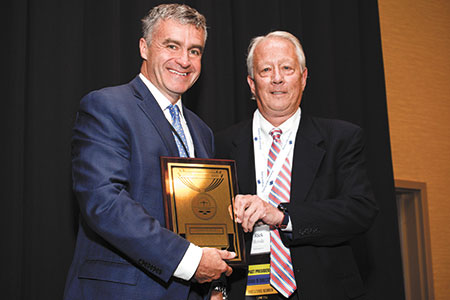 The Indiana Trial Lawyers Association's top honorees for 2019 share something else in common: Before either of them passed the bar, they both got their starts working at the law firms where they would go on to highly successful careers as litigators.
Likewise, Rick Hovde and Katie Marshall also were both in the courtroom trying their first cases shortly after they joined their firms, and they continue exemplary careers that earned the recognition of the state's plaintiffs bar. Indiana Lawyer talked with them about their careers and the ITLA honors recently bestowed on them.
ITLA Lifetime Achievement Award
Rick Hovde, Hovde Dassow & Deets, Carmel
Rick Hovde followed his father Boyd to the law firm he co-founded, and he recalls the confidence the firm's founders had in him when he was handed his first jury trial. It was 1980, and Hovde was a newly minted lawyer at what was then Townsend Hovde & Townsend. But Hovde also had worked at the firm during law school, where he developed a good feel for the flow of civil litigation, as well as the respect of his mentors.
"Three and a half weeks later, I tried my first case down in Johnson County," Hovde recalled. It was a car crash case where the facts appeared to favor neither party. Hovde's client's car had been broadsided in a busy intersection, and the woman behind the wheel had sustained minor injuries.
Hovde muses that the partners "figured it was going to be a very difficult case to win under the circumstances, so it would be a good one to get my feet wet." More frankly, he said they weren't sure it was a winnable case. The other driver had sued Hovde's client, and partner Earl Townsend had filed a counterclaim.
After a local attorney assisted with jury selection, Hovde proceeded to present a case where there were no witness, and both drivers insisted they had the right of way and the traffic signal was on their side. Today's omnipresent traffic surveillance cameras and video monitoring hadn't even been dreamed of, and crash reconstruction was less than the science it has since become.
The case boiled down to whether the jury would believe Hovde's client or the other driver.
"I got a $42,000 verdict, and I was off and running," Hovde said. Adjusted for inflation, that would be about $130,000 today.
"That case cemented in my mind, if you have nice client who presents themselves well, you have a huge advantage and bonus. If you've got a likable client, you've got a chance," he said.
That first trial was one of more than 110 jury trials Hovde has since tried to verdict, though the number has dwindled since he was a rookie. Back then, 10 or 11 jury trials a year was the norm. These days, with skillful mediation settling the lion's share of cases, the number is more like two, maybe three, jury trials a year. Hovde's cases range from car crashes and personal injury litigation to medical malpractice litigation.
In a landmark verdict, Kennedy v. Guess, Inc., 806 N.E. 2d 776 (Ind. 2004), Hovde successfully represented former Marlboro man Richard Kennedy, who sustained an injury from a defective umbrella. That precedential decision stands today, holding that distributors and those who license their names to products may be held liable for defects under the Indiana Product Liability Act.
"I've tried to approach every single (case) realizing that's the only case the client has, and it's the one they are focused on, so I try never to forget that and respect that they deserve 110 percent of my effort," Hovde said.
Now nearing his 40th year in practice, Hovde credits his Day 1 partners and firm mentors for his success, calling them "the best lawyers I ever met." He also notes a rare accomplishment: Each of them — his father Boyd, Earl Townsend, John Townsend Jr. and Scott Montross — also are past recipients of ITLA's Lifetime Achievement Award.
"I didn't think I was old enough yet to receive a lifetime achievement award, and I wanted to make sure I wasn't being put out to pasture," he said with a laugh. "It's an accomplished group of lawyers who I've had respect for as long as I've been practicing law."
Julian presents another of the bar association's highest honors: The Max Goodwin Young Lawyer of the Year Award to Katie Marshall.
Max Goodwin Young Lawyer of the Year Award
Katie Marshall, Glasser & Ebbs, Indianapolis
Katie Marshall became a lawyer at her firm in 2014, but like Hovde, she already had gained a wealth of experience working at the firm where she now is a rising star and an accomplished litigator.
"I started out as a receptionist," Marshall said, noting Glasser & Ebbs was her first job out of Indiana University 14 years ago, and she wasn't exactly sure where her criminal justice degree would lead her. She liked the work, stuck with it, became a legal assistant, then started night school at Indiana University Robert H. McKinney School of Law. She said her firm gave her lots of support along the way, accompanied by consistently increasing responsibilities.
"By the time I got my license, I already knew so much about this area of personal injury and civil litigation, and I enjoyed it," Marshall said. "I hit the ground running."
Marshall is passionate about litigating in court. Already this year, she has tried three cases. "We ended up getting good verdicts I'm happy with, and they're just wonderful clients, too," she said.
She credits her firm's longtime leaders — particularly Rob and Theresa Ebbs — as mentors who have made her a better advocate for clients who may have suffered not just an injury, but a profound diminishment of their quality of life.
"They push me to try the case and not accept offers that are unreasonable," Marshall said of the firm's leadership. "I'm fortunate my clients have been willing to keep fighting, too," she said, noting it can't be helped that she sometimes becomes emotionally affected by the clients she represents, largely in personal injury cases.
The fifth-year lawyer also is navigating a different sort of trial that's common to many young advocates — how to "have it all" — raising a family while also meeting the ceaseless demands of being a successful attorney.
"It is stressful, and the preparation can be different and time-consuming and kind of all-encompassing. You have to change your lifestyle. I do have a 3-year-old son, Robert, and sometimes I've felt like maybe this balance is too tough for me," Marshall confessed. "Part of it is, when you're home — and this is tough — you have to learn to just be present at home. … Otherwise, you're home, but you're stressed about work. You might as well be at work.
"What I tell myself is, the fact that I'm a mother, and the way I was raised, help me to be a better advocate for my client," she said. "I hope they don't see me as just an attorney, but as a person who's trying to represent my client because this is our constitutional right."
Worthley
The ITLA sees it that way, honoring a humbled Marshall with the 2019 Max Goodwin Young Lawyer of the Year Award. Marshall said since she's been a lawyer, she's been going to ITLA events, where she's seen some of Indiana's legal legends recognized.
"I was surprised and very excited. It's a huge honor," Marshall said. "I never thought in a million years I would be the one getting the award."
Also last month, ITLA named Valparaiso attorney Tara Worthley to its executive board. Worthley, a personal injury, medical malpractice and wrongful death attorney from the firm of Langer & Langer, has been actively involved in the ITLA board since 2010, when she also received the Young Lawyer of the Year Award. Worthley is a 2005 graduate of Valparaiso University School of Law.•
Please enable JavaScript to view this content.