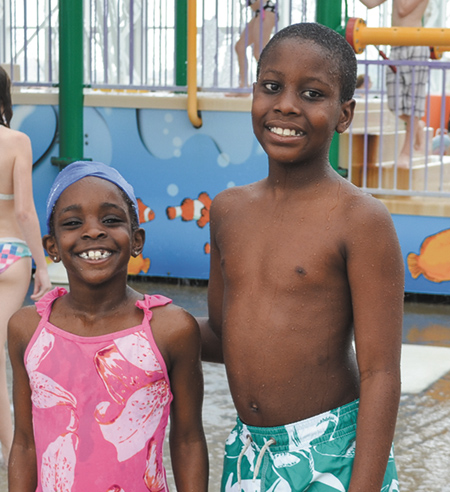 One of the great things about kids is that they can teach you lessons you need to learn in a way that can only come from a child. When our youngest son Izak was eight years old, we promised him and Eva, our seven-year-old daughter, we would take them on an adventure. We decided on a weekend at a local indoor water park, Caribbean Cove. Quite frankly, my wife and I were a little tired of indoor water parks, having raised five kids since 1990. We expected a long weekend sitting beside an indoor pool, standing in loud arcades, limited sleep and unremarkable food (at least from an adult's perspective). Izak, whom we co-parent (a long and happy story still in progress), was clueless since his dad and mom are from Africa and had not grown up with indoor water parks.
We told his dad we would pick him up at 7 a.m. sharp on a Saturday morning, and we should have known a miscommunication had occurred when he asked whether Izak needed a passport. The distance between Izak's dad's house and the water park is about 1.5 miles or five minutes by car. When we arrived in our van, Izak came bounding out of his house dressed in a three-piece suit, shiny black dress shoes and two pieces of luggage. Izak thought we were traveling to the actual Caribbean, as in the Bahamas. He was so excited to go on his first big trip and was more than surprised when he saw Eva still in her jammies, Ugg boots and blanket in hand. When we arrived after our five-minute drive, you would have thought — from the broad smile on his face — that we had just landed in Nassau. His sense of humor rescued his mood.
Izak reframed in the span of a few minutes and had one of the best weekends of his life. Once he understood the facts and knew that the facts wouldn't change, he accepted and embraced them, and he adopted an attitude of resounding joy to be exactly where he was (as opposed to where he thought he was going.)
We have gained levity and youthful enthusiasm from Izak. I have driven Izak to school every day since he started grade school, and the car conversations have been priceless. Once when he was in second grade, he asked if I had time to do some "computer research" while at work that day. When I said it depended on the topic, he replied, "Can you find out if Michael Jackson is related to Michael Jordan?" I asked why he would think that, and he said, "Because they are both black and both named Michael." On another trip to school that same year, after a few minutes of silence he blurted out, "Dad, you know that Bigfoot is real, right?" The next year I asked him what he wanted for Christmas and he replied, "a jaguar." He's perfect!
 
You see, Izak lives in two very different worlds. He is being raised in black Muslim and white Catholic households with ethnically diverse siblings. For years, he was the only black Muslim in an all-white Catholic school, and he has learned to navigate and accept all the differences of these persons and religions. Through all of this potential disharmony he has created a world of harmony. Through his kind and generous spirit he has brought two very different families together as one; a human bridge between households who also come from two different worlds.
Evidence of Izak's remarkable kindness is abundant and felt by us every day. In one example, at a Catholic dad's event when Izak was in 7th grade, a dad pulled me aside and told me that Izak had been the most important stable force in his son's new-school experience. His son, who was terribly shy and introverted, had just transferred to Izak's school and on his first day was about to eat lunch alone, self-conscious and dejected. Izak spotted him, put his arm around him and said, "Hey buddy, I'll be your friend," then sat down and ate lunch with the new kid. Here is Izak, who might himself feel lonely and dejected as a distinct minority in his school, immediately aware of a new student's angst on his first day at a new school. This is what kindness looks and feels like, and Izak teaches our family this lesson in ways we could not have imagined.
Through Izak, we have come to understand that through kindness and humor, we can elevate every communication, circumstance and relationship.•
 
Please enable JavaScript to view this content.