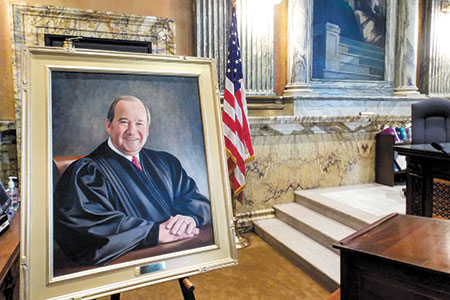 Through his nearly 17 years on the federal bench, Judge William T. Lawrence often set aside his work and welcomed into his chambers young attorneys who had arrived seeking his advice, counsel and encouragement.
Now his colleague on the Southern Indiana District Court, Judge Tanya Walton Pratt turned to him during her confirmation hearings in 2010. She recalled being a nervous wreck, agonizing over the slow pace of the proceedings and worried her lack of experience in federal court was giving some senators pause.
Lawrence told her to stop worrying. He comforted her that he did not have much of a federal practice resumé when he was tapped, and he advised her to enjoy the process and the "fabulous once-in-a-lifetime opportunity to serve as a federal judge."
Walton Pratt was confirmed in June of that year, becoming Indiana's first African-American federal judge.
Lawrence had made some history of his own when he was sworn in June 26, 2008. He was the first magistrate judge in the Southern Indiana District to become a district court judge. On June 30, he scribbled another entry in the history books when he put down his gavel and retired from the bench.
Federal and state judges, magistrate judges, former law clerks, court staff, Indiana Supreme Court justices, legal scholars and attorneys, along with his extended family, crowded into the William E. Steckler Ceremonial Courtroom July 2 to share their memories of Lawrence, offer their gratitude and wish him well.
Repeatedly during the celebration, colleagues emphasized Lawrence's reputation for being impartial, fair, hardworking, smart and always leading with kindness. Everybody in the Indianapolis City-County building loved him when he was building his practice as a criminal defense attorney, according to Walton Pratt, and Indianapolis Mayor Joe Hogsett credited him with helping the Terre Haute community heal through the way he handled a case involving the shooting death of a beloved police officer.
Judge Richard Young underscored his friend's virtues by breaking down the definition of "judicial temperament." At one point, he entered into a call and response with the audience. As Young asked for the synonym for the words "integrity," "patience," "wisdom," "fairness," "open-mindedness" and "compassion," the people seated in the gallery replied, "Bill Lawrence."
"Thank you for your friendship, wonderful personality and your sense of humor," Young said Lawrence. "Our lives and careers are so much richer because of your friendship."
Lawrence graduated from Indiana University Robert H. McKinney School of Law in 1973. He served as the Marion Circuit Court judge from 1996, then moved to the Birch Bayh Federal Building and U.S. Courthouse in 2002, when he was tapped to become a magistrate judge in the Southern Indiana District.
Being a judge was the farthest thing from his mind when Lawrence enrolled in Louisiana State University on a baseball scholarship in 1965. He had a dream of being a major league player, spending his summer days on the diamond and signing autographs. But those plans dissipated when those curve balls kept sailing past him over the plate.
"We are all the better off because the Mooresville kid couldn't hit the curve," Judge James Sweeney II observed.
Sweeney and Judge James Patrick Hanlon, who both joined the Southern District in 2018, often sought out Lawrence's advice. They took advantage of his wisdom and legal acumen, Sweeney said, by asking him countless questions about how he would do things and what he thought of particular issues.
Hogsett also arrived at Lawrence's chambers to get some career counseling when he was considering submitting an application to be the U.S. Attorney for the Southern District of Indiana. On Nov. 24, 2009, the two sat down to talk, but their attention was diverted by an FBI raid on offices in the former Chase Tower in downtown Indianapolis. Federal vehicles were circling the skyscraper and agents were carrying out boxes.
Watching the chaotic scene from his office window, Lawrence deadpanned to Hogsett, "I don't know whether you should want to be the United States attorney, but if you do, you apparently have one hell of a matzo ball coming."
Chief Judge Jane Magnus-Stinson, like Walton Pratt, got emotional support from Lawrence during her confirmation process in 2010. At one point in the process, the judge and his wife, with a pie in hand, visited the Magnus-Stinson home to have dinner. The pie plate got left behind when the Lawrences left and, the chief judge confessed, she has since lost the dish.
But, as a retirement gift, Magnus-Stinson presented Lawrence with a new glass pie plate, along with an open invitation to come for dinner anytime.
Gov. Eric Holcomb's office, in recognition of his service to Indiana, presented Lawrence with the Sagamore of the Wabash Award.
Senior Judge Sarah Evans Barker first met Lawrence when she was applying to be U.S. Attorney for the Southern District of Indiana in 1980, and he was the executive director of Indiana's first Merit Selection Commission on Federal Judicial Appointments. When the pair became colleagues on the federal bench, she enjoyed knowing he was easily accessible right down the hall.
Lawrence came to the Southern Indiana District Court, Barker said, with an established record of leadership plus a reputation for hard work, efficient decision-making and being a "very, very likable companion." The court, in turn, relied on Lawrence's patience, practicality, friendship with every member of the court staff, political savvy and deep knowledge of Indiana history.
"Bill is as fine a judge as I know," the senior judge said. "… One of the things we will miss most when Bill leaves our ranks will be the loss of his exquisite example and inspiration and camaraderie in the pursuit of justice."
Lawrence got to make the closing remarks at the ceremony. However, illustrating the traits others had highlighted, he chose not to talk about himself but rather to thank his staff, law clerks, and Marion County Court colleagues. He saved the most praise for his federal friends.
"It has been an honor to serve with you," Lawrence said. "I am sure that as I leave this post that I truly love that you will each do your part to carry justice with kindness and decency and pass it safely on to the next generation."•
Please enable JavaScript to view this content.