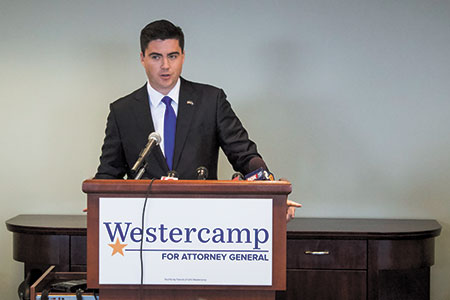 The first candidate for next year's Republican nomination to become the Indiana Attorney General is touting his private sector experience and is calling for "principled, conservative leadership" in the Office of the Attorney General.
John Westercamp, an attorney with Bose McKinney & Evans LLP, officially announced his candidacy for the GOP nomination on June 27. Westercamp is viewed as the first official challenger to embattled incumbent Republican AG Curtis Hill, though the Bose attorney noted Hill has not officially announced his intent to seek re-election.
Speaking from Bose's 27th floor office in Monument Circle's Salesforce Tower, Westercamp said he has been exploring the idea of a run for AG for about six months, visiting with stakeholders in 42 of Indiana's 92 counties. Westercamp told supporters and members of the press he now feels "called" to seek the office.
"The Scriptures say that everyone to whom much is given, much is required," Westercamp said. "As Indiana has given me so much, I take seriously the responsibility to give back to the state of Indiana."
During the June 27 event — the first of four the candidate held that day in Indianapolis, Hill's hometown of Elkhart, Fort Wayne and Evansville — Westercamp rolled out a platform of less government regulation, a crackdown on robocalls and support for anti-abortion policies. On the latter point, Westercamp said federal courts have created a constitutional right to abortion that does not actually exist in the U.S. Constitution.
"The courts' holding is effectively a writ of death on the most vulnerable in society that should have no place in our republic," he said. "Further, it offends our enduring commitment to the principle of self-government.
"If federal courts have the ability to create rights that find no basis in the Constitution, they, too, will have the ability to impose their will to curtail rights that are enumerated in the Constitution, such as the right of free speech, the right to keep and bear arms, and the right of all citizens to exercise their faith according to the dictates of their own consciences."
Asked how he would differ from Hill, who espouses similar conservative views, Westercamp pointed to his private-sector experience. His practice at Bose requires him to work with small and medium-sized businesses on growth initiatives, and he bemoaned the government red tape that he said can stifle entrepreneurship.
Applying that philosophy to the OAG, Westercamp said he would take a nonregulatory approach to issues such as robocalls. His approach would be to negotiate contracts between the state and telecom companies to use big data to reduce the number of robocalls Hoosiers receive on their cellphones, an issue he said has so far not been adequately addressed.
"Not every problem in society requires a government regulatory response," Westercamp said. "My proposal to stop the calls would implement a private-sector solution through contracts, and this is just one example about how a private sector perspective can improve the effectiveness of state government."
Westercamp has strong ties to Indiana's Republican establishment, in the Legislature advising House Speaker Brian Bosma on legal issues. He's also worked for former Republican Gov. Mitch Daniels and was part of the Young Professionals Coalition for Eric Holcomb's 2016 Republican gubernatorial campaign, according to his law firm biography.
But aside from seeing Bosma and other legislators at Republican events, Westercamp said he has not discussed his candidacy with lawmakers. He also said he has not heard from the Indiana Republican Party on whether it will support his candidacy at the 2020 convention, when the Republican AG nomination will be selected.
In response to an inquiry from Indiana Lawyer, Indiana GOP spokesman Pete Seat released a statement saying the Republican Party has not yet decided if it will support one particular candidate in the race for the GOP nomination for attorney general.
"This particular race is still developing, considering at this point there is a single candidate who has declared his candidacy," Seat said. "For that reason, whether or not the Indiana Republican Party weighs in on this particular race is a decision that will be made at a later date."
Even so, Westercamp was introduced at the June 27 event by state Rep. Mike Speedy, an Indianapolis Republican who said he was there to support the candidate as a friend. Speedy praised Westercamp for his "impressive academic and professional background," as well as personal characteristics including, according to Speedy, his talent, humility and teamwork.
"Those are the things that I think that our attorney general needs, and I think he'd be a very good one," Speedy said.
Westercamp said one of his priorities as attorney general would be collaboration with multiple branches of government.
"Indiana needs an attorney general that will take seriously the fiduciary duty to collaborate with state legislators and the administration," he said. "… As attorney general, I would provide legal advice to policymakers to reduce unnecessary regulations where possible, and when regulation is necessary, to assist policymakers in crafting regulations as narrowly and as clearly as possible."
Westercamp has only been practicing law for about five years, but he said he believes he has the requisite experience necessary to do the job of the attorney general. Before joining Bose, he was a legal extern for Northern Indiana District Court Judge Jon DeGuilio and a summer law clerk for Indiana Court of Appeals Judge Melissa May and Indiana Supreme Court Justice Steven David.
Most of the questions asked of Westercamp during his campaign announcement related to Hill, though he said it was presumptuous to assume Hill will be the Republican candidate when he has not announced re-election plans.
Still, the newly announced candidate was peppered with questions about his thoughts on Hill's performance so far, particularly as it relates to allegations the incumbent AG drunkenly groped four women at a bar in March 2018. Westercamp initially shied away from questions about whether Hill was providing "principled, conservative" leadership, but eventually said the "distractions" at the Attorney General's Office are not good for the state.
Those distractions have included calls for Hill's resignation from Republican and Democratic leaders, including Bosma and Holcomb. Hill has resisted those calls and denied the allegations.
Pushed further on whether Hill is providing appropriate leadership in the OAG, Westercamp said he wanted to wait and "see what happens with the attorney general" before discussing him. He didn't elaborate on what he meant by that, but Hill is currently facing an attorney disciplinary action and a civil complaint related to the groping allegations.
A resident of Zionsville who is set to be married in late July, Westercamp earned bachelor's and master's degrees from the Purdue University Krannert School of Management before earning his law degree at Indiana University Maurer School of Law in 2014.
In addition to his practice, Westercamp does pro bono work, assisting churches with nonprofit and real estate matters.
He plans to visit all 92 Indiana counties during his candidacy.•
Please enable JavaScript to view this content.