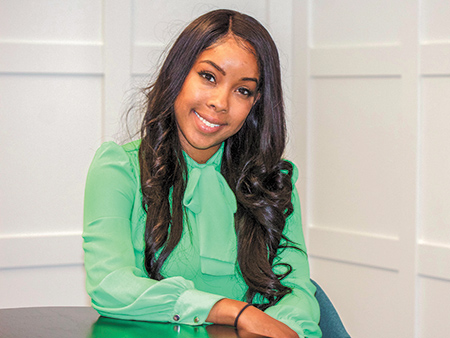 As a child, Bianca Black couldn't sit still. She said the task of keeping her occupied and under wraps was an overwhelming battle her mother fought to win.
But both women won when Black's mother signed her up for the Little People's Theatre at the age of 5.
At 7, Black had secured a leading role in "The Pied Piper of Hamelin" and was thriving in her new environment. It was then that the curtains opened to a passion in Black's life that would never fade.
"I loved everything about it," Black recalled. "I'll never forget, my mom was like, 'Girl, you're actually good at this.'"
Black got an agent, worked with a talent agency, and auditioned for numerous roles in the following years. As a student at William A. Wirt/Emerson Visual and Performing Arts High School in Gary, Black narrowed her focus of studies on drama and vocals. The experience was something akin to the movie "Fame," she joked.
"It's this adrenaline rush. That initial look at the audience is like shellshock, but once I get past it, I'm fine," she recalled of her days on stage. "I think that is the greatest part of it."
Constantly in and out of shows and rehearsals, acting was an integral part of Black's younger years. All the while, she continued to audition, receiving several callbacks from Disney productions such as "The Suite Life of Zach and Cody" and taking various commercial gigs. She also appeared in the television drama series "ER" and most recently portrayed a medical student in an episode of "Chicago Med."
But the young lawyer, who continued to act and perform during law school, said she had to make a choice about her pursuits when she couldn't secure a permanent role.
"Honestly, that was when I started to realize — OK, I'm either going to be in this and willing to fail consistently for however long, maybe indefinitely — or I'm going to do something where I know for sure gives me a good track and a good career to succeed," Black said.
She chose to attend law school and pursue a legal career, where she now works as an employment law attorney at Littler Mendelson P.C. As an attorney, Black said she consistently sees the skills she acquired from her theater days come into play in the litigation world.
"A lot of my work is putting on a show and acting," she explained. "I utilize a lot of my acting skills every day, without even thinking about it. It's fun. I find ways to kind of tie the two together."
For example, if a judge she faces is more staid, Black will hold off from making lighthearted jokes, as opposed to conversing with a judge who may be more laid-back. Or, she considers what role she needs to be for her client and how she will portray herself to opposing counsel.
"One of the most important things an actor learns is timing. When to land the perfect sentence, when to press, when to hold, how to read a room, to be comfortable in silence," said Rashaad Cherry, who acted alongside Black for years before becoming one of her coaches.
Cherry, who has worked in theatre for years, said he can easily see the overlap between theatre and the practice of law.
"The reality is that it's people skills at its core," he said. "A good actor will well understand people and be able to utilize those skills in whatever one does. Bianca's always one of the best performers I've ever worked with," Cherry added.
Although she hasn't spent as much time on a stage or in front of a camera in her few years of legal practice, Black is ready to get back in the limelight. After realizing how much she missed performing, the young attorney auditioned for a miniseries in that will be filmed in her hometown of Gary.
The series in preproduction, titled "219" focuses on an Indiana homicide detective's pursuit to hunt down the killers who murdered her family. Black, who landed a role in the show, will portray defense attorney Piper Waterman. Cast as a lawyer, Black said she's excited because she can just be herself during filming.
She also plans to use her legal skills in the role, whether that be confronting a witness in a scene or acting correctly in court. The miniseries is set to be pitched to a production company upon completion, and Black said she looks forward to getting started with production. That drive and determination to get the ball rolling is something Cherry has seen firsthand.
Bianca Black performs with her law school musical theatre group during her time at Indiana University Maurer School of Law. (Photo courtesy of Bianca Black)
Black, he said, was always good at researching her roles, completing her work and working hard in each show. Even as a younger performer, she stayed disciplined on set, he said.
"She was always good at that from the very beginning," Cherry recalled. "She always did it with apparent ease."
He guessed, however, that it is probably not easy for someone to balance a career alongside a pursuit of acting.
"It would be exceedingly difficult," he said. "You add that into a person's schedule, and it tends to be really challenging for anyone doing full-time employment. I would imagine for someone engaging in law it might be particularly challenging."
But Black said she's not struggling to find a balance at this point in her career. The balance for her, she said, is about surviving and being happy.
"When it comes to balance, before I do anything, I make sure it's not going to interfere with my job. I'm an attorney — I need a very set schedule," Black said. "But what carries you through the day? What makes you fulfilled?" she asked. "I do the things that are important me and that make me happy.
Acting and practicing law fill that space in her heart. Cherry noted that when Black was younger, she talked about becoming a lawyer. Now that she is, she retains a love for her theater roots.
"It's usually the case that something peters out," he said. "I think that if I were to make a bet than anyone could pull it off, I would bet on her to her credit."
When asked what suggestion could be made to others who long to jump back into a lost hobby, Black said from her personal experience, three things are key: Get the job done. Do what you love. Figure out how they work together.
"You really have to know what you want and be committed to it," she said. "It's going to take a sacrifice, for anyone trying to play a dual role. There's no surefire way. You just figure it out as it comes."
Please enable JavaScript to view this content.