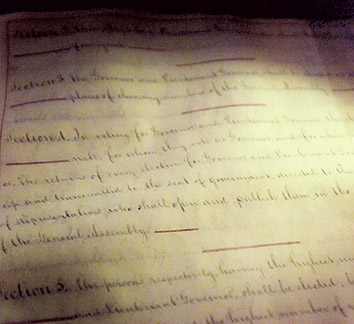 In celebration of National Bill of Rights Day, Indiana middle and high school students have been invited to partake in a multistate art and writing contest hosted by the United States Courts of Appeals.
The 7th and 8th Circuit Courts of Appeals will host the Bill of Rights contest for school children in grades five through 12. Students from Indiana, Arkansas, Illinois, Iowa, Minnesota, Missouri, Nebraska, North Dakota, South Dakota and Wisconsin are invited to submit art and essays on the importance of the Bill of Rights.
Participants will be broken into two categories:
Middle school, fifth through eighth grades.
High school, ninth through 12th grades.
Students are encouraged to be as creative as they'd like and create their own original work in the form of an essay, creative writing submission, video, multimedia presentation, poem, song, drawing or painting.
Photography and computer-generated art will not be accepted in the contest.
Middle school contestants are asked to answer three questions: why the Bill of Rights is an important part of our democracy; what part of the Bill of Rights is most important to you and why; and how do the protections provided by the Bill of Rights impact your daily life?
Participating high schoolers are asked to consider one of six provided U.S. Supreme Court landmark rulings on the rights of citizens and briefly describe the case and decision. They are also asked to answer if and how the case increases or challenges their understanding of the legal protections available to students in the Bill of Rights, how the decision in the case applies to their own rights, and why they do or do not agree with the courts' ruling.
Group submissions will also be accepted, but only if all group members submit an individual entry form. Contestants in a group submission must determine among themselves how to fairly divide any prize amounts they may win.
A grand prize winner selected from each age group will be awarded a $500 cash prize. Semifinalists from each district court will receive an electronic gift card valued at $50.
Grand prize winners will also be able to take part in a virtual award ceremony with a federal judge on Wednesday, Dec. 7, and have their names and submissions shared on the websites of the participating U.S. district courts.
Semifinalists will be notified before Thanksgiving and grand prize winners will be announced at the virtual event. Participants must be present to win the grand prize.
Submissions will be accepted no later than 5 p.m. Oct. 30 and submitted online. 
Additional details and entry forms can be found online. Registration for the event is required.
Please enable JavaScript to view this content.