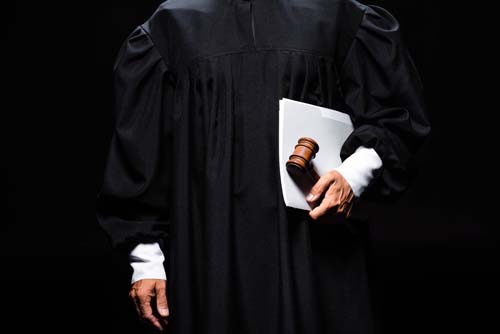 An inmate who filed a suit against more than a dozen individuals using placeholders should have the chance to amend his claims against some of them, the 7th Circuit Court of Appeals has ruled.
In 2016, multiple law enforcement agencies raided Enedeo Rodriguez Jr.'s home in search of illegal drugs. Local, state and federal agencies, with a search warrant in hand, broke open the doors and windows of Rodriguez's home in the early morning hours and threw a flash-bang grenade into the living room where his 1-year-old daughter was sleeping.
Rodriguez was ultimately convicted of Level 2 felony dealing in methamphetamine and Level 5 felony corrupt business influence and sentenced in state court to 32 years behind bars.
However, Rodriguez sued 14 defendants alleging they violated his rights under the Fourth and Fourteenth Amendments. Specifically, he argued that they provided false information to the federal magistrate judge who issued the warrant and used excessive force and destroyed his property while executing the search.
Thirteen of the 14 defendants were dismissed by the U.S. District Court of the Northern District of Indiana, which concluded that six defendants —"ATF UC 3749," "EC-ICE Unit Officer U323," "Elkhart County ICE unit," "DEA 6," "ECSD SWAT," and "South [B]end SWAT" — could not be sued because they were "unnamed" or "unidentified."
Rodriguez moved twice to amend his complaint to replace defendant "ECICE UC 323" with that officer's full name, add defendants, and join his daughter as a plaintiff, but the district court denied leave to amend because Rodriguez filed the proposed amendments beyond the two-year limitations period for § 1983 claims in Indiana. The court concluded there was no way for the amended complaint to relate back to the original.
The Indiana Northern District then explained that not identifying the defendants was not a "mistake" under Federal Rule of Civil Procedure 15(c)(1)(C) and that the defendants lacked timely notice of a potential suit. The district court also said Rodriguez could not join his daughter as a plaintiff because she did not have counsel and could not be represented by a pro se litigant.
The district court granted summary judgment to the sole remaining defendant, Nick McCloughen, finding undisputed evidence showed that McCloughen did not play a role in obtaining or executing the warrant.
The 7th Circuit Court affirmed in part and vacated in part on Wednesday, concluding in an unpublished opinion that it is not necessarily futile to amend the complaint to name "ATF UC 3749" and "EC-ICE UC 323."
"So too with the agencies. Rodriguez sued 'Elkhart County ICE unit,' 'ECSD SWAT,' and 'South [B]end SWAT,' none of which is a proper juridical entity for constitutional claims. But he should have been given greater latitude to name the proper defendants," the 7th Circuit wrote.
In a contemporaneous published opinion in Enedeo Rodriguez, Jr. v. Nick McCloughen, 22-1259, the 7th Circuit noted that there is  "nothing wrong with suing placeholder defendants, then using discovery to learn and substitute names."
"But a plaintiff who uses placeholders must take account of the clock: substitution must be completed before the statute of limitations expires. For claims such as those Rodriguez has made, that period is two years," Judge Frank Easterbrook wrote.
The appellate court also concluded that although Rodriguez failed to state a claim against law enforcement agencies at the federal, state, county, and city levels, he should have the chance to amend his claims against some of the entities. It noted that Federal Rule 15(c)(1)(B) was met in the case but the district judge thought that the other condition — adding the right names or new defendants within the period provided by Rule 4(m) — could not be satisfied.
"The screening in this case took more than a year (the complaint was filed in fall 2018 and not screened until January 2020). That put the timing of service beyond Rodriguez's control. Not until the district court acted under §1915A was service possible—and by then the 90 days, and the statute of limitations, had long expired," Eastrbrook wrote.
"The district court counted all of this time against Rodriguez and concluded that, by the date of the screening order, it was too late to identify or add parties. Yet when good cause for deferred service exists, 'the court must extend the time for service.' Within 90 days of the district court's screening order, Rodriguez filed amended complaints naming some defendants and adding others," it continued. "Service could have been effected on time, given the extension, had the district court permitted it—as it should have done."
The 7th Circuit further pointed out that someone who names a defendant using a code does not necessarily mean that they have made a "mistake" as described in Rule 15(c)(1)(C)(ii). It also concluded that the district court must consider in the first instance whether the addition of other proposed defendants is compatible with Rule 15(c)(1)(C).
"It is not possible to tell on the existing record whether these persons 'received such notice of the action that [they] will not be prejudiced in defending on the merits' and 'knew or should have known that the action would have been brought against [them], but for a mistake concerning the proper party's identity,'" Easterbrook wrote. "In making those decisions, the district court must follow the approach laid out in (Krupski v. Costa Crociere S. p A., 560 U.S. 538, 548–57 (2010))."
Finally, the 7th Circuit noted that beyond the issues created by delayed identification of the persons who participated in obtaining and executing the warrant, Rodriguez's appeal presented several additional issues.
"They need not be dealt with in a published, precedential opinion," the 7th Circuit concluded. "For the reasons given in a nonprecedential order issued contemporaneously with this opinion, the judgment of the district court is affirmed in part and vacated in part."
Please enable JavaScript to view this content.