This story has been updated
Judge Michael Kanne of the 7th Circuit Court of Appeals, whose 50 years on the bench began in Jasper County, died June 16 at his home with his wife, Judith Ann, at his side. He was 83.
A 1968 graduate of Indiana University Maurer School of Law, Kanne started in private practice in his hometown of Rensselaer before becoming Jasper Circuit Court judge in 1972.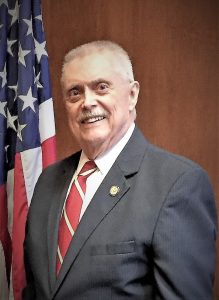 President Ronald Reagan nominated Kanne to the U.S. District Court for the Northern District of Indiana in 1982 then, five years later in 1987, nominated him to the 7th Circuit.
Retired Judge John Tinder served with Kanne on the Chicago appellate court. Tinder described the late jurist as a "terrific colleague who was hardworking, thoughtful, a good listener and a careful writer."
While he served on the 7th Circuit, Kanne held national positions in federal court administration and governance. His work included serving as chair of the Judicial Conference Committee on Space and Facilities and the Committee on Judicial Security.
"He was a devoted husband and father, a respected judge, a proud Hoosier, and a patriotic public servant," the 7th Circuit said in a statement announcing Kanne's passing. "He leaves tremendous legal and human legacies and will be greatly missed."
U.S. Bankruptcy Judge James Ahler of the U.S. District Court for the Northern District of Indiana served as Kanne's clerk from 1996 to 1997 and called him, "my hero."
The bankruptcy judge remembered Kanne would remain impartial about a case, keeping an open mind in reading through all the briefs and sitting through oral arguments. Then, after hearing both sides, he would render an opinion.
"Working for Judge Kanne was truly a special experience," Ahler said. "Working for him, I fell in love with the law in a way I never had before."
On the 7th Circuit, Kanne would have three to four clerks at a time. The lifelong bonds he forged with his clerks started with the work and was enhanced over lunch.
Ahler remembered the judge taking the clerks for a midday meal about three to four times a week, and while the decision of where to eat was usually made by the group, the judge made the choice when Cajun meatloaf appeared on a local restaurant's daily specials.
"Wherever Cajun meatloaf was being served, that's where he wanted to go," Ahler said.
Indiana Attorney General Todd Rokita credited Kanne for his service to Hoosiers and the judiciary.
"Sadly, this week we lost Judge Michael Kanne, a man who embodied the Hoosier spirit through his hard work, integrity, and character," Rokita said in a statement. "As Attorney General, I am grateful for Judge Kanne's commitment to upholding the law. I always looked forward to our visits, knowing that I would come away a wiser person. Please keep his family in your prayers."
Off the bench, Kanne was "quite an athlete," Tinder said. He was proud to have been a member of the Rensselaer Central High School Bombers 1954 championship football team.
The judge would go on to become an accomplished horse rider and remained an IU fan as well as a "die hard Cubs fan," Ahler said. Also, the judge cheered his daughters as one played on the Purdue University polo team and the other played on the golf team at Mercer University in Georgia.
But Kanne never lost his love of football. He could be seen on Friday nights walking the sidelines as the Rensselaer Bombers battled on the gridiron, Ahler said. In 2014, courtesy of a ride from the bankruptcy judge, he and his wife attended the state high school Class 2A championships and witnessed the Bombers' capture the trophy.
As a jurist, Kanne loved trials, Tinder said. He particularly enjoyed seeing and hearing the lawyers work in the courtroom and liked the intellectual challenge. Also, he was a model trial judge, Tinder said, being patient and courteous to the attorneys.
Tinder said he always enjoyed being on a panel with Kanne at the 7th Circuit. Kanne asked interesting questions and made thoughtful analysis.
"Michael was a wonderful judge and colleague," Tinder said. "He will be missed."
Kanne is survived by his wife and two daughters.
Please enable JavaScript to view this content.