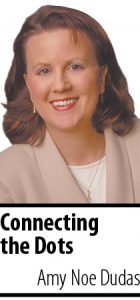 While that may sound like the opening to a strangely obscure joke, it's actually a good introduction to Indianapolis attorney Maria Matters. Bear with me. You'll see.
Maria is a solo practitioner with a general civil practice in family law, estate planning, probate, business formation, copyright and other miscellaneous areas. She went to Purdue with her sights set on becoming a veterinarian but changed course to agricultural communications. This allowed her to focus on course work in both animal sciences and journalism/communications. But it was courses in business law and the First Amendment that guided Maria to a determination that law school was the right path for her. After graduating from Purdue, she planned to take a year off and then go to law school.
Maria began working as a civilian contract negotiator for the United States Navy purchasing sonobuoys, and later for the Army purchasing computers. Life happened, as it can, and that gap year between undergraduate and law school turned into several. Patience and hard work paid off; Maria graduated from IU McKinney in 1998, and she's been practicing law ever since.
But Maria has other passions that balance out her practice. And I want to connect those dots.
When Maria was very young, she fell in love with horses. When her family moved to an area with a little barn nearby, she would watch the girls out there with their horses and hang around the barn seeking chances to ride. She never took lessons — just got on a horse and somehow connected naturally. Her father owned gas stations, and Maria worked summers for him as Indiana's first female pump jockey (for the younger generations, a pump jockey was an actual human being who would pump your gas and take your money while you sat in your car). By age 13, Maria had enough money to buy her first horse.
For the next five years, Maria maintained horses. She had to sell them to go to college but always intended to keep horses when she could. After law school, she and her husband bought a small farm with five acres, and now she has four horses — Amir (an Egyptian Arabian, which Maria describes as the "horse of a lifetime"), Sunny (a Quarter Horse thoroughbred), Blue (actually, Honky Tonk Blues, a Rocky Mountain gaited horse) and Fanny (named for her most prominent attribute, a Morgan/Quarter Horse cross). She spends an hour each morning feeding and cleaning, and at least another half hour in the evening doing the same. Weekends are spent fixing fencing, mowing grass and maybe getting some riding time in. There's obviously a lot more to owning horses than getting to ride them around.
In college, sans horses, Maria was introduced to Footlite Musicals, an all-volunteer community theater producing nothing but musical theater. She ran the follow spot for the first time in 1976 and later married the guy who was president. With the exception of her law school years, Maria has been heavily involved in every aspect (except costume design — she apparently cannot "pin a straight hem") ever since. She has even acted, noting she is better suited for character roles or chorus. These days, she focuses mostly on directing or lighting design.
I could not squeeze a favorite production or role out of her, though. She said her favorite production is usually the one she's involved with at the moment. Fair enough.
Maria has joined her love of horses and the theater. Amir, a 23-year-old Egyptian Arabian, an ancient breed known for good temperament and divine qualities, has been on stage three times (twice in "Into the Woods," once in "Curtains"). Amir is also featured at the Irvington Halloween Festival with the Headless Horseman.
Maria also acts as corporate counsel to Footlite Musicals. Unlike me (I also act as counsel for a local community theater in which I also volunteer in an artistic capacity), she does not find that her personal views as an artist sometimes conflict with the legal advice she must give. She says she compartmentalizes very well. And that's what you really have to do, especially when different sides of your brain work in different capacities in the same organization.
As lawyers, we must logically and objectively work through tough issues, ones that are important to a person's family stability, business success or ongoing relationships. We cannot let our personal views interfere, and we must, at times, make arguments we may not otherwise support ourselves. And we have to be OK with that. I myself have experienced a time or two when a personal acquaintance – not someone that I would necessarily refer to as "friend" but someone with whom I have had occasion to socialize – hires me and is not prepared for hearing the frank advice I sometimes must give. It's perhaps advice I would approach differently as a friend. But as a lawyer, I don't sugarcoat my analysis of the facts as the law applies to them. That would be a disservice to clients. But there certainly is a fine balance to strike in objectively explaining what might result from certain bad facts and in empathetically guiding our clients through this very complicated process.
This is where such unusual "extracurricular" activities can make us so much better.
For Maria, the time she spends riding horses allows her to free her brain, even though she must always be present in the moment to anticipate safety issues and redirect the animal. "The rest of the world falls away." Unclogging your mind of all the clutter and conflict, even for a short while, can really free it up to do some valuable analysis later. "Just riding and letting my thoughts wander rejuvenates me," Maria says.
Most of us have a creative side, and Maria's is ignited by doing theater. The unemotional and logical lawyer part of her allows her to sort through technical issues she might encounter, whether that's sorting through blocking out where actors enter and exit for a scene as a director or programming lighting cues for a long and complicated dance number. Theater folk are a particularly passionate sort, and at long, late-night rehearsals, emotions can run high. Having a lawyer brain trained in detached rational thought is a certain bonus when the creative team around you starts to have a meltdown over whether an actor's shirt should be tucked or untucked in a particular scene.
How does Maria benefit as a lawyer from theater? Easy. She has "scripts" memorized for use in court. She has a script for objections, a script for laying evidentiary foundations, and so on. They're all in her repertoire. When the time comes, she spins the wheel in her head and lands on the right script for the occasion.
For us theater nerds, we call that being off book. And that's a good thing.
Aaaand … SCENE!•
• Amy Noe Dudas — [email protected] — is the founder of Dudas Law and co-founder of Dudas Inspiration Venue for the Arts in Richmond. Opinions expressed are those of the author.
Please enable JavaScript to view this content.