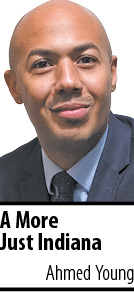 We spend significant time, energy and resources evaluating the lack of diversity within the legal profession, particularly in big law. We have examples of various firms within the state of Indiana that are leading on the diversity issue. Recently, the Indiana Supreme Court created the Indiana Commission on Equity and Access seeking to build trust and increase the average citizen's ability to navigate the complicated legal system. These efforts not only are commendable, but they are also forcing an examination of uncomfortable issues while creating opportunities for rich discourse in settings that have in large part avoided these critical issues.
The Sept. 15 "Order Establishing the Indiana Commission on Equity and Access in the Court System" lays out the directives from our state's highest court. Two specific components of the order direct the commission to "provide an independent and comprehensive review of Indiana's state court systems, policies, and practices" and "identify areas of strength and areas where additional resources and efforts are needed in order to achieve greater and more equal access to justice." The commission is directed to provide a report before the end of the 2022 calendar year. One of the most critical components of the order is the final paragraph and, more specifically, the last few sentences: "The Commission may also, in the interim, submit to the Court requests for immediate actions or pilot projects to address critical issues or provide better findings in its report."
The commission is comprised of Democrats and Republicans, elected officials, appointed jurists and private practitioners with varying degrees of experience, all the while incorporating diverse backgrounds from native Hoosiers to those who have made Indiana their home within the last few years. This think tank, I hope, leverages the perspectives and talents of this group to activate and leverage the "requests for immediate actions or pilot projects" powers granted by the Indiana Supreme Court.
Action must come thoughtfully, though swiftly, to show observers that this commission will not simply draft a well-intentioned, perfectly written report that outlines inequities, assets of the Indiana legal system and opportunities to build a better apparatus that serves our citizenry justly. Though I look forward to reading the commentary, I am more intrigued by the potential action the commission can immediately take to investigate inequitable systems, cultivate a vision for Indiana's courts and ancillary agencies as well as inspire individuals and corporations to lead on issues impacting the lives of many. We have the chance to learn from similarly situated states and court systems that have jumped into these efforts and developed pilot programs across their states. Subsequent action can include advocating for policy changes and potential funding during the 2023 legislative session. This is the type of vision, coupled with action, that this body can cast and actualize.
The leaders of the commission have an incredibly complex dynamic to navigate while seeking to execute on this mission. Chaired by Indiana Supreme Court Justice Steven David and co-chaired by attorneys Deborah Daniels and Norris Cunningham, diversity will likely be a primary focus, though it cannot and should not dominate the conversation. Diversity is essential to a functioning legal system, but we cannot ignore the access and inclusion work that is closely connected to diversity.
Our fellow Hoosiers require access to representation and an objectively fair system while navigating evictions, uninhabitable living conditions, civil proceedings as well as the increasingly complicated and unjust criminal justice system, whether it is during the pretrial phase or after adjudication. As the order states in its preamble, reforms and changes have been made, but "public trust and confidence in Indiana's courts have waned or they are not fully shared by all."
One does not have to do significant qualitative or quantitative research to identify the source of that waning trust. Often those navigating poverty and historic racism, as well as immigrants, the elderly and the disabled, are subject to negative outcomes while navigating the legal system. To be successful, the commission must elevate these voices, incorporate them in their process and support leaders in the creation of new ways to address systemic challenges and implement future recommendations with fidelity.
We cannot allow funding and bureaucracies to serve as roadblocks to justice. We must do the inverse of what we have done for years. By taking an asset lens rather than a deficit approach to overcoming disparities, we see the vast opportunities for change and collaboration. We have the chance to set a very clear vision for the Indiana court system. The time is now to articulate the belief that we can and should create a more just legal framework because it is not working for too many. The voices are loud enough and echoing through the halls of courthouses from Richmond to Terre Haute, from Posey County to Steuben County: Our system is not working, and we must recalibrate in order to counter generations of poverty.
How committed is this group to making an argument for substantial change? How will the commission define success? What is the commission willing to do to ensure their definition of success is achieved? Based on the composition of this group, I am optimistic that action and change is nigh.•
• Ahmed Young is general counsel and chief of external affairs for Indianapolis Public Schools. Opinions expressed are those of the author.
Please enable JavaScript to view this content.