The Historical Society of the U.S. District Court for the Southern District of Indiana recently invited members of the legal community to listen to the true experiences — both joyful and harrowing — of two of its earliest judges.
Costumed actors performed dramatic readings of preserved letters and journals written by Judges Jesse Lynch Holman and David McDonald during the 14th annual court historical symposium on Thursday.
The presentation, titled "The Life & Times of 19th Century Judges Jesse Lynch Holman and David McDonald," was interspersed with historical context provided by court historian Doria Lynch and outreach coordinator Mary Giorgio. Lynch, serving as narrator for Judge Holman, began by recalling the court's origins.
The Indiana Southern District Court was originally known as the U.S. District Court for District of Indiana from 1817 until 1928, when the Southern and Northern districts were created.
There were considerable differences between the 19th century court and the modern-day court. For starters, there was only one federal judgeship in the state until 1925. And the court didn't have its own courthouse until 1861. Instead, the judge occupied offices in post offices and other buildings.
The early court was also much less busy than its modern counterpart, which is known for its heavy caseloads. But cases in the 1800s were not heard year-round like they are now. Rather, court sessions were hosted from May to November each year.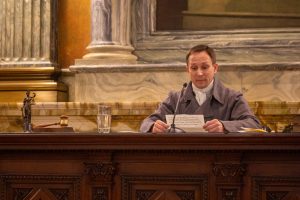 "The light caseloads and $1,000 salary, along with the prestige of a lifetime appointment by the president, certainly made a federal judgeship appealing," Lynch said to a crowd of in-person and virtual attendees at the Dec. 9 event held in the Indiana Southern District Court's William E. Steckler Ceremonial Courtroom.
The appeal of judgeship drew in Jesse Lynch Holman, an attorney, politician and jurist who relocated from Kentucky to Dearborn County with his family. He was one of the first three Indiana Supreme Court justices and was eventually appointed the second judge of the Indiana district court by President Andrew Jackson in 1835, following the death of Indiana's first federal judge, Benjamin Parke.
Actor Jay Hemphill, performing as Holman, sat at the bench and read from letters written by the late judge to his family and friends, detailing his journey to a federal judgeship. Specifically, he told of the dangerous stagecoach accident Holman endured en route to meet with the United States president.
A snowstorm in Maryland resulted in the carriage being driven over a snow bank, severely injuring Holman's travel companion. Holman himself sustained injuries to his neck and head but was more concerned about the opposition he faced in seeking to sit on the Indiana bench.
Holman ultimately secured the appointment and remained in office until his death in 1842.
Judge David McDonald, also born in Kentucky, moved to Indiana in 1814. He was an educator until opening his own small legal practice in 1830.
McDonald served as a member of the Indiana House of Representatives and as a prosecuting attorney, eventually winning election as a judge of the 10th Indiana Circuit Court in 1838, serving there until 1852.
President Abraham Lincoln nominated McDonald for a district judgeship Indiana in 1864 — only five years before his death.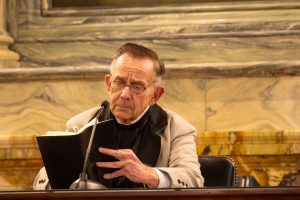 Actor Craig Reasoner, portraying McDonald, read excerpts from the late judge's diary about the everyday workings of a 19th century court. Upon his appointment, McDonald reflected heavily on his change of status and the pleasantries available to him in his new office. He commented on the nice carpets, rich furniture and elegant stationary.
"All of this for life," McDonald penned. "This is a consolation so wished by me."
McDonald also reflected on several serious cases he presided over, including the murder of Cpt, Eli McCarty by several anti-war draft protestors.
"Five of these murderers now stand convicted in our Court," McDonald wrote of the trials for the McCarty murder. "If it were left to me, I would, at once, pronounce sentence of death on them all."
"In reading the letters of Judge Holman and the journal of Judge McDonald, we get a sense for the characters of these men and the workings of the district courts at that time," Giorgio said in closing.
Those who attended the program received one hour of CLE credit.
Please enable JavaScript to view this content.