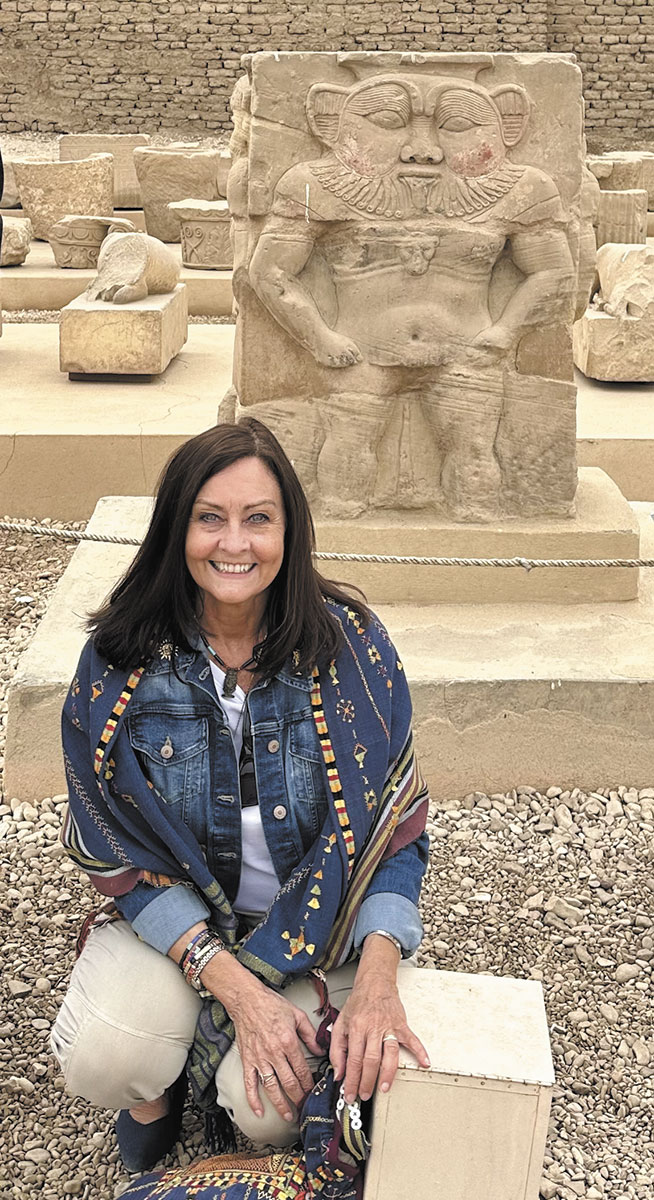 The Egyptian god Bes is short and squat in many depictions, with bowlegs, a feathered headdress and a protruding tongue designed to ward off misfortune.
That's what drew Shelli Wright Johnson to the diminutive dwarf god: His appearance is unique and a contrast to other taller, more picturesque Egyptian deities.
In 1998, Johnson began exploring more about the god when she made her first trip to Egypt.
"It was like the stars had suddenly aligned to get me to Egypt. So I went," Johnson said.
Johnson has returned repeatedly for the past 25 years to the country known for its great pyramids and winding Nile River. Also during those years, she's maintained a law practice in Valparaiso.
Now preparing to retire after 44 years in practice, Johnson is looking ahead to more time spent pursuing her passion both for Egypt and for Bes.
Early fascination
Johnson calls her unique connection with Egypt "Adventures with Bes."
A self-described Egyptophile since she was a child, Johnson remembers asking for books about the northeastern African nation from an early age.
When she was a child, Johnson's uncle owned a gravel pit. She would ride her bike to her uncle's house and climb stone columns at the pit, pretending she was climbing the Egyptian pyramids.
Johnson's early fascination with ancient Egyptian culture made her want to study archaeology, but she was discouraged from pursuing the discipline when she entered college as an undergraduate. She recalled her college counselor smiling and asking if her family was wealthy enough to support someone in that field.
Johnson eventually made her way to law school, graduating from Valparaiso University School of Law in 1979 and becoming the first woman to practice law in Valparaiso. Since 1988, she's been the owner of the Law Offices of Shelli Wright Johnson, where she focuses on family law.
But her fascination with Egypt never waned, so in 1998, she boarded a plane and took her first trip to Egypt on a tour hosted by author John Anthony West. West encouraged Johnson to come on the trip, and also to write about Bes.
The first edition of her book, "The Story of Bes," was written after that first trip, and Johnson herself began hosting "Bes Quest Tours" in 2005 in association with travel company Quest Travel and internationally acclaimed artist Dawn Gaskill.
"My tours allowed me to meet people from all over the world," Johnson said.
'Working his magic'
Bes is known for carrying out a wide variety of duties as a god. That includes his role as the protector of children and women during childbirth.
Johnson has taken her appreciation of Bes to the next level, publishing three children/young adult books that tell stories through the eyes of Bes.
"I tried to keep the tales and images mythologically and historically accurate to educate the young readers as they read," Johnson said.
Johnson's own kids grew up with Bes, and the god has now become part of the family, she said.
Her research into Bes and her contacts within Egypt's archaeological community have resulted in Johnson being featured in three articles by Egyptian publications. She's also been able to connect with several prominent archaeologists and Egyptologists.
"Bes has opened many doors as he continues to work his magic," Johnson said.
Traveling the world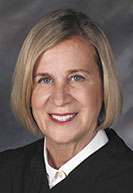 Court of Appeals of Indiana Judge Nancy Vaidik went on one of Johnson's tours in March, venturing into the subterranean chamber of the Great Pyramid. Vaidik graduated from Valparaiso Law just one year after Johnson.
The judge said she knew Johnson had written children's books about Bes, but she didn't know the extent of her travels there prior to the tour.
During the trip, Vaidik said Johnson jumped from a bus and went to an archaeological dig.When she returned, she told Vaidik that archaeologists had found a new Bes statue. Johnson was interviewed the next day about the statue by an Egyptian newspaper.
Vaidik said the tour with Johnson worked out well. Instead of 65 people on a boat, as would be the case with some of the bigger Egyptian cruises, there were only 14 people on Johnson's tour.
Vaidik flew into Cairo, then took a boat down the Nile River.
"We kept saying, 'Here we are, these nice girls from Portage County, Indiana, traveling the world,'" Vaidik said.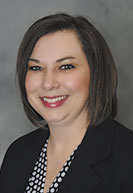 Jennifer Irons Jostes, a partner with Jostes & Glynn in Cedar Lake, also accompanied Johnson on her latest trip to Egypt earlier this year.
Jostes described herself as someone who loves to travel and see new places. So, she and her husband left for Egypt on March 18 and returned April 5.
"It was by far the greatest adventure of my life so far," Jostes said.
Jostes has known Johnson for about 15 years, and she had always wanted to take a Nile River cruise. While she knew Johnson had written books about Bes, she said she didn't realize she had made multiple trips to Egypt and co-led tours there.
Like Johnson, Jostes quickly became immersed in Egypt once she arrived and began seeing the country's historic sites up close.
"It was so moving to me. I probably cried at the first three sites we went to," Jostes said.
Post-retirement plans
As she winds down her law practice, Johnson said she plans to return to Egypt in July and continue co-hosting tours in the coming years.
"Now I finally have time to do Egypt the way I want to do it," she said.
Part of the fun of the tours, Johnson said, is the ability to share the experience with someone seeing Egypt for the first time.
She said it's estimated that only about 10% of Egypt's historic artifacts have been recovered, with new discoveries happening all the time. That adds another layer of excitement to the tours.
Johnson mentioned Vaidik, who was walking with a cane from a previous injury when she booked the trip to Egypt, but managed to walk down to the Great Pyramid's subterranean chamber.
"She just seemed so charged with energy," Johnson said.
The tours, which are generally by invitation only, start in Cairo and continue by boat along the Nile River for eight to nine days.
"It's different every time and I never get tired of it," Johnson said.•
Please enable JavaScript to view this content.