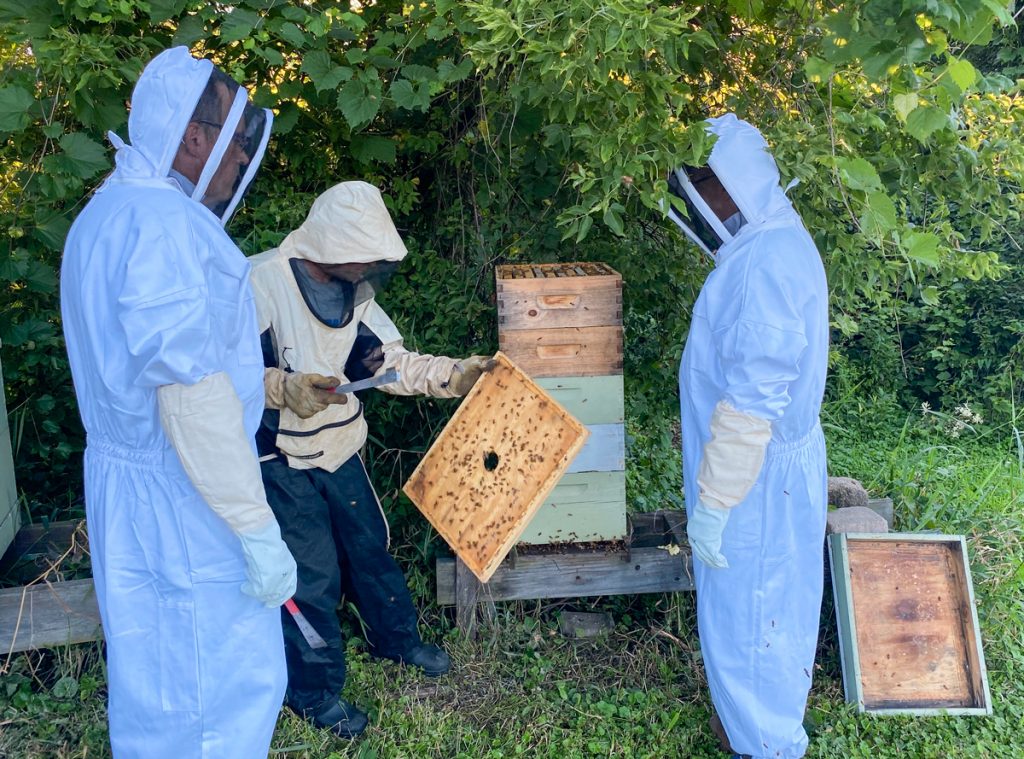 Covered from head to toe in protective fabric and netting, three northern Indiana judges set out in the summer evening toward a buzzing stack of boxes settled against a tree line.
The faded brown and green frames are home to thousands upon thousands of honeybees, going about their merry way gathering and storing food. Their caretaker is Judge Stephen Scheele of the Lake Superior Court Civil Division, who has maintained his family's bee colonies for the past 10 years.
What started as just two colonies turned to nearly 10 at its peak under Scheele's watchful eye, but not without trial and error. He's never taken formal beekeeping classes, the judge said. Instead, he's learned by doing and observing.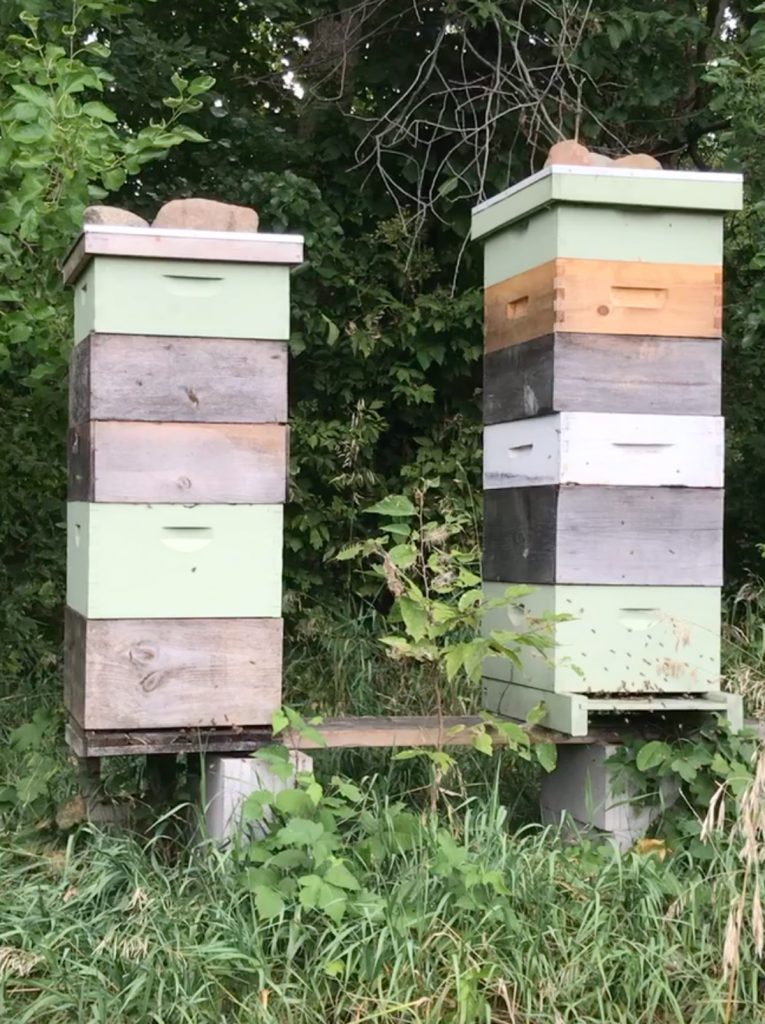 "I really like watching them do their work," Scheele said of the social insects. "You can sit outside on a nice day and they are buzzing in and out. Watching the natural dynamic up close as a beekeeper, I find a lot of peace and curiosity at these guys so diligently working."
In addition to his two Lake County bee colonies, Scheele has acquired three more colonies on his family's hobby farm in Pulaski County. His passion for beekeeping and ever-growing knowledge on the subject recently sparked the curiosity of two LaPorte County judges and friends, who have since taken up the hobby with Scheele's help.
Becoming a beekeeper
As a kid, LaPorte Superior Court 2 Judge Richard Stalbrink loved the concept of beekeeping and was fascinated by bee behavior. LaPorte County Magistrate Judge John Link, interested in the bee colony social structure, has also wanted to try his hand at beekeeping since learning about it.
So when an opportunity presented itself from Scheele for both judges to tap into that curiosity by starting their own colony, they took the chance.
"We were sitting around talking one day, and (Scheele) said he had to go take care of his bees. Pretty soon we were going to watch his bees and watching him take care of them," Stalbrink said.
Scheele then gave the judges an offer — if they were interested in starting their own bee colony, they could use his extra equipment and Scheele would help guide them through the project. Stalbrink and Link agreed and launched their first colony of bees in April.
"Whenever we need to do something — and we are novices, we are learning from Judge Scheele — we make arrangements and meet usually after work … and he tells us what to do and the three of us do it," Link said.
Making a home
Stalbrink and Link's colony, located in LaPorte County, is nestled in an open country field surrounded by woods and flowering fields. With a small grove of pine trees and wildflowers nearby, Link says the colony has lots of food options. A birdbath is also maintained nearby as a water source for the bees, who use it to dilute their honey.
"They like the setup that we provided for them. It has been pretty smooth for us," Link said of the recent colony launch. "It's not something that you have to mess with every day or once a week, it's just periodically. The more you leave them alone, the better off they do."
That surprised Stalbrink, who had initially thought he would need to check on the bees every day. Although that's not the case, he knows the coming months will put the fledgling colony to the test.
"We are in pretty harsh environment here in northwest Indiana. We're right off of Lake Michigan, the winters are tough, heavy hard snows, so I know that's rough on bee colonies," Stalbrink said. "That's one thing Judge Scheele and I have talked about when it comes to winter time, we have to be prepared to make a wind break or make sure the bees have the protection so they can survive the long winter."
While he thinks it's inevitable that they won't be able to save all the bees, Stalbrink hopes the hive is successful and survives this winter. The goal is to add a second hive of bees next spring.
But at present, the judges are preparing for the most labor-intensive part of beekeeping: harvesting honey. Blooming goldenrod is Scheele's signal to check the hives' honeycombs, and that's when he says the real fun begins.
"You need to go into each colony and size up how much honey you have. There's a whole process of separating and extracting that honey out from the frames and running it through some filters and bottling it," Scheele said. "We just harvest a couple hundred bottles of honey and give them to all our family and friends."
Live and learn
One of the most important lessons Scheele has learned from his years of beekeeping is to avoid panicking. The calmer you are, the calmer the bees will be.
"There are times when I will have my suit on and there will be a bee buzzing in front of my face inside of my net, and you think, 'Is that inside or outside?' But you can't panic," Scheele said.
While working with the bees, the judge wears a lightweight bug suit, long pants and protective face netting. But if there's a way for the buzzing bugs to get inside, they will, Scheele said.
"I have been stung more times than I can count. There have been a few times where I have been stung dozens of times in a single setting. Fortunately that doesn't happen often," he assured.
Erring on the side of caution, Stalbrink and Link invested in bee suits to wear when working with the bees. They even bought one for Scheele as a gift, whom Stalbrink refers to as the "Jedi master of the bees."
"Now we all look like we're wearing space suits when we go out there," Stalbrink joked.
While he enjoys being in nature and helping the environment through their beekeeping hobby, the lighthearted camaraderie the judges have fostered as a result is something Stalbrink truly enjoys.
"We enjoy spending time together with the bees and enjoy having a beer or cocktail afterwards, talking about the law and life and everything else that goes with it," he said. "Judge Scheele is an awesome guy and teacher and he has been pretty patient with us, showing us the ropes."
For his part, Scheele said he enjoys the healthy distraction of the nature-focused hobby.
"It's completely unrelated to just about anything else that we do, whether it's work or regular everyday life," Scheele said.
Link said he's thankful to know someone like Scheele who was able to take himself and Stalbrink under his wing and help them get started on their beekeeping project. "I'm sure he has prevented us from having a lot of problems and mistakes that we would have made on our own," Link said.•
Please enable JavaScript to view this content.