The pending retirement of Allen Superior Judge Charles F. Pratt from the court's Family Relations Division will create a judicial vacancy, and qualified candidates have until 1 p.m. March 10 to apply, the Indiana Supreme Court announced Friday.
Allen Superior Court Judicial Nominating Commission chairman and Indiana Supreme Court Justice Steve David announced applications for the position are available online. 
The commission was established by the Indiana General Assembly in 1983. According to Indiana law I.C. 33-33-2-32 to 33-33-2-45, the commission is required to submit to the governor "the three most highly qualified candidates from among all those eligible" for appointment when a vacancy arises.
The commission will meet on March 15 and 16 (if needed) to interview the applicants in the Community Conference Room at the Crosswinds/Lifeline Building at 4150 Illinois Road in Fort Wayne. Along with David, commission members are Ben Eisbart, Robert Kruger, Angie Moellering, Dan Palmer, Linda Polley and Mark Terrell.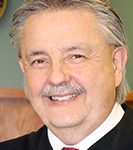 Pratt announced his retirement Feb. 1, effective May 1. In a statement released by Allen Superior Court, Pratt was cited for "innovativeness in the handling of family court matters. He founded the Great Kids Make Great Communities initiative, which provides training and information to adults on positive youth development. Great Kids conducts the Annual Conference On Youth, which has provided low-cost training on child welfare, delinquency and youth issues to thousands of professionals from around the region for more than 30 years. The Great Kids Leaders Academy offers a 6-month certificate program in child and family issues.
"Under Judge Pratt's leadership, Allen Superior Court launched a Family Recovery Court to offer new solutions to families, parents and guardians struggling with substance abuse. He was instrumental in drafting 'dual status' legislation that made Indiana the first state in the nation with a comprehensive law to address the needs of youth who come into contact with both the child welfare and juvenile justice systems due to interrelated issues," the statement said.
Pratt has served in the Family Relations Division since 1999 and served as a judicial referee in the Allen Superior Court and in private practice before he was appointed to the bench. He graduated from Indiana University Robert H. McKinney School of Law in 1979.
Please enable JavaScript to view this content.