The Allen Superior Court's Board of Judges has elected Judge Andrea R. Trevino to serve as the court's next chief judge. Trevino's two-year term begins Jan. 1, 2020.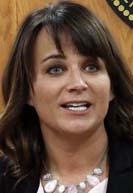 Trevino, who has served as supervising judge of the Allen County Juvenile Center since March 2018, is now the youngest woman to serve as the Superior Court's chief judge, assuming the role less than two years after taking the bench.
Trevino was appointed by Gov. Eric Holcomb and assumed the Allen Superior Court bench in March 2018. Before that, the Fort Wayne native served as magistrate judge and presided over the Allen Circuit Court IV-D Division, additionally hearing criminal, civil and family relations matters. Trevino was in private practice before being appointed magistrate judge in 2013. She received a Bachelor of Science degree from Saint Joseph's College and her law degree from Indiana University Maurer School of Law.
"Allen County's judicial branch has a long history of offering leadership and innovation statewide," Trevino said in a statement. "I'm looking forward to the chance to continue that tradition as we look for new and better ways to do our jobs. Staying a step ahead of the future is how we best serve our community, deliver justice and rebuild lives."
The chief judge oversees the board of judge's meetings, signs the court's annual budget and represents Allen County on the Judicial Conference of Indiana Board of Directors.
In addition to the chief judgeship, Superior Court judges appointed divisional administrative judges Craig J. Bobay, Frances C. Gull and Trevino to serve two-years terms beginning Jan. 1 in the civil, criminal, and family relations divisions, respectively.
Please enable JavaScript to view this content.