Adoptions will be celebrated Thursday in the Allen Superior Court as the Fort Wayne judiciary marks National Adoption Month.
The Allen County Department of Child Services and the Family Relations Division of the Allen Superior Court are collaborating with local agencies to celebrate the adoptions of more than 34 local kids on the county's designated "Adoption Day."
Adoption ceremonies will begin at 8:30 a.m. Thursday at the Allen County courthouse.
As in years past, the Indiana Supreme Court has given permission for local media to photograph, record and broadcast adoption proceedings as part of Adoption Day.  Three families have consented to their adoption hearings being filmed, and those hearings will take place at 9:15 and 11:30 a.m. and 1:30 p.m.
In 2007, Allen County was the first community in Indiana to observe National Adoption Day, according to Allen Superior Court Judge Lori K. Morgan.
"The day is an exciting one for our community as it is a day when more than 34 children will become part of a forever family," Morgan said in a news release. "We have a lot of wonderful things planned to make this day an amazing one for these very special children and their families."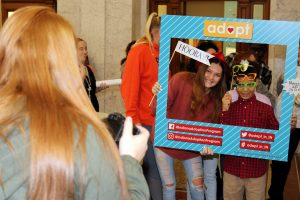 New adoptive families will be offered light refreshments during a reception provided by the Indiana Adoption Program.  The Indiana Court Improvement Project provided funding for books and other gifts.
Additional community partners include Project Linus, SAFY, Great KIDS make Great COMMUNITIES, Allen County CASA, Allen County Department of Child Services, Hands of Hope, Indiana Adoption Program, Jockey, Fort Wayne Tin Caps, Children's Bureau + Families First Individual & Family Services, Shindigz, Three Rivers Visiting Dogs and Going Through Ministries.
Please enable JavaScript to view this content.