After more than seven years on the Court of Appeals of Indiana, Judge Robert Altice began a three-year term this month as chief judge of the lower appellate court.
A native of Ohio, Altice moved around often during his childhood due to his father's job. But it was back in Ohio that he met his wife, Kris, at Miami University.
The second leg of Altice's education happened in Missouri, including a Masters of Science degree in criminal justice administration from the University of Central Missouri and a J.D. from the University of Missouri-Kansas City School of Law.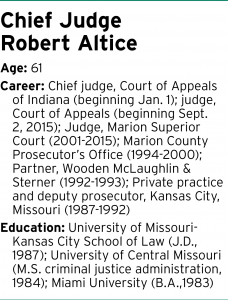 Altice began his legal career in the late 1980s in Missouri as both a deputy prosecutor and a private practice attorney before settling in Indiana in 1992 to be closer to his wife's family. He joined the Marion County Prosecutor's Office in 1994, then got elected to the Marion Superior Court in 2000, where he stayed until he was appointed to the Court of Appeals in September 2015.
Now, Altice is beginning 2023 not just leading a court, but leading a historic court — specifically, one that has a female judge majority for the first time in COA history.
"It's going to be very challenging, but very exciting," he said of his term as chief.
Altice recently sat down with Indiana Lawyer to discuss his career background and what's ahead for his three-year stint as chief judge. That conversation, edited for space, is below:
Indiana Lawyer: What interested you in a career in law?
I was the first educated in my family. My brother and sister (and I) were the first three to not only go to college, but to graduate from college, so education was important to me. And it was one of those things I wanted to do. Growing up, being a lawyer in a courtroom for the "Perry Masons" of the world is what got me excited about it. And so I did accomplish what I wanted to do, because I did spend most of my time in the courtroom when I first started practicing as a prosecutor. So that's it, nothing exciting. …. I always thought it would be cool, not realizing I'd end up here, doing this for a living.
Do you still think it's cool?
This job (the Court of Appeals) is the best job in the practice of law. It's a great job. The issues I see are so varied. You know, I do everything from murder cases to divorce cases to simple traffic cases to complicated business litigation cases. So there's always something new going on. I still think it's pretty cool.
Is there a case that has stuck with you throughout the years?
When I was on the trial bench, I had seven death penalty cases that I handled. The last major death penalty case I had really stuck with me, and so it was my thought that it was time to find something else to do. So, I moved over to the civil bench for the last three years before coming here.
Cases stick with you, as much as you'd like to get them out of your mind. It's tough. Being on major felony stuff for 12 years, you see the worst of mankind. So now I'm seeing the same kind of cases, but I just read about them. You don't have that interaction (when) you're sitting there talking at sentencing, hearing the victim's family members, the defendant, for that matter. You know, it's a very stressful position, so it's not like this — this is much more laid back. Although with my new job, it's not going to be much more laid back.
What made you apply for the Court of Appeals?
I found the job fascinating, namely because of the variety, and I felt like my background suited me for that just because I've done a large variety of practicing like that in my background. A lot of this job, and the previous job, is timing — you just have to be at the right place at the right time.
I actually applied for this three times. The first time I applied was for the Indiana Supreme Court. I made it to the second round but was not a finalist. Then a few years later, I applied to a Court of Appeals opening. I applied for that and I made it to the final three but did not get the selection. The last time, which was the last time I was going to apply, I made it to the final three and was selected. That whole process is very intense. It takes a long time to fill out the application, because they want to know everything about your history. And then you go through the interview process — seven commissioners drilling you with questions, and it's open to the public, it's livestreamed. And then a lot of it's waiting, too, once your name goes to the Governor's Office; you just kind of sit around and wait. You do your job, and it's kind of at the forefront of my mind.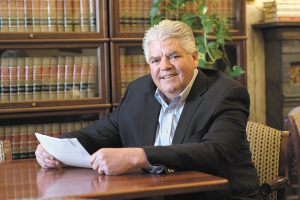 What are your plans for your term as chief?
I've got a few areas that I want to concentrate on. The pandemic certainly set everyone back in our caseload because nothing was going on in trial courts, and so I think people just kind of got used to that slower kind of pace.
One of my other goals is making sure that the new judges that we have transition smoothly into the system. We've got Judge (Dana) Kenworthy and Judge (Peter) Foley. Judge (Margret) Robb is leaving next spring; when she leaves the next year there will be one, possibly two, other vacancies. By the time my three years is up, we will have a very new court. So, you want to make sure everybody's on the same page and everybody's doing the things that they need to be doing.
The other thing is just our continued outreach to the public with our program called Appeals on Wheels. We'd like to see our court really kind of start reaching out to some more intercity types of schools.
A broad goal that I want to do otherwise is maintaining the status quo. We put out over 2,000 opinions in here with 15 judges. We're one of the fastest working appeals courts in the entire country from the time the case is fully briefed until we issue an opinion.
This is about to become a very historic court — how does it feel to be the leader of that?
It's exciting; it really, really is. When I went to law school, I think half of my class were females and half males, but that was a very unusual circumstance in those days. My mother-in-law is a lawyer and used to practice. She's in her 80s. When she went to law school there were no women that went to law school, and that's not that long ago. We've come a long way. We've still got a long ways to go. But yeah, I am very enthused about that.•
Please enable JavaScript to view this content.