Razor-sharp, hardworking, intelligent and caring.
Those are words friends and colleagues used to describe new Court of Appeals of Indiana Judge Dana Kenworthy.
Born in Miami County and raised in Amboy, Indiana, Kenworthy originally planned on becoming a therapist when she started her bachelor's degree at Ball State University. But during her undergrad years, she worked with children facing challenges at home and learned she was good at it.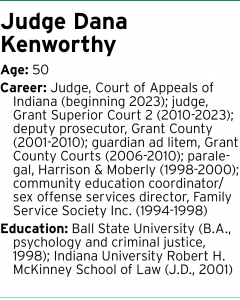 That experience prompted Kenworthy to focus on how she could best serve children, and ultimately, she pivoted to the law.
"My entire career has been about serving the public, doing the best I can, serving the public and in particular children and families or people who are going through things and they need some help," Kenworthy said.
After law school, Kenworthy started her legal career as a Grant County deputy prosecutor before being appointed to Grant Superior Court 2 in April 2010. She was elected to that court in 2012 and served there until being named to the COA.
"I found that my psychology background has served me well on the bench, because relating to people, listening, empathy, all of those things are really important in the law, as well," Kenworthy said. "I never really have been one to look so far in advance, so far ahead. Eventually, I came to the conclusion that I was well-suited for the bench and decided to go that route. And then when I did that, people kept asking me, 'When are you going to the Court of Appeals?' or, 'When are you going to take the next step?'"
Kenworthy took a baby step in early 2022 when she applied for the vacancy on the Indiana Supreme Court that opened up when Justice Steven David retired last fall. That seat eventually went to now-Justice Derek Molter.
Molter himself had been a judge on the Court of Appeals, so his ascension to the high court meant his seat on the COA would have to be filled. That's when Kenworthy took another step.
"When we got to the end of that, I felt like I'm the racehorse at the gate and I'm ready to go, I'm ready to run," Kenworthy said of the Supreme Court selection process. "And so when this other opportunity opened up, I talked to a lot of people I'm close to and really thought long and hard about whether I wanted to jump right back into the process and decided that it was worth it, and it was."
Indiana Gov. Eric Holcomb named Kenworthy as his fifth Court of Appeals appointment on Dec. 21, 2022, naming her to the COA seat that Molter previously held.
Family law focus
Kenworthy, an Indiana University Robert H. McKinney School of Law grad, has dedicated the bulk of her career to juvenile and family law issues. That includes creating one of Indiana's first family recovery courts in Grant County, which became a national model.
"Now we've worked with multiple states, programs from other states, multiple counties, we've seen the family recovery court numbers grow in Indiana," she said. "And each time we learn something new and have the opportunity to talk with people whose systems are a little bit different."
While her last day on the Grant County bench was Jan. 13, Kenworthy was still present on Jan. 17 for a family recovery court graduation program.
"Several of them asked if I would come back for their graduations," Kenworthy said. "And I said I would love to, I would love to be there to celebrate with them to see kind of the culmination of all their hard work, because they work so hard."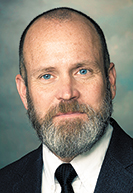 Wayne Superior Judge Darrin Dolehanty said the Grant County Family Recovery Court is a great example of what that type of program should be.
"When we decided we're going to open up a recovery court locally, that was one of the first places we wanted to go — 'Let's go to Grant County and see how Dana already does it,'" Dolehanty said. "That's how damn good she is."
Dolehanty recalled his favorite memory with Kenworthy, when the two judges prepared a presentation as part of the Indiana Council of Juvenile and Family Court Judges. The duo presented to the Indiana General Assembly after learning about planned legislation addressing juvenile law, and Dolehanty said they went into the hearing expecting little interest.
"We were concerned that it might be poorly attended," Dolehanty said. But, he continued, "It was packed, the entire main floor was packed, and then up in the balcony was packed."
Kenworthy agreed it was a nerve-wracking experience.
"At the end of the day, we're all humans, and I felt like there was a common purpose and that is to do the right thing for the people of Indiana and children and families, in particular, on that topic," she said. "When you find common ground across the branches or with someone new that you're not familiar with, that's where things progress."
Grant Superior Magistrate Judge Brian McLane, who presides in juvenile court, described Kenworthy as always willing to go the extra mile for a child in need.
"I mean, anytime there is a request, 'Hey, could somebody do this?' she would always be, 'I'll do it. I'll do it,'" McLane said. "She'll volunteer for committees. She'll take things on. I've never heard her say, 'Well, that's not my job. I won't do that.' I always kind of thought she was destined for other things."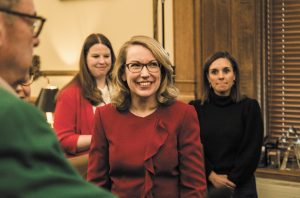 Making history
The Grant Superior Court hosted a going-away party for Kenworthy in her old courtroom before she officially took the COA bench on Wednesday.
"I think about 100 people showed up, and to see all the people that no longer even work in the court system that actually came back and congratulated her, that was pretty impressive," McLane said. "She is going to be terribly missed and we'd like to keep her here, but that's just because we're selfish."
Kenworthy's appointment to the COA tips the scales to a female majority on the lower appellate court — the first time that's ever happened on the Court of Appeals since its inception in the nineteenth century.
"I'm a history buff, so it's pretty exciting to make history here at Indiana," Kenworthy said. "And I have three older brothers. So I'm used to working in a male-dominated profession, but it's pretty exciting to see history made here."
In her new role, Kenworthy said she hopes to serve on the Commission on Improving the Status of Children in Indiana. Also, she said she's looking forward to participating in the Appeals on Wheels program, which allows COA judges to hear arguments across the state, and she's already signed up for an Appeals on Wheels argument in March, plus a few others.
Additionally, she said, she's excited to work with her fellow appellate judges, whom she described as intelligent people who will challenge her.
"I think that the challenge of something new is enticing," she said.
Kenworthy will be sworn in Wednesday, with Judge Margret Robb administering the oath. Kenworthy said she asked Robb to perform that role because she was the COA's first female chief judge, and because Robb — who is retiring in the spring — has been helping Kenworthy through the transition process.•
Please enable JavaScript to view this content.