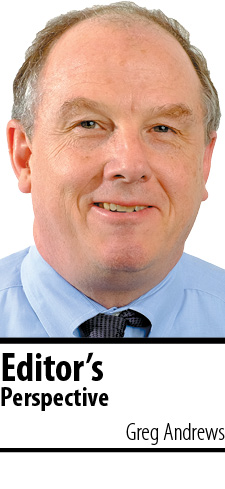 The Indiana Lawyer is blessed to have thousands of devoted subscribers — folks who are passionate about reading our every-other-week print edition and devouring our daily online content.
Thank you for that support. In the coming weeks and months, you can continue to count on The Lawyer to provide stories, opinion summaries and other content that helped foster that loyalty.
But you also can expect a "new and improved" Lawyer, with more stories you'll find compelling, more information that gives you a leg up in your career, and new events that provide networking opportunities as well as insights into crucial issues like diversity in law.
In short, we want to make The Lawyer indispensable to more members of the legal community and related fields across the state.
I'm excited to be leading the charge as publisher and editor. I stepped into my new role May 11, moving over from IBJ Media's flagship publication, Indianapolis Business Journal, where I've held a variety of roles spanning more than two decades.
In January, I stepped down as the editor of IBJ, which I led for eight years. Just months earlier, IBJ hit an all-time subscription record — a powerful sign that, even in this challenging media environment, readers will flock to lively, insightful publications focused on meeting the needs of readers.
My mission is to help spur similar growth at The Lawyer, but I need your help.
I'm eager to hear what you like and don't like about what we're doing now, as well as your ideas for new areas of coverage, new publications and new events. If you have thoughts, please drop me a line at [email protected]
The Lawyer also has formed a reader advisory panel made up of a diverse mix of attorneys. We'll be meeting with the panel regularly, starting next month, to glean insights.
I'm thrilled to be diving deeper into the legal realm. I am not an attorney, but I've always been fascinated by the courts. As a reporter, I enjoyed digging through depositions and other documents to find juicy nuggets to enliven stories.
Some of my most-read stories through the years involved the legal system. Those included the battle over the estate of heiress Ruth Lilly, the battle over the estate of shopping mall magnate Melvin Simon, and the investigation and conviction of Indianapolis businessman Tim Durham for running a $200 million Ponzi scheme.
IBJ Media's stepped-up focus on The Lawyer reflects CEO Nate Feltman's conviction that it has tremendous untapped potential. I share that view.
Feltman, a native Hoosier and lawyer, has been an IBJ co-owner since 2017 and became majority owner in April 2020.
He and I also agree that IBJ Media's local ownership is a huge competitive advantage. We're not taking orders from a corporate headquarters 500 miles away. We're local people making local decisions — all aimed at making The Lawyer the best it can possibly be.•
• Greg Andrews was business editor of The Indianapolis Star before joining IBJ as a columnist and investigative reporter in 2000. He served as IBJ's managing editor from 2005 to 2013 and editor from 2013 to 2020. Opinions expressed are those of the author.
Please enable JavaScript to view this content.