Driving down Interstate 65 on a cold Monday evening, computer equipment and boxes of books in tow, Court of Appeals of Indiana communications director Anne Fuchs was preparing for a busy day.
She was gearing up for the appellate court's Oct. 18 traveling oral arguments as part of the Appeals on Wheels program, this time taking the court to Sellersburg, located nearly two hours south of Indianapolis in Clark County.
Since she began working for the court in November 2021, Fuchs has orchestrated more than 30 traveling oral arguments. By the end of this year, she'll have upward of 40 under her belt.
The events aren't without hiccups here and there, but that's the fun of it, Fuchs said.
"As weird as that is to say that there's a number of things that can go wrong, somehow, being flexible and resourceful and figuring it out is kind of fun," she said.
Appeals on Wheels, which aims to promote civic education through public outreach by bringing the appellate court to the people, has already reached all of Indiana's 92 counties.
Initially launched in 2001, the project has become well renowned for engaging with Hoosiers and the state's legal community in a localized way. By 2019, the COA had heard arguments in each Hoosier county.
But getting the events up and running is no easy feat, according to Fuchs. It takes meticulous planning, strategizing, road time, and communication between host sites, judges and attorneys to pull it off.
Picking a venue, case
Deciding where to host oral arguments is mainly up to the people of Indiana, Fuchs said.
"Typically, I'm sort of flooded by requests from people seeking us out," she said. "I've learned that the sweet spot for planning these events is really within a three-month window."
After the venue and location are secured — which varies from high schools, colleges, law schools and community centers — Fuchs reaches out to the Court of Appeals judges to see who may be available or interested in participating. Once the panel is nailed down, the judges can start looking for a case, which is chosen based on the expected audience, location and potential interest.
"A lot of times criminal cases are interesting to high school audiences, not just because of how understandable they are, but because of how palpable some of the issues can be," Fuchs said. "Whereas maybe a civil case might be more interesting for a bar association or group of attorneys that might invite the judges."
Ensuring video recording and livestreaming of the oral arguments is another crucial component of the event. The appellate court recently invested in new equipment to provide the best experience possible for viewers and court staff, Fuchs said.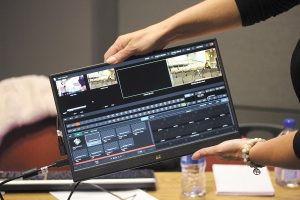 High-tech broadcasting cameras, microphones and an all-in-one lightweight video production system now allow Fuchs and IT personnel to actively engage with the recording process.
"We've certainly had our share of technical difficulties," she said. "I would say that's probably one of the biggest challenges."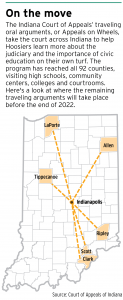 Setting the scene
Selected venues are provided with a guide to set up a mock courtroom, and a law clerk is provided to serve as bailiff.
George Sorrells, a law clerk for the Court of Appeals, was up and ready to move at 5:30 a.m. on the day of the Sellersburg arguments. He had the judges' robes, gavel and necessary paperwork packed in his car for the long drive.
Once at the venue, Sorrells began setting up the bench and helping wherever needed, ensuring the judges had a smooth experience. Meanwhile, Fuchs and the venue coordinators were setting up and welcoming other distinguished guests and the participating attorneys.
"I'm from Wisconsin, and I don't think they have a single (experience) like this there," Sorrells said. "I just think it's a really cool opportunity."
Welcome experience
As the auditorium at Ivy Tech Community College filled with community members, attorneys and judicial officers from surrounding counties, attorneys James Voyles and Jennifer Lukemeyer prepared to give their arguments before the appellate panel. Both traveled from Indianapolis for the arguments but said they didn't mind the drive.
Voyles expressed appreciation for the opportunity to help educate the public about how the appellate court functions and to showcase the judges' humanity.
"It's a new environment and chance to expose people to an appellate argument," he said. "Sometimes arguments at the Statehouse are a little more conservative and sterile. This lets the judges relax a little more. … It's not like they just walk out from behind a closed door and leave. It's a really good thing for all of us."
Judges Elaine Brown, Melissa May and Leanna Weissmann presided over the arguments in the case of Tina Isley v. State of Indiana. After, the judges presented a CLE on the history of the Court of Appeals, promoting its new book, "The Court of Appeals of Indiana."
During conversation after the event, Weissmann explained that when she began her legal practice, her very first argument as an attorney was during an Appeals on Wheels event.
"It was at my high school. I was nursing my daughter. So I had to manage and maneuver that. And I had three days' notice," she said.
As an attorney arguing before an appellate panel, Weissmann said she felt the weight of representing her client well. Today, as a judge on the Court of Appeals hosting those same traveling oral arguments, she said she now feels the weight of ensuring that justice is served.
After watching the oral arguments, Clark Circuit Court Magistrate Judge Lisa Garcia Reger, who attended the Sellersburg event, praised the three women judges for sharing their experiences with the community.
Rose Copp, who came to watch her niece, Weissmann, expressed her gratitude for the traveling events.
"It's a really nice thing because you get to experience stuff like this," Copp said. "It gives them a chance to educate the people."
As the event came to a close and judges and guests said their friendly goodbyes, Fuchs walked to her car with one remaining box of books and a smile.
"Next week is Batesville," she said.•
Please enable JavaScript to view this content.