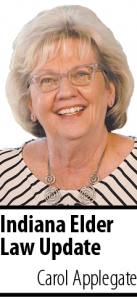 Mediation is often underutilized in elder law disputes mainly because attorneys aren't familiar with its use in this area of law. In my experience, it can be a useful and efficient tool. Toward that end, my firm, Applegate & Dillman Elder Law, has opened an elder law mediation center.
When is mediation appropriate?
Here's a case where elder law mediation is an appropriate solution. Mom is 83 years old and experiencing memory loss. She has even had periods where she forgets to take her medicine and forgets to eat. She's lived in her home for 45 years but has lived alone since her husband died six years ago. She is losing weight, doesn't change clothes and appears to be depressed.
She has four daughters, two of which live outside the state. They must decide the "next steps" for mom. There is disagreement among the sisters as to living arrangements, finances, end of life decisions and what is best for mom.
At an impasse, the daughter in town seeks your legal advice. As we all know, these cases can take enormous amounts of time and money. Further, a crisis could occur at any moment and immediate action might need to be taken. Many times, there is just not enough time to get a court date to resolve the issues. Judges also do not like to settle family issues, instead choosing to focus on legal issues. An impartial mediator can help the family navigate through this process and come up with a solution that all parties can live with.
Why mediation?
We are all aware that civil and family mediation have almost been the norm in the past several years. In five years, I predict elder mediation will be the same way. As it gains exposure, the attitude toward elder mediation will change because as we know, taking care of a parent or loved one touches almost every family. Caregiving is a hard job, and it is only going to get worse in the next few years as our population ages. There also appears to be an increase in family conflict and situations that have no easy solution.
Elder law mediators focus on the elder and concentrate on what is in their best interest and not what is the interest of the family members. The mediator places emphasis on what is better for the parent and stresses that family members must work together regardless of their feelings for one another. A goal is to keep the family unit together and to work through their issues regardless of their feelings and personal goals. Parents do not like to see their children disagree and want nothing more than to see their children get along. And remember that "old stuff" that has been in families for years never goes away and influences feelings and decisions that are being made today.
A trained elder mediator can assist the family through the caregiving and life passages of their loved one. There is no roadmap because we are living longer, and we are traveling an unknown path.
Mediation can cost less money than litigation — and many times the cost can even be shared by all family members. Issues can be resolved in a timely manner without adding to the already busy court calendar. But most importantly, mediation can lessen the stress in families and hopefully preserve family relationships. Many families are already split by distance and world events. We as attorneys should do all we can to provide for our aging population and encourage preservation of family units.•
• Carol Applegate is an attorney at Applegate & Dillman Elder Law. The firm specializes in elder law and life care planning, a holistic approach to dealing with legal, financial, medical and emotional issues involved in growing older. The firm has offices in Indianapolis, Carmel and Zionsville. Find out more at www.applegate-dillman.com. Opinions expressed are those of the author.
Please enable JavaScript to view this content.