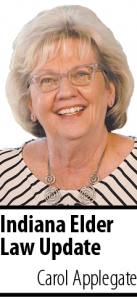 The hot housing market has a lot of senior citizens thinking this may be the time to move to a smaller home, a condominium or to a 55-and-over community. It's tempting for seniors to sell their homes quickly right now because values are through the roof and sales are quick and easy. But there are many factors that should be taken into account before, during and after downsizing.
Before selling
Older Hoosiers should pause before putting their homes on the market and get counsel from a team of experts who can assist them in making informed and wise decisions. One key reason? The sale of the home could impact future eligibility for Medicaid because of the program's five-year look-back rule. That rule allows the government to look back at any large financial transactions over the five-year period before applying for Medicaid and then count the value of any assets that have been disposed of during that time. Many seniors are tempted to just give away some of their assets to children and grandchildren, and that for sure will create issues when they want to become eligible for Medicaid.
Everyone considering downsizing needs advice from an attorney and a financial adviser. After seeking legal and financial advice, the homeowner should find a good real estate agent that can guide them in the right direction. There are real estate agents who specialize in helping older Hoosiers downsize and can guide them to the best options for them.
Things to consider when deciding where to move
There are a lot of factors that must be thoroughly explored when selling and buying something different. One thing that we really do not like to consider is our health issues. We all like to think that we will live to be 100 and never have to experience catastrophic health issues. But in reality, none of us know what the future may hold. We do know that health care costs are skyrocketing, and the money made in selling our home may be eaten up by care costs. Even more concerning, there are not enough caregivers for our booming population. So, giving thought to when and where we move becomes even more important. Families struggle when trying to find caregivers and facilities when a loved one needs care.
Here are some key questions to ask yourself:
What are the different types of homes and communities available to me?
Will I be able to live independently or will I likely need some kind of assistance in the years to come?
What if something should happen and I need to get some care? Can I transition to another level of care in the same community?
Can I continue the upkeep on the new home?
What opportunities for socializing are nearby or included in the community?
How close will my family members be?
What safety features will I need? (No stairs, grab bars, etc.)
Leaving a legacy
As part of the downsizing and selling process, much of our motivation, whether it is conscious or unconscious, is centered around leaving our legacies. This is the time we look back at our lives, review our accomplishments and failures and plan for the things we have yet to do. What we leave our family and friends speaks loudly to how we want to be remembered. Legal documents and memorandum are important in defining our legacies. These issues take thought and planning and cannot be done last minute or in a crisis.
I'm facing this dilemma myself as I try to decide if I should sell my home, move to my vacation spot or stay where I am. Believe me, I have had some sleepless nights. I have advised clients in this process for many years, and I know the importance of planning before you make hasty decisions you later regret. Take the time to get good counsel and surround yourself with a team who can assist you in making wise and profitable decisions.•
• Carol Applegate is an attorney at Applegate & Dillman Elder Law. The firm specializes in elder law and Life Care Planning, a holistic approach to dealing with legal, financial, medical and emotional issues involved in growing older. The firm has offices in Indianapolis, Carmel and Zionsville. Find out more at www.applegate-dillman.com. Opinions expressed are those of the author.
Please enable JavaScript to view this content.