"Star Trek" and Spam were two topics that drew laughter and invoked inspiration during the Asian Pacific American Bar Association of Indiana's third annual regional conference this weekend. The group presented "Star Trek" original cast member and social activist George Takei with its Trailblazer Award.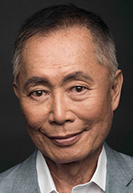 Takei portrayed Hikaru Sulu in the original "Star Trek" series and in several films. Addressing the audience Saturday at the conference's gala dinner, Takei said that as an actor, he was honored to receive recognition from a legal organization.
"I have enormous respect for lawyers. Indeed, I am indebted to lawyers because I have as my hero a lawyer who played a very personal part in my life," Takei said.
Takei told of his time as a child in California during World War II. He and his family were forced to live in internment camps for Japanese-Americans after the attacks at Pearl Harbor. Former San-Francisco American Civil Liberties Union attorney Wayne Collins, known for defending Japanese-Americans affected by the events of World War II, had assisted Takei's family in ensuring they would not be sent to Japan following the end of the war.
"I think about what would have happened he had not," Takei said. "It was one man who made the difference, not only for our family, but for hundreds of other families. Wayne Collins, a passionate lover of the Constitution. A man with incredible courage."
Takei accepted the award in the-late attorney's memory and closed his remarks by offering that he continues to have enormous respect for attorneys everywhere who fight for the dignity of others.
Haroon Anwar, APABA-IN president and Faegre Baker Daniels litigator, was thankful to address a packed house during his opening remarks at the gala. He said because APABA-IN formed in 2014 with just 10 members, it has been an amazing accomplishment to see how far the state chapter has come.
Anwar thanked sponsors, APABA-IN board members and the National Asian Pacific American Bar Association for the Indiana chapter's growth over the years, acknowledging those who played an instrumental role in making the event possible. While speaking to attendees gathered at The Alexander in Indianapolis, Anwar handed the microphone to the current NAPABA president Daniel Sakaguchi, who proceeded to tell a story about accidental occurrences and Spam.
"There's no such thing as an Asian, per say. People come from Japan, China, the Philippines, Southeast Asia — but "Asian" is an American creation. It's like Spam," Sakaguchi said. "The Asian fiction, this coalition that we've formed, allows us to have the NAPABA and not be stratified groups, but one group that's united and speaks together."
The national association's president further noted that central regional conferences like the one hosted by APABA-IN are growing, with increased participation and attendance. NAPABA represents about 50,000 Asian Pacific American legal professionals, and the Central Region consists of seven states, including Indiana. The Indiana chapter is set to host the NAPABA National Convention in Indiana in 2023.
Hosted by WRTV journalist Rafael Sanchez, the evening consisted of several recognitions and the presentation of awards to various attendees, including former first assistant United States attorney Cynthia Ridgeway and Indiana Rep. Chris Chyung, D-Dyer, who was applauded for his success as the first Asian-American legislator in state history.
An estimated 120 people attended the event. "On behalf of the Asian Pacific American Bar Association of Indiana, I am thrilled with the success of and turnout for the NAPABA Central Regional Conference and Saturday night's Dinner Gala," Anwar said.
Please enable JavaScript to view this content.