Lawrence Township Small Claims Judge Kimberly Bacon lightly pressed her index finger on the table to demonstrate how easily Hoosiers will soon be able to access answers to their legal questions and get help for their legal problems.
"Now you just tap and it's there," the jurist said. Bacon, preparing to start her third term on the bench, was heralding the arrival of the first Indiana Legal Help kiosk to be deployed in the state. A standalone device that resembles an ATM, the kiosk sits down the hall from her courtroom, ready to assist individuals trying to navigate the court system themselves.
As part of an initiative spearheaded by the Indiana Bar Foundation, the kiosk in Indianapolis' Lawrence Township is one of 120 that will be placed in public locations like courthouses and libraries in all 92 Indiana counties. To start, the kiosks will provide information and resources to renters, landlords and homeowners needing help with evictions or foreclosures, but plans call for the offerings to be expanded to include other kinds of civil legal needs.
Bacon said she sees the kiosk as a milestone in a discussion that started in 2018 about ways to address the eviction crisis, which has thrown many individuals and families into the court system, where they struggle, often in vain, to keep their homes. The high-tech self-help tool, she said, will give Hoosiers a sense of control over their situations and the ability to prepare for whatever outcome results.
"… It takes an individual who is, quite honestly, if not in poverty, on the edge of poverty, and it gives them an opportunity to get to a resource in a timely manner without having to disrupt their whole lifestyle," Bacon said of the kiosks. "What I often see in our courts are people just trying to make it, and if you put too many obstacles or too many steps in that process, they become obstacles to them. So oftentimes, they don't take the opportunity to get the resources that may be available to them."
The idea for a statewide network of kiosks had been percolating at the bar foundation and was in the long-range plans. However, a $13.1 million, two-year grant from the Indiana Housing and Community Development Authority awarded late last year injected the fuel to move forward with the kiosks and other initiatives related to creating an infrastructure that offers multiple ways to access civil legal help.
Essentially, the kiosks connect to the website IndianaLegalHelp.org, which is a bar foundation program that provides information on free legal clinics, court forms, instructional videos and, for low-income Hoosiers, referrals to free and low-cost legal services. The website has recorded more than 1 million visits since it was launched in 2019, according to the bar foundation.
Over the next couple of months, nonlawyer professionals will start staffing a chat function to the website. Charles Dunlap, president and CEO of the Indiana Bar Foundation, said those navigators are currently being trained and will only offer legal information, not legal advice, to users.
"Our goal is to build an integrated, robust system to help people wherever they are, either through the online IndianaLegalHelp.org or through the kiosks, and then also have the support to help them with the forms and the legal information through the navigators," Dunlap said. "So there's multiple pieces to this, but I think, when we get it all up and fully functional, they'll all be integrated and working together to help folks."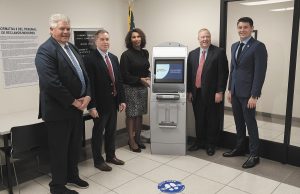 Many benefits
Indiana can look northward for an example of how these kinds of devices have proven beneficial.
The Legal Kiosk Project, an initiative of Reach Justice Minnesota, used $3.5 million in COVID-19 funding to deploy 250 kiosks across the North Star State in the spring of 2021. Rachel Albertson, development and communications manager for Legal Aid Service of Northeastern Minnesota, explained the goal was to give Minnesota residents, especially those who live in very remote areas and do not have an internet connection, access to civil legal help at a time when the coronavirus was still limiting in-person contact.
Through the kiosks, users can browse a legal information library, attend a Zoom meeting and apply for legal aid assistance. The data collected through voluntary surveys indicates 26% of users are looking for legal information, 15% are applying for legal aid and 11% are searching for resources.
"To me, it's a shining star of COVID. It's one of the good things that came out of the pandemic," Albertson said. "… These were not needed only during COVID, but they'll be a resource used for years to come."
Jacob Sipe, executive director of IHCDA, said he believes the kiosks can also benefit service providers.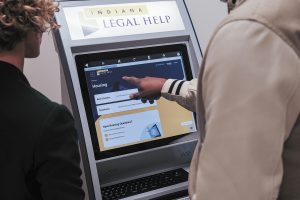 Prior to the grant, the IHCDA had never partnered with the bar foundation. But Sipe said his agency followed the advice of Lt. Gov. Suzanne Crouch to think creatively, and he discovered that the legal organization provided the "perfect platform" to help address the eviction crisis on a statewide basis.
Sipe said he was impressed at how easy the kiosks are to use and how simple they make navigating the court process. He said he is hopeful that as the devices are placed around the state and the legal aid infrastructure is built, better data will be collected.
"We still want to have a better understanding of … those root causes," Sipe said of evictions. "… Oftentimes we want to immediately think that the eviction is based on nonpayment of rent. That's not always the case. So I think having better data is really the next step for us as a state to understand what's taking place."
Lowering the anxiety
Court officials and community leaders gathered at the Lawrence Township trustee building Nov. 15 to unveil the new kiosk.
Bacon and Dunlap lifted a gray cloth to reveal the tall, skinny apparatus with "Indiana Legal Help" written in gold and blue across the top. The standing kiosk contains a large screen with a keyboard below and a tray for printing and scanning documents. Desktop kiosks are also available and will be placed in some communities.
The small crowd applauded when the kiosk was unveiled, then watched attentively as the device was demonstrated. Users simply touch the screen, then enter their ZIP code or county. From there, they will be able to get the information and help they need.
As the crowd dispersed, Patrick Chavis, a facilitator for Lawrence Township housing court and an attorney, stood in the center of the room looking at the kiosk. He pointed out that the device would be available whenever the building was open, so individuals will not have to wait for their court date to get answers or assistance. Instead, they can use the kiosks to do research and prepare for their hearings in advance.
Chavis also speculated the services offered by the kiosk would bring some peace of mind. Imagine the anxiety tenants feel, he said, as they wait for their day to appear in court while their landlords keep threatening to evict them.
"Information is important to prepare you but also to keep that anxiety down," Chavis said, explaining people will be more comfortable if they know what can and cannot be done. "There's a mental health component to this, too. It's going to keep that kind of stuff down because you have (the information) and you can also get to resources — not just read it, but you can get to live legal help from here."•
Please enable JavaScript to view this content.