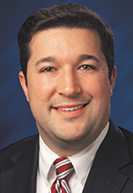 As a deputy prosecutor in Vanderburgh County, Ryan Hatfield was inspired to run for the Indiana General Assembly because he often encountered new state statutes that had mistakes or were simply not applicable to the everyday practice of criminal law.
But ironically, because of some disagreements over whether Indiana law actually allows prosecutors to serve as legislators, Hatfield quit his job prosecuting sex crimes and homicides and joined his father in private practice at the Hatfield Law Office before he began campaigning.
The Evansville Democrat, now in his third term in the Statehouse, said the only way he is able to juggle the demands of his legal practice with his legislative duties is working lots and lots and lots of hours.
Hatfield typically spends several hours in his office on Monday mornings before driving to Indianapolis when the Legislature is in session. Then he responds to emails and phone calls and files documents with the courts whenever he gets a break between committee hearings and House sessions before logging more hours in the evenings. Fridays, he is back in his district and usually in court.
"One of the perhaps differences in the practice of law that may not carry over to other industries is that … your obligation to your client never stops," Hatfield said. "I don't get to shut down the business or turn it over to someone else while I'm here. That responsibility continues and it's a responsibility I take seriously and one that requires diligent work."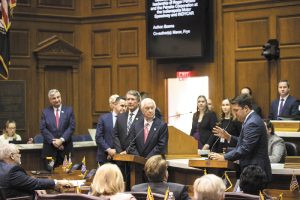 Many legal professionals see the enormous difficulty in running a successful law practice while being an effective legislator as the primary reason why more attorneys are not filling the seats in the Indiana House and Senate. Of the 150 members in the Statehouse, just 21 have a J.D. degree. This compares to 1986 when former Speaker Brian Bosma was newly elected and he counted 25 practicing lawyers in the lower chamber alone.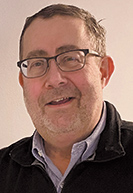 When Brian Stier served as Allen County Democratic Party chair in the 1990s, he recruited a variety of people to run for public office, but he favored attorneys.
"By their training, they are problem-solvers," Stier, of counsel at Guido Law Office in Fort Wayne, said of lawyers. "They attack issues and they attack problems. That training and that experience and the insight that come from that are so helpful to a state representative or a state senator."
However, none of those legal professionals had any suggestions for what the profession could do to reduce the burden on lawyer-legislators. While being able to attend court hearings remotely and getting continuing legal education credit for some General Assembly activities helps, there are really no options other than working very long hours.
Marci Reddick, of counsel at Taft Stettinius & Hollister, spent a significant amount of time in the Statehouse, including serving former Gov. Frank O'Bannon when he led the Senate Democratic caucus, and former Gov. Evan Bayh.
She noted that as lawyer-legislators are struggling to meet the demands of their law practices, the legislative process has gotten much more complex. Serving in the Legislature, she said, is "grueling but hugely important work."
Having a mix of occupations in the Legislature is important, Reddick said, and even though "hundreds and hundreds of attorneys" provide their legal expertise to the General Assembly through testimony, lobbying and work on legislatives committees, the Statehouse needs lawyer-legislators.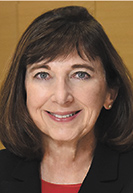 "I think it's critically important that there are attorneys sitting in the caucuses, sitting in those chairs and casting votes," Reddick said. "A lot of decisions and a lot of policy is made as part of caucus discussions, and having a voice of an attorney and people from all walks of life in caucus decisions, that's critically important."
A couple more is OK
Although he has already served one session in the Legislature, Rep. Chris Jeter, R-Fishers, confessed he is still trying to figure out how to run a law practice and serve in the Statehouse. Slipping in calls and emails between meetings and floor debates plus filling his calendar on Friday, the one day the General Assembly does not meet, are some of the ways he does his legal work.
Yet Jeter said he believes the stressful juggling is worth doing because of the contributions lawyers can make in public service.
"It really is a great fit for lawyers in any political office, I think, because whether in the state Legislature or county level or city council, it comes down to being a good critical reader, to being a good critical thinker, to being able to analyze different problems and take different courses of action, and I think lawyers are really perfectly suited to that," said Jeter, who is a partner at Massillamany Jeter & Carson in Fishers. "I do think there's really a need, and I think there's a real appetite for lawyers in public service at all levels."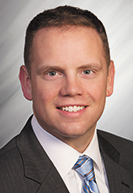 Both Hatfield and Jeter pointed to the unique skills that lawyers bring to the legislative process, particularly their ability to redraft language in proposed bills to make sure the statutes will work as intended. They talked about their experiences of lawyer-legislators putting aside their political differences and working together to rewrite and craft clear provisions and amendments.
"As a lawyer, that is the real kind of whole thing coming full circle," Jeter said. "Seeing a statute that we're amending that you've previously tried to interpret and then hearing the discussions around that, it's very, very cool actually."
Since she has been assigned to the House Courts and Criminal Code Committee, Rep. Robin Shackleford said she has often relied on lawyer-legislators. They have given her the legal perspective, telling her about precedent, what the law currently does and why the law needs to change.
Even so, the Indianapolis Democrat said she believes the Legislature has a good mix of different backgrounds and does not necessarily need more attorneys.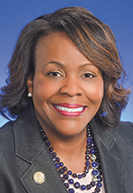 "A lot of those attorneys already sit on Courts and Criminal Code or they sit on Judiciary (committees) because that's where you get more heavy into the law," Shackleford said. "The other committees like family and children, and health, and things like that, it could be more beneficial to have someone that's in that profession … . I think right now, we're at a great number when it comes to attorneys that we have, but if they want to add a couple more, that's OK."
Possibly doing without
In the Delaware Legislature in 1981, and possibly for several years prior, there was not a lawyer to be found, according to news reports. One story that appeared in the Feb. 22, 1981, edition of Wilmington's "The Morning News," noted the Los Angeles Times sent a reporter to Delaware to investigate.
"For one thing there is more plain talk and plain writing in the legislative halls of Dover — and sometimes more humor — than one finds in other state capitols," the article stated. "… (The Delaware legislators) are proud of the fact that the state's lawmaking has been done with less of whatever it is that legal minds are supposed to bring to the process."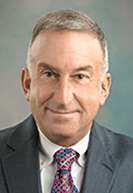 The Indiana legal community does not foresee any danger of having a lawyer-less legislative body despite the current low numbers. However, attorney Steven Shine, chair of the Allen County Republican Party, speculated the General Assembly could one day be without solo practitioners.
As the partner at Shine & Hardin in Fort Wayne noted, legislators have their jobs interrupted more than just during the three or four months the Legislature is in session. They also have to serve on interim study committees in the summer and fall as well as host town halls for constituents and raise funds for their next campaign.
Those demands, he said, would probably be easier for lawyer-legislators who practice in a law firm. The other attorneys could make up for their colleague's absence by taking on more clients and, in turn, bringing in more of the revenue.
"It's very difficult to get an attorney who may be a sole practitioner to be able to give up the time that is necessary for serving in the Legislature because the sole practitioner, many times, does not have the ability to say, 'I'm closing down for two months … and I need to do my service in the Legislature,'" Shine said.
Yet, he continued, the expertise of those attorneys who hang a shingle by themselves would be missed in the Statehouse. "A sole practitioner by nature probably is exposed to more types of law because they need to handle more types of issues, more types of diverse subject matter than someone who is in a firm."
Hatfield said when he was considering a run for the Statehouse, he looked at his legal career. Specifically, he thought about what firm he would join in the private sector and what area of law would he practice. Also "vitally important" was to have a law partner who supported his effort to serve in the Legislature.
"While it wasn't a foregone conclusion that I would go into practice with my father, it made sense because of his support and understanding and availability to my clients while I also attended to legislative duties," Hatfield said. "I don't know how you do this successfully without law partners that are supportive."•
Please enable JavaScript to view this content.