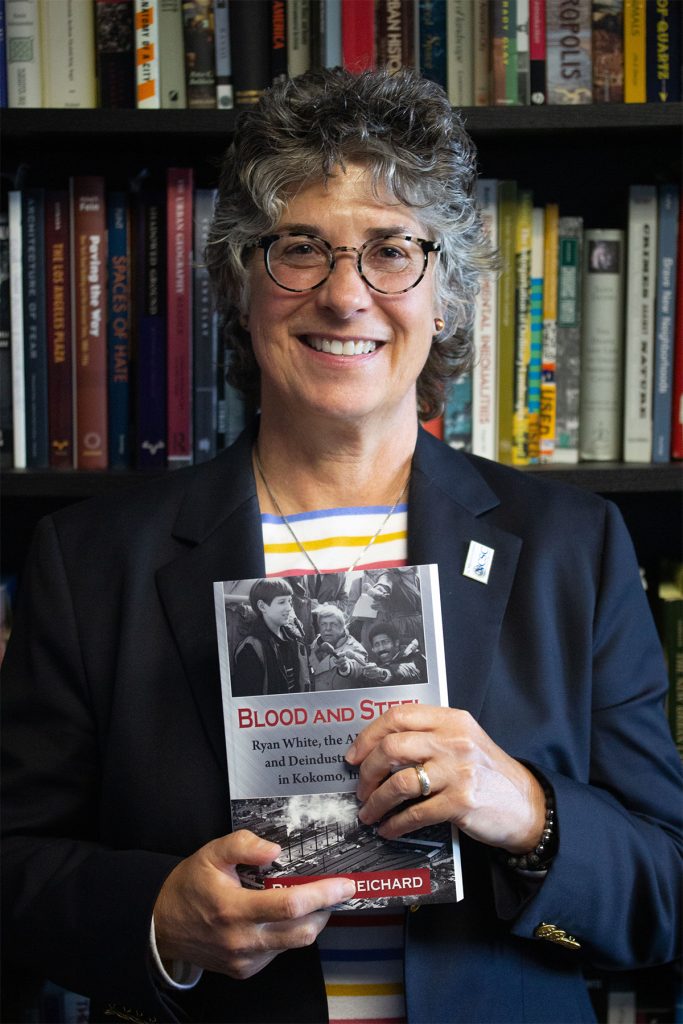 Sitting at a desk nestled in the corner of her private office used only for writing, Indianapolis attorney Ruth Reichard leaned forward as she began to untangle a web she's been researching for the past decade.
In her first published book, "Blood and Steel: Ryan White, the AIDS Crisis and Deindustrialization in Kokomo, Indiana," Reichard delves into the relationships between three major events: one of Kokomo's largest employers, Continental Steel, filing for bankruptcy, the spread of HIV/AIDS in the 1980s, and Ryan White's fight to attend public school after being diagnosed with HIV/AIDS.
Released in April 2021 and published by McFarland & Company, the book delves into three narratives centered on those issues. It tells the story of "a fearful time" in recent American history as people in the Midwest "endured massive layoffs, coped with a lethal new disease and discovered a legacy of toxic waste," according to the publisher.
Major themes of the book center on mistrust, toxicity and stigma — all three of which Kokomo faced during that tumultuous period, Reichard said.
"Kokomo, which never really asked for either of these problems, is the perfect case study for a historian on, how does a city weather these crises?" she said. "And both of these crises are hitting it at the same time and ripping the fabric of the community apart."
Reichard, an education attorney with the Indiana Office of Court Services, has more than 30 years of combined litigation, judicial and teaching experience. But she's always loved reading and writing, calling herself a humanities and poetry junkie.
"I get excited when there is a new translation of 'The Odyssey' or 'The Iliad,' she said with a smile.
After serving as a deputy prosecuting attorney in Marion County with a focus on domestic violence cases, Reichard was appointed by then-Indiana Gov. Evan Bayh as a judge of the Marion Municipal Courts, where she served from 1991 to 2000.
When she began serving as a senior judge and staying home with her daughter, Reichard went back to school to obtain her doctorate in U.S. history. It was then that she began to uncover a web of complex yet related events in Kokomo that set the stage for "Blood and Steel."
The book's title is meant to represent the stubbornness and steeliness of White, the parents who fought against him and the steel workers in their local fight for equality.
"Those words, 'blood' and 'steel,' there are so many ways you can look at those elements in this book and the main themes of the book," Reichard said.
Reichard herself displayed a steeliness of sorts in her steadfast research for the book, which is an adaptation of her doctoral dissertation.
"I had originally meant to explore changes in how cities handled outbreaks of disease over time, roughly 1820-2000, focusing on a few cities and a few diseases and ending with HIV/AIDS in the Midwest. But that topic was too broad, so I started my research in the recent past with Kokomo," she said.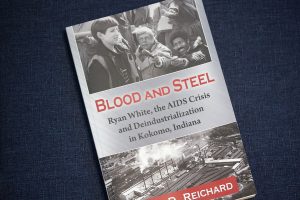 When she began her research in 2010, the Howard County Historical Society had just completed its Ryan White Oral History Project and had a plethora of interview transcripts "just sitting there waiting to be used and explored."
"While reading through those, I discovered that at the exact same time that the city was in the international spotlight for the conflict regarding Ryan White's school attendance, its third-largest employer, Continental Steel, was closing its gates and filing for Chapter 7 liquidation. There was a lot to unpack there, in terms of urban and social history," she explained.
Reichard dug deep into thousands of letters received by White and his family, located at the Indianapolis Children's Museum. She expressed gratitude at also having the privilege of speaking one-on-one with White's mother as she researched.
While working on the project, Reichard went back to work full time and could only write at night and on the weekends. But the story itself motivated her to keep going.
"It may be kind of corny to say that when the last thing I felt like doing on a Sunday afternoon after working all week was to lock myself in front of my computer and write, I did," Reichard said. "(White) never gave up, his family never gave up. And I wanted his story to be out there in a book where people can see the kind of courage he had."
Legal connections
As a hemophiliac, White became infected with HIV/AIDS from a contaminated factor VIII blood treatment and, when diagnosed, was given six months to live. In order for him to have a normal life, White required regular shots of clotting factors that could be purchased through a prescription.
In tandem with the scientific and medical developments in the growth of the blood-products industry at that time, Reichard discovered that blood products became classified under blood-shield statutes as a service, not a product, thus isolating them from products liability.
"So if you tried to sue the blood-products company because you got hepatitis from a blood transfusion after a car accident, you couldn't. They were immune under Indiana state law. So when people started contracting HIV/AIDS through the blood products in the 1980s, including Ryan White, they tried to sue the manufacturers and ran into these blood-shield laws," she said. "There was no tort liability."
While she never expected that to be part of the book, Reichard's legal background couldn't let it drop.
"As a lawyer, when I was reading all of this and learning about the devastation that HIV/AIDS brought on people with hemophilia, the lawyer in me was wondering, 'Isn't there a lawsuit here about product liability for the clotting factor?'" she said. "What I found investigating that was really startling."
Ready to write
When she looks back on what she's learned during her years spent researching and writing "Blood and Steel," Reichard said there are a lot of big questions to ponder as readers move through the story. And now that the book is complete and available for purchase, the attorney said she already has ideas for future projects.
"It has been a long road," she said. "It happened, but I feel like I have more books in me."•
Please enable JavaScript to view this content.