Indiana's longest-serving judge and a 30-year veteran of the Indiana Court of Appeals, Judge John G. Baker will retire this summer, the COA announced in a news release Tuesday afternoon.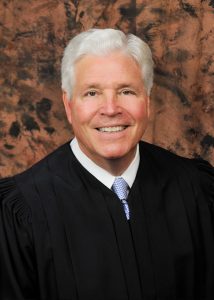 Baker joined the appellate court in 1989 when he was appointed by Gov. Evan Bayh. A former chief judge of the court, Baker is the most prolific appellate jurist in Indiana history, having authored more than 5,000 written opinions. He is the longest-tenured appellate judge. The court announced Baker's retirement is effective July 31.
Prior to his time on the state's intermediate appellate court, Baker was a trial court judge in Monroe County for more than 13 years. He also for many years taught at the Indiana University School of Public and Environmental Affairs, and at the IU McKinney School of Law in Indianapolis.
According to his court biography, Baker was involved in the disposition of more than 15,000 cases while on the appellate bench.
Gov. Eric Holcomb will select Baker's successor after an application, interview and recommendation process before the Indiana Judicial Nomination Commission. Details of that process were not immediately announced.
Please enable JavaScript to view this content.