Editor's note: This article has been updated to include details of a related civil lawsuit.
A legal titan in the Indianapolis office of Barnes & Thornburg is facing attorney discipline charges over an alleged improper romantic relationship. The litigator and former federal prosecutor is accused in a disciplinary complaint of an improper relationship with the ex-wife of a former Fishers money-manager client who was convicted of securities fraud and is nearing the end of a 10-year prison sentence.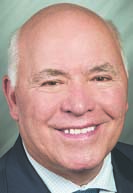 The Indiana Supreme Court Disciplinary Commission has filed a disciplinary complaint against Barnes partner Larry A. Mackey, a veteran of the firm who previously had been involved in such high-profile federal prosecutions as that of Oklahoma City bomber Timothy McVeigh. Mackey is accused of conflict of interest and making a false statement to the commission.
Mackey, represented by Hoover Hull Turner partner Wayne Turner and associate Riley C. Floyd, says in an answer to the complaint submitted Wednesday that the commission lacks evidence to prove its allegations. "Mackey has not knowingly or intentionally waived any other applicable defenses and reserves the right to assert and rely on any other applicable defense," his answer says.
Mackey's discipline case stems from his one-time representation of Keenan Hauke. Mackey in April 2011 began representing Hauke, who was ultimately charged with masking losses in his Samex Capital Partners hedge fund, in which 67 investors lost more than $7 million. Hauke pleaded guilty in December 2011 to securities fraud and was sentenced to 10 years in federal prison. 
Days after Mackey began representing the hedge fund manager, Hauke's assets were frozen amid an investigation of his companies by the Indiana Secretary of State's Office. About a month later, Mackey's disciplinary complaint says, he began interacting regularly with Hauke's wife, Sarah, who confided in emails that there was "a fissure in her relationship with Hauke."
"In early June 2011, Sarah asked for individual advice and indicated her relationship with Hauke was growing further apart. Respondent provided legal advice to Sarah," the complaint says. "After Sarah filed for divorce on June 14, 2011, Respondent continued to communicate directly with Sarah."
In his answer, Mackey admits he communicated directly with Sarah, but he denies he provided her legal advice. Instead, he says in his defense, "in early June 2011, Sarah asked Mackey about individual matters relating to creditors' rights issues and divorce. Mackey states he did not provide legal advice to Sarah on the merits of those individual matters; instead he referred Sarah to other attorneys with experience in those fields."
Before withdrawing as Keenan Hauke's defense attorney in August 2011, the commission says Mackey paid for a trip for her and her children to resort in Michigan, and that Mackey "purchased a trip for himself and Sarah to travel to Siesta Key, Florida together." Mackey admits to these allegations in his answer, though he says the Florida trip was postponed.
Throughout this period, the two also exchanged gifts and increasingly romantic emails, the commission alleges. In one on July 21, 2011, for example, the commission says Mackey sent Sarah Hauke an email reading, "Listening to sweet music on my iPod and feeling warmed by your love."
After he had withdrawn as Keenan Hauke's defense lawyer, "… (b)y the end of August 2011, (Mackey) and Sarah were looking for a house to share which they purchased on or around November 2011," according to the commission. "(Mackey) and Sarah were engaged on February 19, 2012 and they were married in July 2012."
In response, Mackey "admits that by the end of August 2011, he and Sarah were looking for a home they could share if their relationship materialized. Mackey denies that he and Sarah purchased a home together."
In response to the commission's allegation that Mackey had downplayed the romantic nature of the relationship during the course of its investigation, he responded: "Mackey admits that his response stated the fact that he and Sarah 'became friends,' in addition to stating the facts that: Mackey and Sarah 'developed an interest in each other' and 'became interested in one another,' that 'a mutual attraction developed' between them and led to a 'nascent relationship,' that Mackey and Sarah had developed a mutual 'personal relationship' through both phone and email communications, and that the relationship involved 'very limited personal contact and certainly no sexual relationship during Mackey's representation of Hauke' — more specifically that Mackey and Sarah never 'spent time together alone' before Mackey terminated his representation of Keenan … ."
Keenan Hauke asked the commission for an investigation of alleged misconduct by Mackey, according to the complaint, which does not indicate when that request was made. Hauke went public with his accusations against Mackey in 2017, after filing a petition with the court alleging he had received ineffective assistance of counsel during defense in the security fraud case. At that time, Mackey and Sarah insisted their relationship did not commence until after Mackey no longer represented Hauke.
But the disciplinary commission says that's not so, saying that in its initial investigation of Hauke's claims against Mackey, he "downplayed the romantic nature of his interactions with Sarah and stated he and Sarah became friends." Likewise, the commission says Mackey "did not reveal to the Disciplinary Commission the romantic nature of (his) relationship with Sarah which began during Respondent's representation of Hauke."
The commission accuses Mackey of conflict of interest, a violation of Indiana Rule of Professional Conduct 1.7(a)(2); and knowingly making a false statement to the commission, a violation of Rule 8.1(a).
"Mackey admits that he did not use the adjective 'romantic' to describe his relationship with Sarah in the response," his answer states.
Meanwhile, Hauke filed a pro se lawsuit from federal prison last March, effectively asserting claims of legal malpractice and failure to supervise against Mackey and Barnes & Thornburg.
Hauke's handwritten complaint alleges Mackey was having "an illicit (and undisclosed to me) affair with my then wife" and threatened to withhold financial support for his children if he filed a complaint, which he said caused him to delay.
He alleges Barnes "has never refunded the approximately $44,000 in fees that I paid them," which left him no money for his defense. His suit seeks about $2.8 million.
Turner and other Hoover Hull attorneys also represent Mackey and Barnes in Hauke's civil lawsuit. In their response, the defendants seek to have Hauke's suit tossed as frivolous or untimely because it is beyond the statute of limitations for such cases. They also argue Hauke testified he was satisfied with his representation by a public defender.
The defendants successfully moved last May to stay the proceedings on Hauke's civil suit in Marion Superior Court until such time as the court can screen it, as required for inmate lawsuits. No action has taken place in the case since Marion Superior Civil Division 13 Judge James Joven stayed the proceedings on May 31.
Just days before the court stayed his civil suit, Hauke filed a motion opposing the stay, in which he included as an exhibit a March 27 letter from disciplinary commission director G. Michael Witte, informing Hauke that his disciplinary complaint, initially filed in 2016, was on again. The letter came two days after Hauke produced in his federal case a purported suggestive email that his ex-wife allegedly sent to Mackey, dated July 21, 2011. Hauke included that email as an exhibit in his civil case against Mackey and Barnes.
"Supplemental evidence was made available to the Disciplinary Commission. After thorough and careful consideration, it was the consensus of the Disciplinary Commission to reopen your grievance," Witte wrote.
According to the Bureau of Prisons, Keenan Hauke, 49, is scheduled to be released from the Terre Haute Federal Penitentiary in November.
A two-day final hearing in Mackey's disciplinary case is currently set for July 14 before hearing officer Robert C. Reiling. The case is In the Matter of Larry A. Mackey, 19S-DI-646.
Please enable JavaScript to view this content.