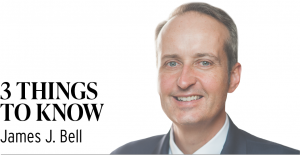 Did you know that ChatGPT-4 passed the bar exam and scored an 88% on the LSAT? It's true. I read it on the internet.
Did you know that AI can complete your latest legal research project and write that brief that you haven't started yet? This is also true.
It can also grill a steak, microwave your coffee the moment it gets too cold and go fishing for you, so all you have to do is post a picture of you and the fish on Instagram. Finally, it can help you open doors in Cloud City when the Empire is closing in, assist you in blowing up the Death Star and, more importantly, is fluent in over 6 million forms of communication.
In fact, I didn't even write this article. Some robot did. I probably won't even read this until it's published in Indiana Lawyer. Let's hope it's informative.
AI is a growing facet of the legal profession, and lawyers need to be guided on what it is, what it can do and where the limitations are on its use. Here are three things to know about AI and ethics.
1. In theory, AI can make you a more ethical attorney.
AI is not new to the legal profession. For example, AI has been used for electronic discovery and predictive analysis in litigation. However, the issue of AI has come to the forefront of the profession lately because of its ability to engage in brief writing and conduct legal research.
If AI can do your research and briefing for you, you will be a more efficient attorney. That's a positive, right? You will be more diligent in responding to your clients' needs, more available for updates and other communication, and better able to control costs. In other words, if utilized properly, AI can make you a more ethical attorney. The beneficiaries should be your clients and your newly reduced overhead.
2. When working with AI, protect confidentiality.
However, the Rules of Professional Conduct always seem to put a damper on any excitement we may have over new tech. Every time I write an article about ethics, it includes Rule 1.6(a) of the Indiana Rules of Professional Conduct, which states "a lawyer shall not reveal information relating to representation of a client unless the client gives informed consent." Now that I have my handy droid writing my articles, nothing has changed.
My droid would like to add Comment [16] to 1.6(a) to the mix, which states that "(a) lawyer must act competently to safeguard information relating to the representation of a client against inadvertent or unauthorized disclosure by the lawyer." Using AI for briefs and legal research could require the sharing of confidential information. In this regard, this may be no different than using AI for a third-party vendor who will assist your firm with discovery review. You should conduct your due diligence with that provider, make certain that confidentiality safeguards are in place and ensure that any agreements reached regarding confidentiality are in writing. Finally, your client should, of course, be made aware of and consent to the information that is being provided to the third party.
Without these safeguards, AI will be difficult to utilize in compliance with the Indiana Rules of Professional Conduct. Additionally, without the ability to share information with safeguards in place, the use of AI to assist with legal work will be limited, at best.
3. When working with AI, ensure competence.
The first rule of the Indiana Rules of Professional Conduct speaks to an attorney's competence, including with regard to technology. Comment [6] to Rule 1.1 of the Indiana Rules of Professional Conduct states that "a lawyer should keep abreast of changes in the law and its practice, including the benefits and risks associated with the technology relevant to the lawyer's practice."
So now that you have made yourself competent with the phone, copier, fax, email, texts and tweeting … maybe it is time to make yourself competent with AI. After all, if AI makes attorneys more efficient, not utilizing AI may mean you are falling behind.
Conclusion
For ethics lawyers, AI will likely be the new Facebook because it will give us new (and sometimes creepy) fact patterns to which we can apply the Rules of Professional Conduct. Like you, however, I don't wish to be the subject of any new order, precedent, article or seminar. To avoid this, we will need to proceed carefully in using AI to enhance our service to clients.•
__________
James J. Bell is a partner at Hoover Hull Turner LLP. Opinions expressed are those of the author.
Please enable JavaScript to view this content.