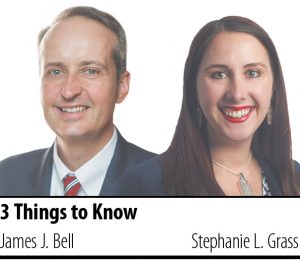 In April 2020, we wrote to you about "The ethics of working from home." In that article, we reminded you to protect client confidentiality and maintain competency when outside the office, which included understanding the technology you use to communicate with clients.
We also reminded you to supervise nonlawyer staff through regular communication. Eighteen months ago, we were wide-eyed optimists who thought surely we would all be back together in a couple months. Well, it was good to have dreams.
Since then, we've all learned that remote work is a reality going forward. A lot of people like the flexibility of working from home, find they are more productive from home, and (oh yeah) there is still a pandemic.
Whatever the reason we are staying at home, here are three things to remember about the ethics of (still) working from home.
Don't panic in writing
Here is a little secret we would like to share privately with the practicing bar: Some lawyers make mistakes. Mistakes are never fun and mistakes cause panic. When in the office, you would likely talk to a colleague face-to-face to discuss/freak out about a mistake. But when you're working remotely, you can't do that. Instead, you are more likely to discuss/freak out with your colleague over email or text.
Unfortunately, those communications are unlikely to be protected by the attorney-client privilege. In a recent New York case involving actor Justin Theroux, the court found that a defendant-attorney could not withhold emails he exchanged with colleagues at his firm about the litigation he was a party to because the emails were not protected by attorney-client privilege. Theroux v. Resnicow, 72 Misc.3d 1205(A), 2021 WL 2816857 at *2 (Sup. Ct. N.Y. Cnty. 2021). The court concluded the defendant-attorney was not in an attorney-client relationship with his colleagues because "[t]here are no formal indicia of an attorney-client relationship, such as a letter of engagement or a retainer agreement" and "[n]o fees were paid." Id. In addition, the court further clarified that the defendant-attorney had not established his emails to colleagues were for the purpose of obtaining or providing legal advice. Id. at *3.
Supervising nonlawyer assistants includes notarial acts
In the recently issued Advisory Opinion 1-21, the Indiana Supreme Court Disciplinary Commission reminded us, "A lawyer who ratifies a nonlawyer assistant's conduct and is in a position of managerial authority, or who directly supervises the nonlawyer assistant, can be subject to discipline for the nonlawyer assistant's/notary's failure to properly notarize a document." (Opinion at p. 1). The Disciplinary Commission cautioned that, "A supervising lawyer could violate the rules by having knowledge and failing to take remedial action when a nonlawyer assistant/notary habitually has notarized affidavits prior to the principal's signature." (Opinion at p. 2).
Our assumption is that the Disciplinary Commission would not be bringing this to our attention unless it has caught wind that there have been recent issues with the misuse of notaries. We are also guessing that these issues are occurring because we are not at the office and not in the presence of our staff when documents need to be notarized. As mentioned last time, you have a duty to supervise your nonlawyer staff — and that includes their notarial acts. In the past, there have been significant sanctions for lawyers' misuse of notaries. See e.g., In re A.C., 542 N.E.2d 1334 (Ind. 1989) (90-day suspension with automatic reinstatement for forging client's signature and fraudulently representing as notary public that respondent had witnessed the signing); In re D.D., 684 N.E.2d 1066 (Ind. 1997) (60-day suspension with automatic reinstatement for forging of signatures of notaries public on documents and filing those documents with the trial court). We would suggest that lawyers need to familiarize themselves with Indiana Code § 33-42-17-1, et seq., which specifically addresses remote notarial acts, to make certain that staff and attorneys stay on the right side of the Indiana code.
Be careful telecommuting from another jurisdiction
Maybe you've leaned into the work from home lifestyle and considered taking your law practice on the road. We mean, you don't go to the office anyway, your Indiana allergies annoy you in the summer, the Indiana winter is dark and cold and with supply-chain issues, there is only enough soup in this state to "comfort" us. In other words, we can't blame you for wanting to go somewhere else.
Practicing Indiana law from another jurisdiction is more than likely not a problem. In American Bar Association Formal Opinion 495, the ABA's Standing Committee on Ethics and Professional Responsibility stated that "in the absence of a local jurisdiction's finding that the activity constitutes the unauthorized practice of law, a lawyer may practice the law authorized by the lawyer's licensing jurisdiction for clients of that jurisdiction, while physically located in a jurisdiction where the lawyer is not licensed." (Opinion at p. 3-4). But be careful. We have heard of lawyers who become enamored by their new, sunny surroundings and forget their roots (and where they are licensed). It goes without saying (but apparently it needs to be said) that the lawyer cannot hold out his or her "availability to perform legal services in the local jurisdiction or actually provide legal services for matters subject to the local jurisdiction, unless otherwise authorized." Id. at p. 4
Conclusion
We admit that none of this is rocket science. Our ethical duties have not changed, but working remotely has changed the situations that commonly arise. Please be on the alert for these issues for both yourself, your staff and your colleagues. And by the way, happy holidays.•
• James J. Bell and Stephanie L. Grass are attorneys at Paganelli Law Group in Indianapolis. Opinions expressed are those of the authors.
Please enable JavaScript to view this content.