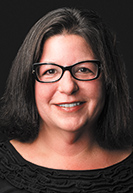 By Alison L. Benjamin
A half-century ago two Indiana legislators, a Democrat from Gary and a Republican from Kokomo, set forth to improve our courts. Though they hailed from different parties and communities, their paths were parallel. Each attended military schools, served in foreign wars, practiced law and advanced from the General Assembly to Congress.
The Democrat was my father, Adam Benjamin Jr. The Republican was Elwood "Bud" Hillis. The Lake Superior Court selects judges on merit because of their efforts.
As the story unfolds, in 1965, the Indiana General Assembly formed a Judicial Study Commission comprised of legislators, lawyers and citizens, with equal representation from both political parties, to examine our courts.
The commission conducted a deliberative, comprehensive review. It studied how our courts began and operated, mailed questionnaires, interviewed lawyers and judges, invited testimony, received comments, held public forums, and agreed not to set forth a proposal absent unanimous agreement it was "justified by the needs of the judicial system and the interests of the public."
The report revealed Indiana hadn't changed its court structure since the frontier days when courts were "self-contained operating unit[s]." We had no way to monitor our courts by location or caseload, and judges, even those in the same county, operated unto themselves. Also, using political elections to select judges had transformed our judiciary into a revolving door and led to decisions based on partisanship, campaign contributions or both.
Of lawyers, 79% didn't believe partisan elections produced highly qualified trial judges, 85% didn't believe partisan elections produced highly qualified appellate judges, 87% felt politics influenced court decisions to some degree and 32% felt politics frequently influenced court decisions. When asked how to improve courts, lawyers said, "Get the judges out of politics." Judges were also critical. Most found it "impossible to run for political office without incurring political debts."
The commission proposed Indiana abolish its legislative courts and amend the Indiana Constitution to form a constitutional court system with supreme, appellate and circuit branches, led by the chief justice. Circuit courts would serve as trial courts with civil, criminal, juvenile and probate divisions.
After concluding nonpartisan elections "roused the dogs of another kind of politics," and executive appointment gave too much power to the governor and lent itself to politically motivated selections, the commission proposed we appoint judges on merit through a commission comprised of lawyers, citizens and the chief justice to receive applications, investigate qualifications, interview applicants and select three finalists for the governor's desk. Final arbiters were citizens, who voted whether a judge remained on the bench.
In 1967, Benjamin and Hillis introduced legislation mirroring the proposals. Hillis was resolute Indiana "stop electing judges on the basis of the war in Vietnam or the cost of eggs."
But politicians fought back. A local columnist found it was "unacceptable in Lake County" and locations where "judges of minor courts, powerful politicians and less successful lawyers are influential" but putting legislators "on the spot … would separate the men from the hacks."
The bill passed the House 61-37 and the Senate 29-19, but only after circuit and superior courts were removed. Benjamin explained, "When you get into the realm of trial courts, you start trampling on the toes of political and petty self-interests," and to move forward, trial courts were sacrificed.
During the next successive, separately elected General Assembly, the legislation passed the House 58-37 and was confirmed by the Senate 34-16. Voters ratified the amendment in 1970.
Hillis advanced to Congress in 1971. Benjamin continued on but tailored his focus. He gained a seat on the Judicial Study Commission and obtained a study of Lake County's courts. It revealed lawyers and judges disfavored selecting judges by partisan election and advised Lake County to stop using politics to select judges.
In 1973, Benjamin introduced legislation to unify Lake County's courts under a single superior court with civil, criminal, county and juvenile divisions, and to select judges on merit. Politicians again fought back. To ensure it passed, Benjamin removed county division judges from merit selection.
Benjamin joined Hillis in Congress in 1977 but died in 1982. Hillis retired in 1987. Lake County Superior Court judges weren't brought into the fold of merit selection until 2011.
The Lake County Judicial Nominating Commission has nine members: the chief justice or designee who chairs the commission, four lawyers appointed by the Lake County Bar Association and four citizens (a mix of men, women and minorities from varied political parties) appointed by the Board of Commissioners. All must live in and reflect our community. None may hold elected or salaried public office, or office in a political party or organization.
When a vacancy arises, lawyers complete an application delving into their personal and professional histories. The commission investigates qualifications, conducts interviews and must consider legal experience, temperament, public service, health, finances and judicial diversity in choosing three finalists to present to the governor for selection.
In February 2021, the House passed House Bill 1453, which alters the Lake County Judicial Nominating Commission, invites party politics and transfers control to Gov. Eric Holcomb — essentially what the Judicial Study Commission found untenable. It now sits before the Senate.
The legislation seeks to:
• Exert executive control by giving the governor power to choose members and reducing the number needed for a quorum.
• Trade integrity for partisanship by sidelining the chief justice and allowing the governor to select the commission chairman.
• Remove safeguards meant to ensure members represent the diversity of our community.
• Erase input from local lawyers, those whose livelihoods depend on a fair and impartial judiciary.
• Reinsert politics by increasing the number of finalists, making it inevitable one will fit a political agenda.
The Senate has launched its own attack, with Senate Bill 31 seeking to return Lake County to the days of elected judges.
Neither bill was produced by a bipartisan commission tasked with examining our courts in a deliberative, comprehensive manner. Neither received input from lawyers or citizens. Neither was borne of an agreement to only recommend that which was "justified by the needs of the judicial system and interests of the public."
It's hard to take the message as anything other than a power grab, aimed at persuading Lake County to either yield control of judicial selection to the governor or return to the days of a stumping judiciary.
That is unfortunate. We have a long record of selecting highly qualified judges based on merit, not politics. That I write reflects how fragile our fortune has been.
I was either not yet born or a toddler when my father began his work. But I became a lawyer 20 years ago when Lake County elected county court judges. I remember how it felt to be stopped in the hallway outside of court and asked to place an election sign in my yard, and the mailings, campaign tickets enclosed, expecting my contribution. Truth is, all campaigns, even judicial ones, need money. When judges run, they get a large chunk of theirs from those who stand before them.
Instead of giving Lake County the false choice between having our voice muted on the commission or returning to the days when party alliances and campaign contributions tilted our judiciary, legislators would be wiser to bring merit selection to all of Indiana's trial courts.•
• Alison Benjamin — [email protected] — is an attorney at Stracci Law Group. Opinions expressed are those of the author.
Please enable JavaScript to view this content.