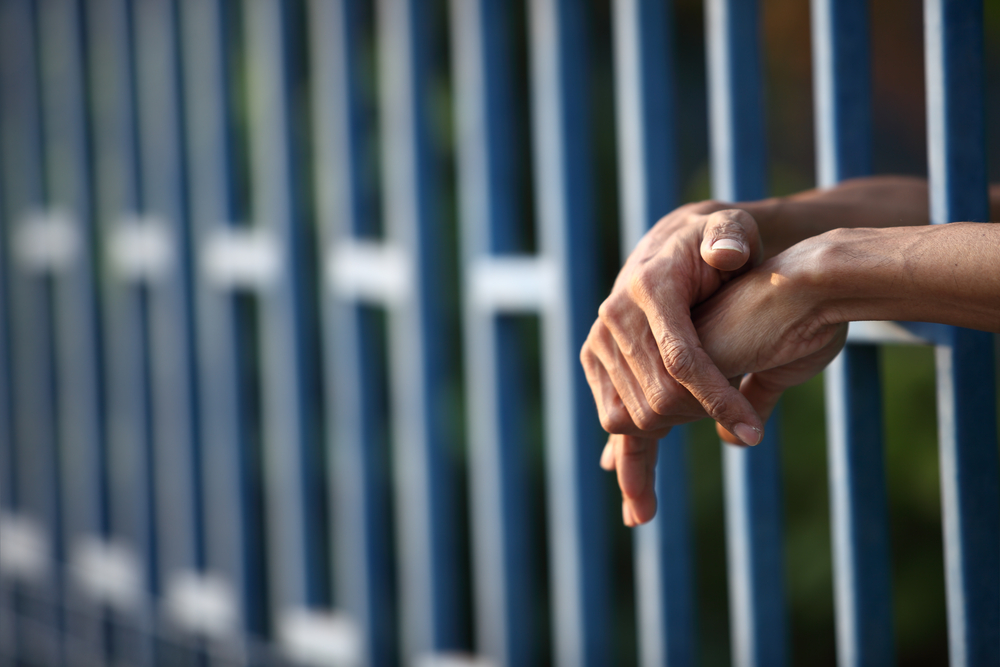 Indianapolis officials are backing legislation they hope will mean fewer former inmates are dropped off in the city without a housing plan after they're released from prison.
House Bill 1087, authored by Rep. Justin Moed, D-Indianapolis, would require the Indiana Department of Correction — with some exceptions — to return offenders to the county where they lived when they were convicted.
One goal of the legislation is to ease the strain on Indianapolis-based reentry service providers as well as homeless shelters, where Moed said too many former inmates are released because they don't have a better option. Another goal is to encourage the state to help inmates develop better plan for reentry.
The current system, Moed said during a hearing on the bill, can create "a pipeline from prison to homelessness."
The legislation has bipartisan support. It passed the Republican-controlled House 95-1 and moved to the Senate for consideration.
But some service providers and advocates for the homeless say the reason the Department of Correction releases some inmates into Indianapolis and other Indiana cities is because that's where services are available. And in Indianapolis, providers told Indianapolis Business Journal they are not overburdened by those former inmates.
"We do not directly see DOC releases as a major problem," said William Bumphus, who leads Wheeler Mission's downtown Indianapolis shelter for men. "From our experience, there are not a high number of individuals coming from DOC into our system that would raise any alarms on our end."
Lena Hackett, head of the Marion County Reentry Coalition, said local service providers are busy because they are dealing with so many Indianapolis residents who are returning to their lives after jail or prison. "I don't think it's exacerbated by people from other counties," Hackett told IBJ.
Still, the coalition — which represents more than 30 organizations — signed a letter of support for the bill.
And advocates say the legislation could lead to planning that puts inmates in a better position to succeed once they are released. That's in part because one of the exceptions in the legislation would allow the DOC to release a non-Indianapolis resident in the city if the inmate had a job, a housing plan or another path to reentry.
"The more that we do with the person before they're released, the better their reintegration back into the community is going to be," said Rhiannon Edwards, the executive director of Public Advocates in Community Re-Entry, also known as PACE.
Bipartisan support
Moed said the idea for his bill grew in part out of the pandemic, when the Marion County Public Health Department was working to manage COVID-19 in homeless shelters. He said officials discovered that many former offenders had similar stories about being dropped off at the shelters — even though they had no connection to Marion County — because they had no place else to go.
Moed told IBJ that the numbers were "a bit startling."
"I think the department, and just as a state, we can do better than not knowing where people are going to go after they leave" prison, Moed said. The bill is intended to start a conversation about how the system can work better, he added.
HB 1087 is backed by Indianapolis legislators from both parties, including Democratic Rep. Mitch Gore, Democratic Sens. Greg Taylor and Fady Qaddoura, and Republican Sen. Aaron Freeman.
Republican Reps. Robert Morris of Fort Wayne and Wendy McNamara of Evansville have also signed on as co-authors.
Jeff Bennett, senior policy adviser to Mayor Joe Hogsett, testified in favor of the bill when it was considered by the House Courts and Criminal Code Committee, which approved it 13-0.
"We just want to work toward a goal of being thoughtful in how folks are coming out of the system and where they're going to make sure that they end up in the right place, heading in the right direction," Bennett told the committee.
The Indiana Public Defender Council also testified for the bill.
But the Department of Correction did not send a representative to the committee meeting to take a position on the legislation or answer lawmakers' questions. The department also declined to answer questions from IBJ; a spokesperson said the agency doesn't comment on pending legislation.
Rep. Matt Pierce, D-Bloomington, was frustrated during the committee meeting by the Department of Correction's failure to make a representative available at the committee meeting to answer questions, explain how the release system works now or say how the system would be changed by the bill.
Pierce said he supports the "policy goals of the bill" after hearing from leaders in Bloomington who also think "the DOC dumps people into our community because we have services" for the homeless.
Edwards, the PACE executive director, said urban counties can appear resource-rich to outsiders, but they often can't truly keep up with demand.
"Yeah, we have more resources, but we have more people too," she said. "So if you drop someone off … they're just in line with everybody else trying to access mental health services or housing."
'A gaping wound'
Eric Grommon, an Indiana University professor who studies reentry services, led a research project years before the pandemic about the scope of reentry housing in Marion County. During that time, he tried to examine whether the county received a lot of people reentering from other counties.
"Anecdotally, a few housing service providers and correctional professionals stated that Marion County received a sizable number of individuals released from prison who lacked housing in other counties," Grommon said in an email to IBJ. "One of the reasons used to explain why this happens is because Marion County has shelters and other counties do not."
But he couldn't come to a conclusion due to a lack of data.
And the DOC couldn't provide the appropriate data either.
Although the agency declined to be interviewed about the legislation, a spokesperson told IBJ that the DOC does not track how many people are convicted in one county and then released later in another.
Instead, the spokesperson pointed to the agency's latest admissions and release statistics, which show that the DOC took custody of 1,103 offenders from Marion County courts in 2021, the last year for which numbers were available. In the same year, the agency released 1,696 former inmates into Marion County.
The agency also said it releases about 200 people into Marion County homeless shelters annually. But it couldn't say how many of those former inmates are convicted in other counties.
Originally, HB 1087 would have required all inmates to be released in the counties in which they were convicted.
But Moed said the DOC asked for a change that created exceptions for individuals that have been court-ordered to serve home detention, probation or community corrections in a certain county, that have been accepted into a reentry program or that have employment or a housing plan. The bill specifies that a homeless shelter is not a housing plan.
Hackett, of the Marion County Reentry Coalition, said her group could not support the legislation in its initial form but changed its position after the amendment.
Still, providers of reentry services in Marion County are skeptical the bill will solve the larger problem that many areas of the state can't provide former inmates the services they need.
Gregg Keesling is president of RecycleForce, an Indianapolis not-for-profit that employs formerly incarcerated people.
He called the bill "a Band-Aid for a gaping wound" that's caused by an unequal distribution of resources. For example, Marion County meets certain requirements for federal funding to support reentry services that more rural areas wouldn't have access to, he said.
"Indiana does not have one criminal justice reentry system," Keesling told IBJ. "It has 92 county systems that are poorly coordinated."
Keesling called for reentry to be prioritized on a state or regional level in Indiana, in a similar manner to workforce and economic development. But he said even if money was budgeted for statewide reentry efforts, the expertise and desire for deeper reentry services would need to exist first.
"That has to be developed, and people have got to want it," he said. For now, officials in some surrounding counties are content with released offenders being in Marion County rather than returning home, he said.
As far as House Bill 1087, Keesling is hesitant to give it his full support.
"I don't trust what will happen," he said. Instead, Keesling said the Legislature should focus on reforming electronic monitoring.
"I think they're going to pass this, pat themselves on the back and nothing at all will ever change," he said.
The city's Bennett, however, is more hopeful. He served as co-chair of a task force that considered whether a low-barrier shelter might be one answer to the problem of homelessness in Indianapolis.
That group had a number of recommendations, Bennett told the House committee, and HB 1087 supports some of the efforts. The DOC will work on policy changes that address others, he said.
During a task force meeting on Nov. 30, Chris Blessinger, deputy commissioner of reentry and youth services for the Department of Correction, said homeless shelters like Wheeler Mission are "a last resort" when releasing inmates. Blessinger said the challenge is a lack of housing options for offenders.
"Where do they go?" she said. "If they're not going home and they're not going to a mission or a shelter, where else?"
Outgoing Wheeler Mission CEO Rick Alvis said at that same meeting that the organization is glad to provide shelter to people released by the Department of Correction to help "get people off the street."
Alvis also said that individuals need a letter from Wheeler approving their placement before the DOC takes them to the shelter.
Bennett said that the Indiana Housing and Community Development Authority and the Department of Correction are partnering to strategize how placements should occur.
"The ultimate outcome, we hope, is more people exiting the Department of Correction into permanent housing rather than into emergency shelter," Bennett said. "And IDOC gets that and is striving to do that, and hopefully we can help them get over the hump."
In 2018, the housing authority pivoted its tenant-based rental assistance program to make it exclusive to households with a family member that has previously been incarcerated. The program receives $1.2 million a year.•
Please enable JavaScript to view this content.